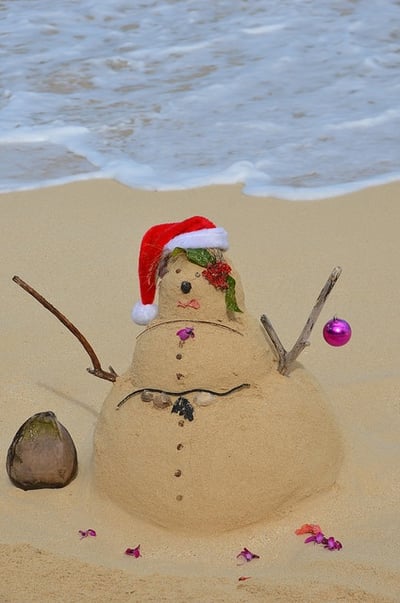 'Tis the season to add merry color and glowing lights—and to be sure trees and coconut palms are cleaned up, and large projects are completed as we swiftly roll toward the year's end.
Seasonal enhancements for most commercial landscapes range from traditional poinsettias to red-and-white annuals that last through spring on Kauai.
Our resort property owners deck the halls with lights:
wrapping tree trunks
stringing lights along rooflines
adding lights to landscape features (pergolas) in common areas
We're entering the busiest tourist season on Kauai, with visitors who plan winter vacations or choose to spend their holidays on our garden isle.
We want our properties to look their best, and that means not just dressing them up for the holidays, but continuing detail-oriented maintenance practices so landscapes stay neat, clean and appealing to tourists.
After all, your Kauai grounds are the front door of your property, and you want to make a positive first impression. So, here are five holiday landscaping ideas for commercial properties on Kauai this busy tourist season.
Plant Poinsettias

The iconic Christmas plant is appealing to some Kauai property owners who seek that traditional holiday look, and we do install some poinsettias in landscape beds.
However, this can be a costly endeavor, depending on how many poinsettias you need. We generally charge up to $10 per plant including installation.
Keep in mind, these plants only last through New Year's Day on Kauai. Then the bare spots in beds must be filled with another plant, probably an annual (like the ones we mention below).
Poinsettias certainly say holiday. Just decide whether the short season for this Christmas flower is worth the investment.
Add Festive Annuals

Rather than planting poinsettias on Kauai, you might choose red and white annuals that can last for months into the new year. We suggest red and white New Guinea impatiens, or red and white pentas.
With these plant selections, you'll add traditional holiday color to your property's landscape beds that will work double time come Valentine's day, when they're still flowering and thriving. After this time, you may choose to switch out annuals and select a spring-feeling flower.
Light Landscape Features
Holiday lighting is generally handled by property managers' in-house staff, but we always help make recommendations on which features in the landscape to highlight.
We love to provide ideas!
One common lighting trend is to wrap coconut tree trunks with Christmas lights. Holiday lights also add glow to common areas on your commercial property—and you may even choose to make some of these outdoor twinkle lights a permanent part of your outdoor environment.
Clean Up Coconut Palm Trees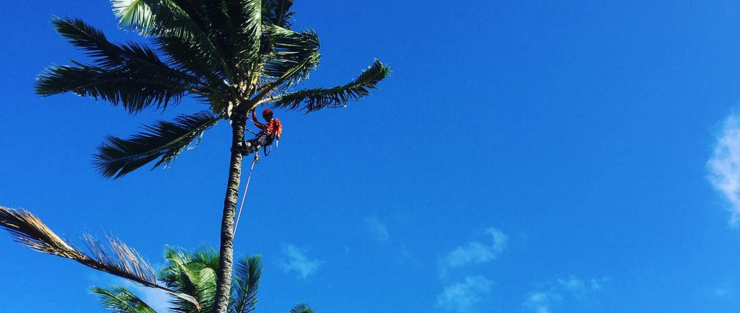 Prepare your property for guests who flock to Kauai for the holidays by making sure coconut palms and other trees are cleaned up. Coconut tree pruning requires expertise and equipment, so hire a professional who can handle the job. Don't put off coconut palm cleanup: falling palms and coconuts are a liability.
Wrap Up Special Outdoor Projects
Finish what you started this summer. Now is time to complete landscape projects so your guests can enjoy the rewards of the enhancements to your Kauai property. Get with your landscape contractor and nail down a timeline so your grounds aren't "under construction" during a busy tourist season.
Prepare Your Property For Tourist Prime Time
December is one of the busiest months for tourism on Kauai, and that means preparing your commercial property for this peak business season. Let's talk about ways we can spruce up your grounds for the holidays—and how to make that visual impact last beyond the New Year.
Contact us any time at 808.335.5887, or fill out this simple contact form and we'll get in touch with you.
Images: Snowman on beach, Poinsettias, Red pentas