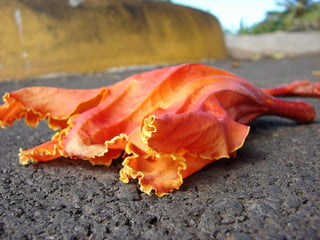 Good intentions can grow into pesky problems in the landscape when invasive plants are selected. The reality is, many invasive species came to Kauai as ornamental plants. And, there aren't a whole lot of restrictions on introducing new plants—so sometimes, things go awry.
There are some helpful resources to identify whether plants you're considering for your Kauai property are invasive. The Hawaii Pacific Weed Risk Assessment (HPWRA) considers plants' characteristics and the likelihood of it becoming invasive.
And, a site called Plant Pono is an outreach to educate home gardeners. Further, the Kauai Invasive Species Committee provides a list of early detection plants.
At No Ka Oi, there are five invasive plants we don't like to find on the commercial properties we serve because their presence requires diligent management, the plants easily overtake other beautiful flowers and shrubs, and they can potentially attract damaging pests that you don't want to find on your property.
The Most Invasive Plants On Kauai
There are so many plants you can enjoy in your Kauai landscape. We love including native plants in our landscape plans, and of course there are a number of colorful exotics we select to add pop.
We have written a number of posts regarding fragrant plants that smell wonderful, look vibrant and naturally grow with less care.We've said it before, but…there's no such thing as a no-maintenance plant.
That said, please, please avoid these five invasive plants when it comes to your commercial landscaping as well as your home.
African Tulip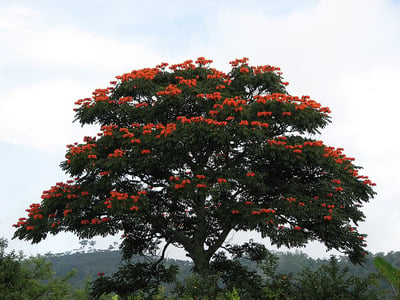 Introduced as a household ornamental plant, the African tulip boasts bright, trumpet-shaped flowers and is really quite attractive. The problem is, the fast-growing tree can crowd out native species and is challenging to remove because it can grow back from root fragments and seeds that are dispersed by the wind.
When trees are young, they can be hand-pulled out of the soil. But once they mature, stumps must be coated with herbicide (to prevent re-rooting) and the African tulip must be cut down.
There are plenty of other colorful plants to choose from on Kauai. So avoid African tulip, and if you spot it rooting in your commercial landscape, call a professional to properly remove it so it does not spread and threaten the vitality of native plants on your grounds.
Pink Tecoma

Also known as the rosy trumpet tree, pink tecoma is an evergreen that produces funnel-shaped white, pink or lilac flowers with yellow 'eyes' that fade to white.
Handling this plant can cause skin irritation or an allergic reaction.
One reason pink tecoma thrives on Kauai is because of its salt tolerance. It also loves moist soil and full sun. Pink tecoma can grow up to 70 feet tall, and its sheer size can overwhelm your Kauai commercial property.
The plant can be pruned back, but requires constant care and maintenance to achieve a tamed look.
Scheflerra Tree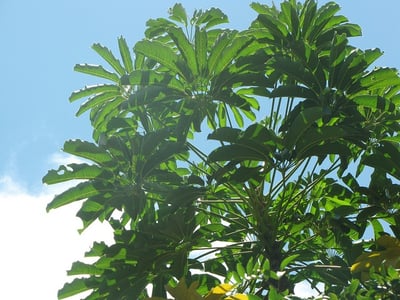 Known as octopus tree, this invasive plant infests areas of the Limahali Valley on Kauai. We believe this tree was replanted during some reforestation efforts, and it is common on low-elevation, moist areas.
The scheflerra tree can grow up to 40 feet tall, and it produces single or multiple stems with palm leaves. You'll recognize scheflerra for its red-pink flowers that bloom in summer to early fall and its clusters resemble an octapus. The tree is a perennial evergreen—and you don't want it to "ever" last on your property.
Asparagus Fern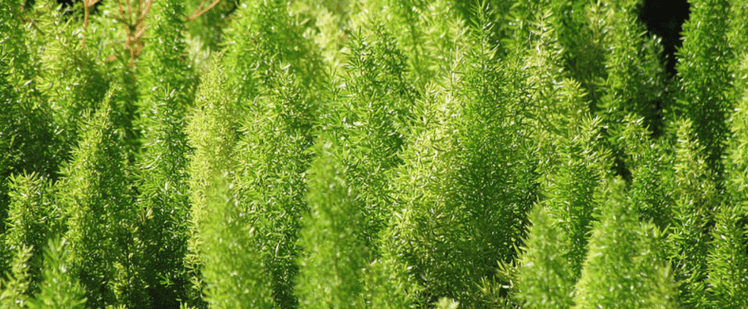 This evergreen herb is a common groundcover and container plant because of its attractive foliage and bright-red berries. The plant looks nothing like a fern!
It's actually a member of the Lily family, and while it is cultivated as an ornamental plant its trailing, spreading behavior make it an invasive plant on Kauai. You might find it along roadsides or in forested areas—it quickly replaces native groundcovers and its climbing activity can smother trees.
Ideally, asparagus fern should be removed before seeds are produced because they spread and disperse easily. The plant cultivates so easily that its hyperactive growth can choke out other desirable plants on your Kauai property.
Australian Tree Fern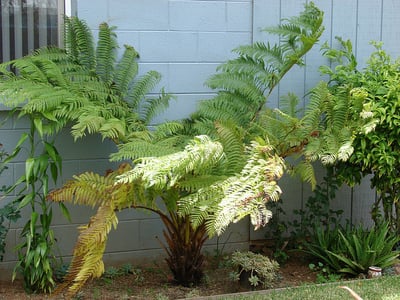 This large tree fern can grow up to 40 feet tall and features large, triangle-shaped leaves. You can tell the difference between the invasive Australian tree fern and a native hapuu by the color of hairs on stalks.
Australian tree fern produces white hairs; hapuu has red hairs. Also, a native hapuu has a thick, soft fiber wrapping.
On Kauai, this invasive plant is spreading in native forests like Hanalei, Koloa and Kokee. All property owners should avoid planting Australian tree fern to avoid its spread on the island.
Right Plant, Right Place
Our rule of thumb: Select the right plant for the right place.
We've said it before, and it warrants a reminder because property owners do sometimes select invasive plants that do more harm than good. As good stewards of our island, Kauai, we must think beyond our own property line.
Selecting native plants and ornamentals that do not display aggressive growth behavior will help our ecosystem thrive.
Let's talk more about great plant selections for your Kauai commercial property. Contact us any time at 808.335.5887, or fill out this simple contact form and we'll get in touch with you.
Images: African tulip blossom, African tulip tree, Octopus tree, Pink tecoma, Asparagus fern, Australian tree fern