How We're Different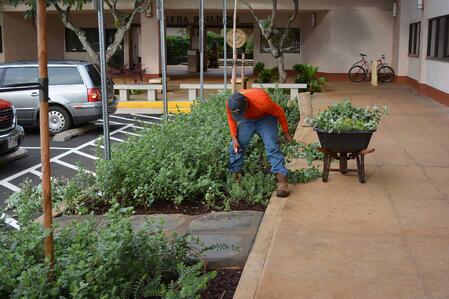 From Kekaha to Princeville, there are landscape companies who can spend a few days beautifying your property. But what about maintaining that beauty?

No Ka Oi is focused on maintenance: 80 percent of the work we do is landscape care, which means we can not only transform a landscape into one of the beautiful gardens Kauai is famous for — but we can also help keep it that way over time.
Committed To Our Name
No Ka Oi means "the best" in Hawaiian, and we make sure our clients' landscapes look the best every day. Yes, we've set high standards for ourselves. But we live up to those standards every day by focusing on quality and providing uncommon customer service, combined with unmatched maintenance services.
Committed To Sustainability
We often talk about the importance of "right plant, right place." What does that mean? When plant material is properly selected based on site conditions (soil content, sun exposure, and the weather in general), you're giving those plants the best chance to thrive.
"Right plant, right place" gives us the opportunity to focus on making your landscape look lush with plants intended for our island environment rather than constantly battling its natural integrity.
Committed To Our Clients
Focusing on maintenance means we're focused on our clients. We're in it for the long haul, and developing those relationships means our employees get to know each site's plants, understand its challenges—and best assets—and are committed to keeping the landscape healthy.