To ensure the landscaping at Waipouli Beach Resort & Spa delivers as expected, it relies on No Ka Oi Landscape Services. The resort and commercial landscaper are headed into their fourth year as business partners.
Here's a closer look at how the landscaping at Waipouli Beach Resort & Spa continues to improve — and the behind-the-scenes communication necessary to make it all happen.
Meeting Expectations
Hawaiian sunsets. The best tasting Mai Tais. Dramatic mountain views. Relaxing days by the hotel pool. Coming to the Island of Kauai with a few expectations is only natural. After all, for many of the island's visitors, Kauai provides a much needed break from frosty winters and stressful careers.
You might even say, when it comes to expectations, lodging accommodations top visitors' lists. Jeff Crosbie, General Manager of Waipouli Beach Resort & Spa, knows this all too well.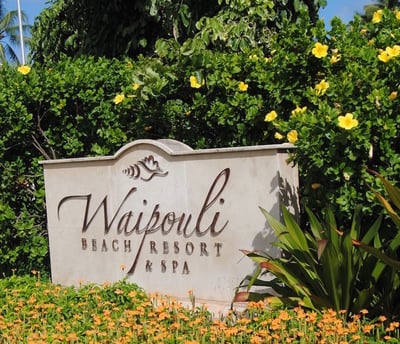 Waipouli Beach Resort & Spa, as its name suggests, is a 13-acre beachfront property on Kauai's eastern shores. Located 2.5 miles from the center of Kapa'a, Waipouli has earned TripAdvisor's Certificate of Excellence for the last four year and is ranked on the popular travel site as No. 1 hotel in Kapa'a.
In addition to high-end resort amenities that include an impressive 2-acre swimming pool, beach access, on-site spa and dining, "Our visitors are looking to have a tropical experience as soon as they arrive on our property and a lush tropical landscape plays an important role in that," Crosbie explains.
"Prior landscapers didn't do this site justice," says Sara Sloan, No Ka Oi Account Manager. "When No Ka Oi took over [as landscape contractor], we really understood how much potential this beautiful property had and I feel like I've seen this property come to life."
Impacting A Resort Landscape — Immediately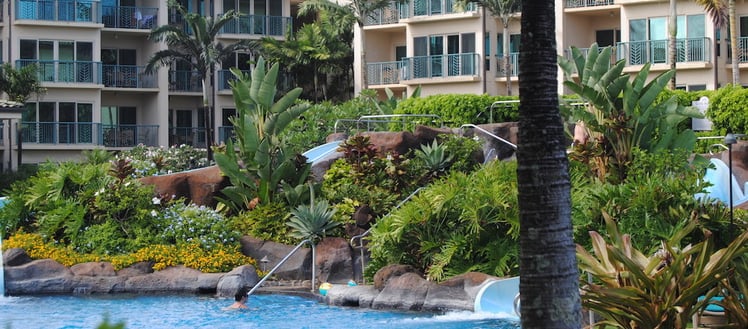 Water: The essence of life and beauty. Commercial properties — resorts, especially — depend on a properly functioning irrigation system to keep their landscape investment thriving and memorable.
According to Sloan, correcting irrigation issues on the grounds of Waipouli was No Ka Oi's first order of business.
"A third of the property's irrigation had been off for a very long time and the plantings suffered because of it," she says. The resort's irrigation runs on a two-wire system that lacked necessary, routine maintenance. "We got it going and the landscape plantings immediately benefitted." Multiple applications of organic mulch were also added to beds throughout the entire property to improve soil conditions.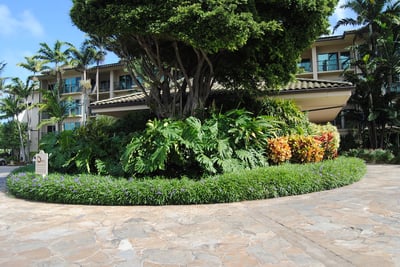 The next priority for Sloan and her team was focusing on replantings at the resort's front entrance and around Waipouli's signature amenity, the pool.
"My love is in the plants on this property," Sloan says. "I always want to use colorful, interesting plants, and we've been able to do that from the beginning to make a difference."
For Crosbie, Waipouli's entrance is an area of the property where "exceptional landscaping is paramount" because it is the first impression guests get of the resort — before they enter the lobby or reach their unit.
"We are a world class travel destination; it's written right into our governing documents," Crosbie says. "Our landscaping needs to be commensurate with that standard. We're getting that from No Ka Oi."
The landscaper's impact is also visible in weed and pest control, Crosbie adds.
"The dominance of weeds throughout the property has really gotten under control in a proactive sense — instead of always trying to play catch up. And we've had some issues with landscape pests and sooty mold that past contractors couldn't seem to get a handle on. No Ka Oi has."
Hiring The Best Commercial Landscaper For The Property
After terminating an arrangement with Waipouli's original landscaper, Crosbie began the search for a new contractor that offered a competitive set of services.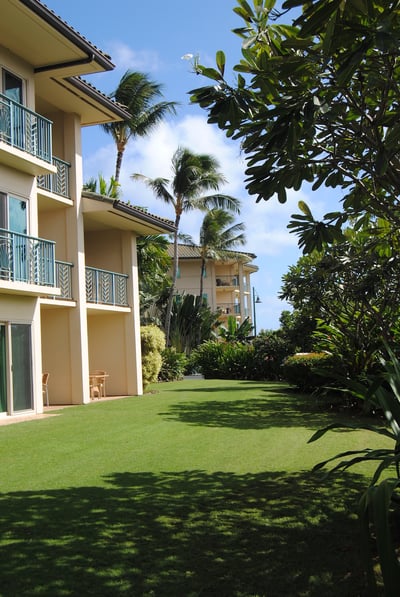 "When it came time to bid, No Ka Oi's had by far the highest standard in landscape care and professionalism, and they have an excellent reputation throughout the island," he says. "However, their initial cost was above our budget and well above some of the other bids we received."
The housing board at that time chose a lower bid.
"Well, you get what you pay for," he says. It was soon realized the level of service Waipouli had received was below the standard Crosbie and his colleagues felt appropriate for this premier resort.
Crosbie went back to No Ka Oi and spoke with it's co-founder Abby Santos and told her he was impressed with the proposal they presented, but affordability was the remaining roadblock.
"By significantly reducing their proposal amount to be able to work within the framework of our budget in exchange for having a long term contract, we worked out a way to bring them in," he says. "We hired what we believe is the best contractor on the island for landscape design and landscape maintenance."
Consistent Improvement Based On Strategy And Communication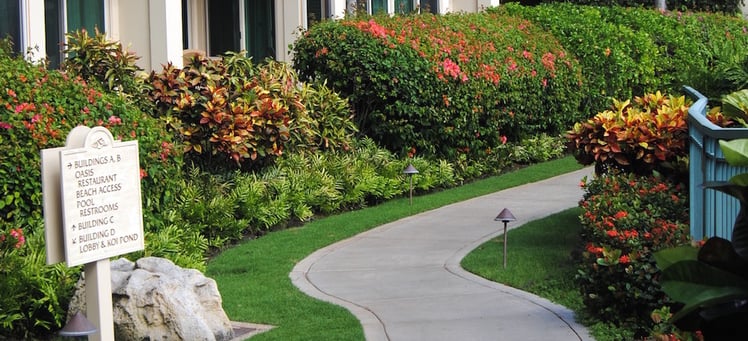 Waipouli's General Manager credits the continuous improvement of the resort's landscaping to No Ka Oi's ability to work within the property's landscaping budget.
He and Sloan have worked together to create an effective and methodical landscaping strategy based on value as well as visual impact. Frequent communication has been key for the two in seeing this strategy executed successfully.
From property walk-throughs to text messages, Crosbie says a week hasn't gone by without some form of communication between himself and Sloan or one of her crew members.
"No Ka Oi's motivation to take corrective actions on our property is very high," Crosbie says. "On a project by project basis, month after month, we are making sure we are doing something that will improve the property that people will notice."
Commercial landscaping isn't a static investment — it's dynamic and ever-changing. To keep it looking its best, upgrades and continued maintenance are essential. At No Ka Oi, we take great pride in the properties we maintain — we treat every site as if it is was our own garden. Our professionals excel at spotting areas of opportunity and improvement on commercial properties.
Let's start a conversation about your Kauai property — and discuss the enhancements and grounds management care that can take your landscape to the next level. Call us any time at 808-335-5887, or fill out this simple contact form and we'll get in touch with you.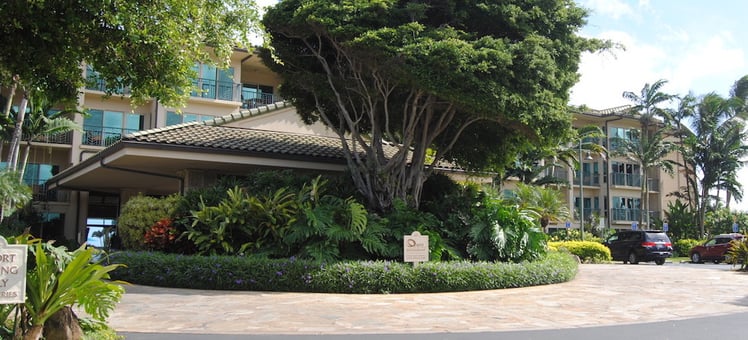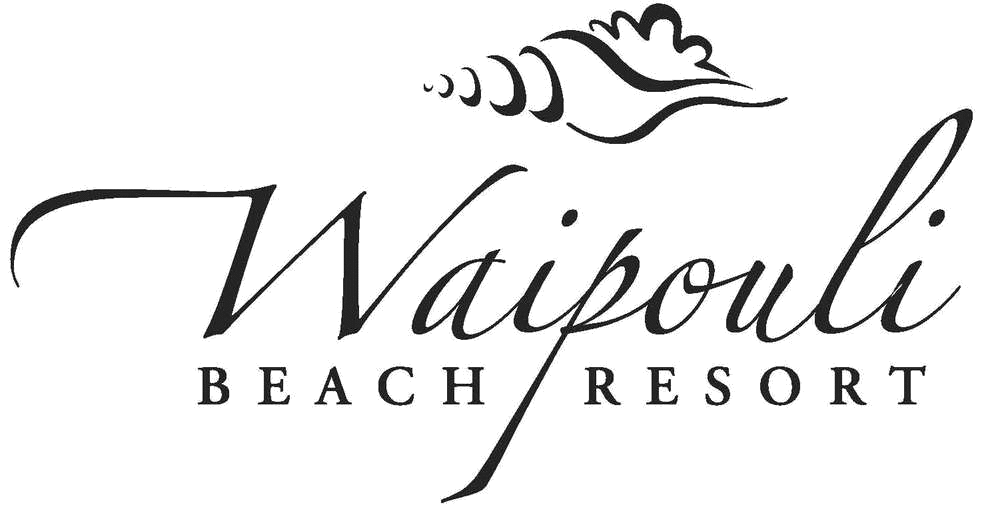 Highlights
New plantings near pool and entrance
Repaired neglected irrigation system
Reduced weeds and landscape pests
Reworked proposal to accommodate property's budget
Testimonial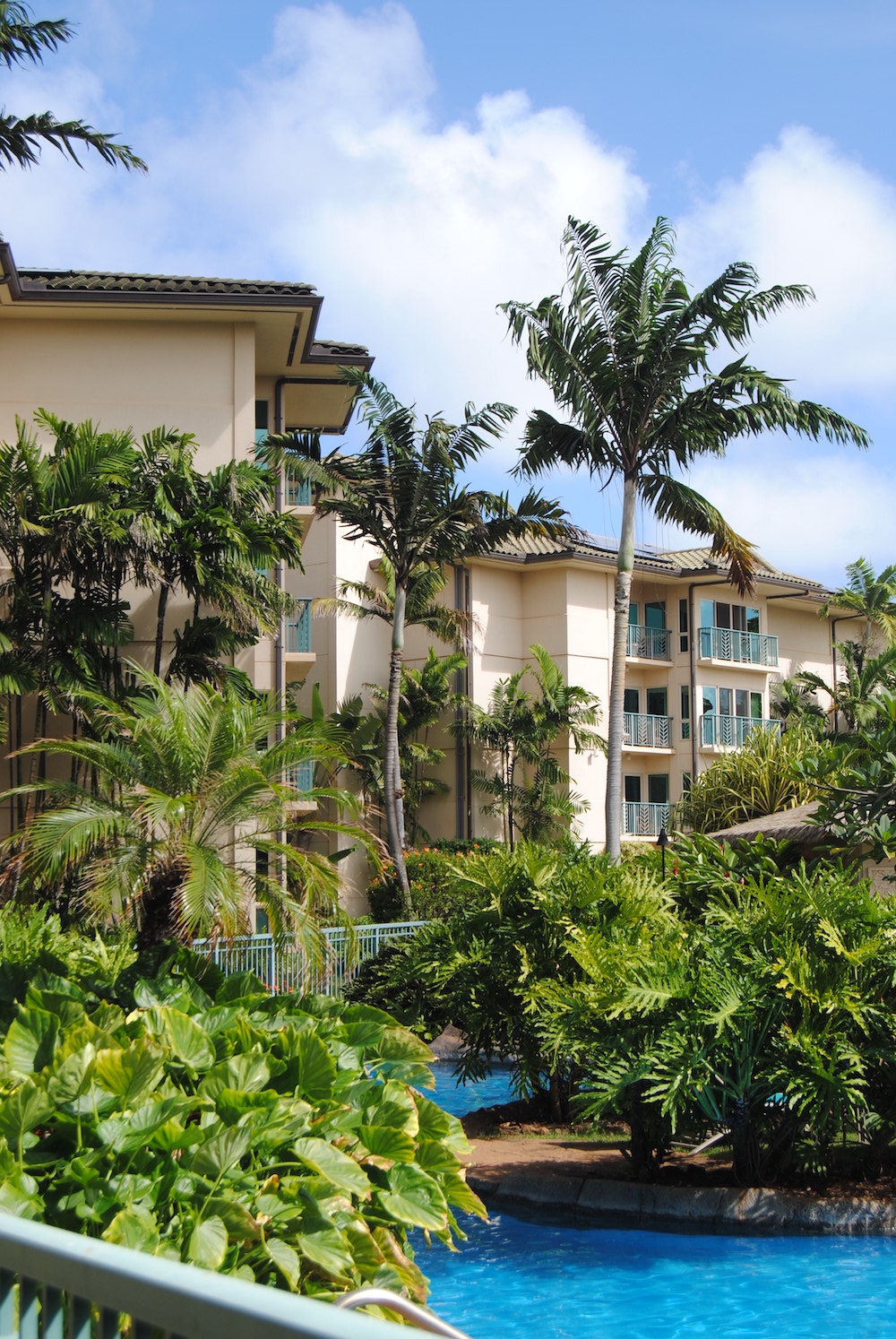 "We are a world class travel destination; it's written right into our governing documents. Our landscaping needs to be commensurate with that standard. We're getting that from No Ka Oi."

Jeff Crosbie, General Manager, Waipouli Beach Resort & Spa