The postcard image of an ocean-side Hawaiian retreat with palm trees, sand, surf and a lush landscape is exactly what you'll find at Kiahuna Plantation on Kauai. The established development of vacation residences on the island's south side is known for its characteristic island garden beauty. Residents have been drawn to the Kauai property since it opened four decades ago.
But the mature landscape that makes the property beautiful also requires special maintenance—experts with horticultural background, infrastructural awareness, and knowledge of the intricacies of managing a Hawaii vacation home destination.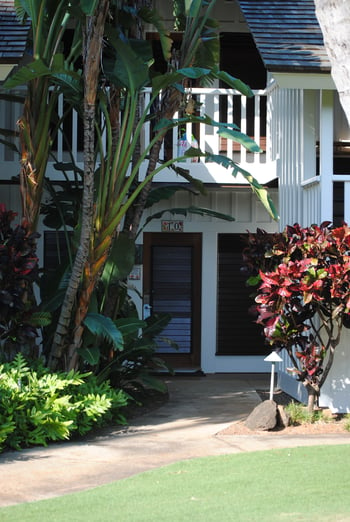 No Ka Oi partnered with Kiahuna Plantation three years ago, working directly with regional director of engineering Mark Bandsma, who has known the No Ka Oi team for 20-plus years.
"They have brought many improvements to our facility that our owners and guests thoroughly enjoy," says Bandsma, adding that No Ka Oi manages the landscape maintenance for three of the company's Kauai properties. That includes overseeing irrigation needs and property enhancements.
For No Ka Oi, the beauty and challenge of Kiahuna Plantation's landscape hits the company's sweet spot. President Abby Santos remembers when Kiahuna, and many other properties, were built on the island and takes great pride in sustaining their beauty and ensuring their relevance to today's property owners and tourists.
"It's a gratifying property to work on because of its history and the mature plants—the natural landscape," Santos relates. "It's special to see plants fully grow into their mature selves, and to care for a landscape that has become a Kauai institution."
Of course, managing the landscape maintenance for a legacy property is not easy. At Kiahuna Plantation, an aging irrigation system has required attention and specimen tree replacement has prompted a re-envisioning of high-traffic, high-visibility areas.
A successful partnership has bloomed between No Ka Oi and Kiahuna Plantation because of sound communication and solutions No Ka Oi brings to solve tough landscaping problems.
Reconfiguring Aging Infrastructure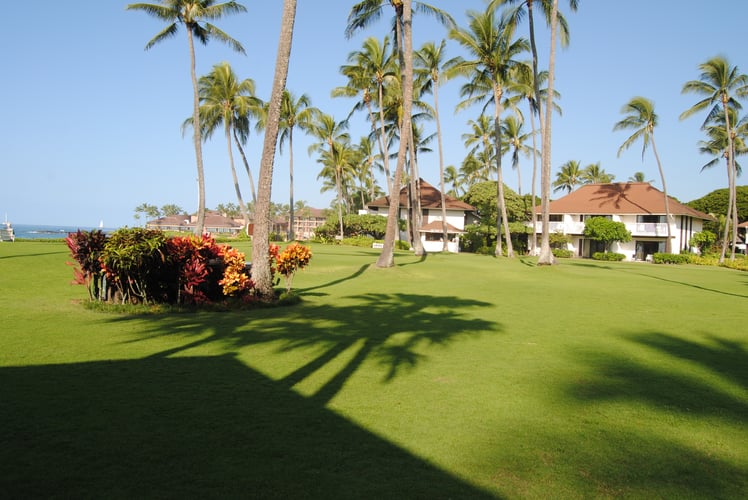 The original irrigation system installed a Kiahuna Plantation needed attention for a number of reasons. With its location on the ocean, low water pressure has always been an issue.
"When the irrigation was initially set up, it perhaps had 'overloads' on different water stations, so we had to work through that," Bandsma says.
"A lot of facilities tended to be under-built for future purposes, so that can be challenging," he continues, remarking on the need to update their Kauai property's irrigation system to manage today's water needs.
"All of the experience that No Ka Oi brought to the table has been so helpful," Bandsma says. "These projects cost money, but water is not going down in price," he adds of the importance of addressing irrigation and water use on a commercial property like Kiahuna Plantation.
Santos notes that No Ka Oi brought in its resident irrigation expert to analyze the existing irrigation system. "Because of the mature landscape, we could see the sprinklers, but many of the valves were covered by plants," she says. Over time, groundcover had basically buried the infrastructure. There was no map to guide the way.
"We did some investigation to determine where every valve was, and to deal with the low water pressure issues," Santos says.
Bandsma adds, "We had to methodically uncover the infrastructure. It's a huge challenge, and No Ka Oi carried us through the process. They have always helped us find the best resolutions for our challenges."
Establishing New Plants in Old Spaces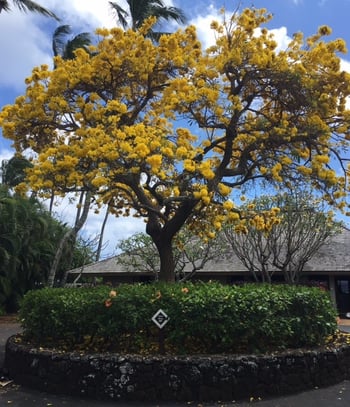 When we say "old" landscape we mean mature, admirable, stately—the kind of property that owners dream about when they first put plants in soil. That sort of beauty comes with time.
Kiahuna Plantation is appreciated for its Hawaiian heritage landscape, and No Ka Oi is an important partner in ensuring the health of plants. Safety is always a top priority when reviewing any landscape, and with older properties the specimen trees can present a real liability.
No one wants to remove a stately specimen tree.
But worse would be personal injury or worse that could result from an accident if damaged landscaping is not properly managed.
No Ka Oi identified a grand fiddlewood tree at the Kaihuna Plantation entryway that needed to be removed. It was no longer safe. "No Ka Oi gave us several different options for replacing that tree to enhance the area," Bandsma says. "They gave us a proposal and the information I needed to work with our property's board so that I could relay the recommendations."
Bandsma says, "We ended up installing a triangle palm in the entryway that is enhancing that area, and No Ka Oi was instrumental in giving us the right information to pass along to our council so they could make that decision."
Catering To Property Owners Needs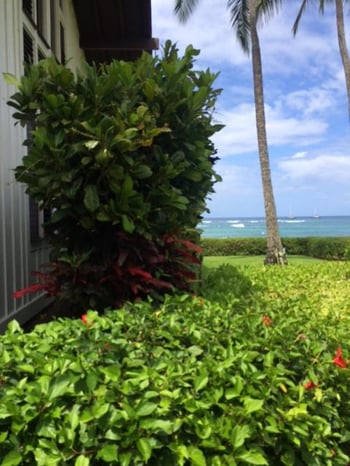 Communication and understanding are essential for servicing a homeowners association like Kauai's Kiahuna Plantation. It's not like performing landscape maintenance at a retail or commercial property, Santos says. "The residents who stay at Kiahuna own their properties and this is their retreat," she relates.
So excessive noise from gas-powered blowers is not acceptable.
The Kauai property is home, not a place to shop. It's a vacation destination, not an office park where you go to work. So, the landscape maintenance must be managed quite differently, Santos says.
"We use battery operated equipment that is quieter," Santos says.
Removing leaves is a fairly big job on the island property because of the mature trees that are constantly dropping foliage, Santos points out.
No Ka Oi treads lightly while preserving the beauty of Kiahuna Plantation.
Meanwhile, a close relationship with Bandsma and managers at the property is important for helping stakeholders prioritize what landscape projects and maintenance tasks to tackle based on the budget.
"They are a dynamic part of the process," Bandsma says of No Ka Oi's ability to clearly present landscape solutions and plan projects that suit the owner's' financial parameters.
This collaboration is what makes the relationship a true partnership.
"Kiahuna Plantation trusts us to guide them toward the best decisions for their landscape, and that is how clients can truly realize the value of working with an experienced commercial landscape maintenance firm," Santos says.
Bandsma adds, "I have worked with No Ka Oi for about 20 years on properties throughout the island of Kauai. They are a great group of people to work with."
No Ka Oi does an exemplary job of helping maintain a legacy Kauai property, he adds. "When maintaining an older landscape, you have to be careful," he says. "It's like if you haven't got a haircut in several years. If need the right person to do it, otherwise it could look really bad."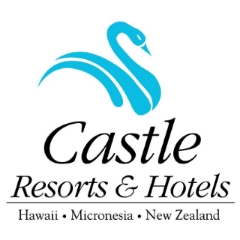 Highlights
Kiahuna Plantation was established over four decades ago.
No Ka Oi partnered with Kiahuna Plantation three years ago.
No Ka Oi oversees all irrigation needs and property enhancements.
Challenges include managing an aging irrigation system and specimen tree replacement.
Battery operated equipment is used to avoid excessive noise.
Testimonial
I have worked with No Ka Oi for about 20 years on properties throughout the island of Kauai. They are a great group of people to work with.

Mark Bandsma, Castle Resorts & Hotels