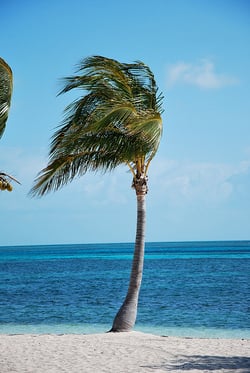 Winds are tricky on Kauai. There's a careful balance between preserving views and breaking gusts of salty air that rush off the Pacific and onto commercial properties.
Many of us on Kauai appreciate the lovely breezes. They temper humidity and just make for a perfectly relaxing climate. Though, steady trade winds do kick up and push stronger winds on to our properties, and wind tunnels from between buildings set close together like on resort properties.
But again, there's a balance. Guests want clear views of mountains, beaches and water—nothing blocking the way. But windbreaks are beneficial for creating protected, calm spaces.
The good news is, you can find a happy medium by planting trees and shrubs that deflect wind and divert it from your property. For beachside resorts and commercial properties with ocean views, even slender palm trees can act as a form of windbreak to stop gusts from completely barreling through the property.
Kauai property owners located farther inland might prioritize a windbreak over a view. Whatever is most important on your commercial property, here are the five best windbreak trees on Kauai. (And it doesn't hurt that they're fast growing either.)
Silver Buttonwood
I know we promised trees, but to kick things off, here are two extremely efficient shrubs, starting with silver buttonwood. Salt-tolerant silver buttonwood is fast growing and produces small leaves so the hedge easily can be pruned to a size that suits your property. It naturally grows in a fountain shape, and it's readily available on Kauai.
If you have more time than money, purchase smaller containers (1- or 3-gallon sizes) and allow silver buttonwood to grow in. Within a season, you'll see progress. The plant is also available in 15-gallon size containers, which provide an instant windbreak.
As for appearance, the plant can look white or bluish-silver, which offers great contrast in the landscape. It grows up to 20 feet with a spread of about 10 feet.
Naupaka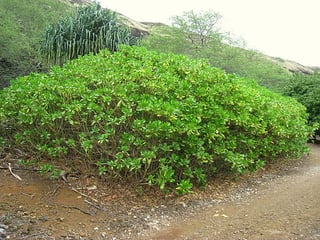 Native Kauai plants are such a wise choice for commercial landscapes because they're designed to thrive here on the island. They grow strong without extra maintenance, and they can stand up to our erratic weather conditions.
That's exactly the kind of plant you want for a windbreak, making Naupaka a smart shrub selection to block wind.
Naupaka is salt-tolerant, and it's readily available so there is generally no problem sourcing the plant. You may run into situations where a landscape designer from the Big Island or elsewhere specifies a plant that just isn't accessible on Kauai. That's not the case with Naupaka, which is a plant we install on many commercial properties.
It grows up to 10 feet tall and loves the coastline. It produces a whitish flower with purple streaks, so Naupaka lends that tropical feel that beachside properties desire. And, in our opinion, why wouldn't you choose a plant for your oceanfront property that naturally thrives in sandy soil and salty air?
Ironwood Tree
If blocking views is not an issue on your Kauai commercial property, but wind is a big concern, then ironwood is a hardy, large pine that is often used to protect shorelines from tsunamis.
So, in that way, it's the ultimate "break" to protect your property against environmental forces. Ironwood stands up against the strongest winds, but it grows quite large—in excess of 100 feet tall.
The tree is not ideal for some properties, and especially on landscapes where a view is more valuable than wind protection.
As we said, it's all about striking a balance and deciding what's most important on your property, and sometimes you need a landscape professional like No Ka Oi with a lifetime of experience on Kauai to walk you through the options.
Madagascar Olive Tree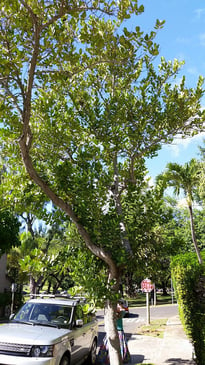 Here at No Ka Oi, we call this the "mad" olive tree, and not because you're mad if you select it for your landscape. It's quite the opposite. The Madagascar olive, also referred to as wild olive, grows up to 30 feet tall with a spread of up to 20 feet.
It stands up to high winds, and is moderately salt tolerant, and the plant grows best in sandy or moist soils. This fruit-producing tree yields edible olives, so that's a benefit.
But, the downside is that the olives can be quite messy—so on commercial properties, you want to be careful about where you place wild olive so you don't end up spending more time than you desire cleaning up walkways.
Wax Leaf Ficus
This sturdy tree can exceed 5 feet in height, and its shiny, waxy leaves are attractive and add textural interest to Kauai commercial properties. We plant wax leaf ficus as a windbreak (and more) because it's versatile and hardy.
By that, we mean it can handle full sun or low light. It's salt-tolerant, making it an ideal resort plant and beachside selection for commercial properties with ocean exposure. (We're talking about you, on the east side of Kauai.)
And, perhaps the best thing about ficus is bugs stay away from it. We're not kidding about that. Because wax leaf ficus is so disease- and pest-resistant, the tree has been a go-to at No Ka Oi lately. While there's no such thing as a no-maintenance plant—we've told you this time and again—wax leaf ficus definitely ranks as a lower-maintenance tree. Gotta love that.
Back To The Rule: Right Plant, Right Place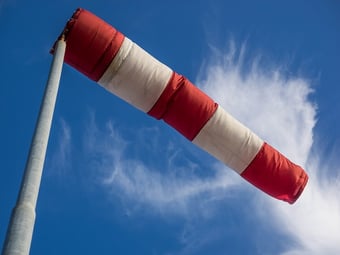 You've heard us say this before at No Ka Oi. We can't emphasize enough the importance of selecting appropriate plants for your Kauai commercial property based on its location, the soil, sun exposure—and yes, wind.
Let's talk more about selecting plants that can create a barrier from the elements, including providing privacy.
Call us any time at 808.335.5887, or fill out this simple contact form and we'll get in touch with you.
Images:
Wind sock
,
Olive tree
,
Naupaka
,
Windy palm