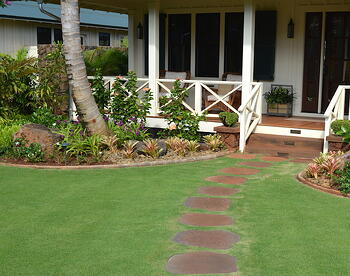 Protecting your property value is critical for maintaining occupancy levels, and for attracting visitors and customers to your commercial property. An investment in the landscape will increase property value by up to 12.7 percent, according to Virginia Tech research.
Curb appeal matters, but you want to focus on aspects of a landscape that will bring you the best return-on-investment.
Here are five ways to boost your Kauai rental property's value by enhancing the landscape design or through thoughtful maintenance practices.
Pump Up The Color With Annuals
Showy annuals placed by the front entryway and dispersed in beds add a welcoming pop of color to any property. Planter boxes can provide elevated color, and an array of containers offer flexible, stylish planting solutions for annuals. Varieties can be changed out easily each season. Spice beds with updated color. The Pantone Color of the Year for 2014 is Radiant Orchid—so why not incorporate violets into the landscape to show a sense of style?
Go Long With Perennials
Perennials are a wise landscape investment because they bloom year after year. Plant them, care for them properly and the return is color, texture and seasonal interest you can depend on. Perennials are landscape staples.
Focus On Low-Maintenance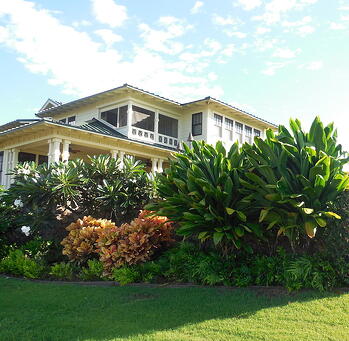 A healthy landscape shows that the commercial property owner cares for the site. Maximize maintenance dollars spent by considering landscaping with low water requirements, minimal pruning and turf care. In fact, it's possible (and sustainable) to plant a landscape that does not include turf at all.
If you're wondering which plants will thrive in your Kauai microclimate, call No Ka Oi — this is our specialty.
Depending on what side of the mountain your property is located on the island, a plant may grow strong without care, or require lots of TLC.
Plan Gathering and Seating Spaces
Seating and gathering spaces give visitors places to congregate — they lend a make-yourself-at-home feeling. An American Society of Landscape Architects study revealed that outdoor seating areas are a priority for 95 percent of survey respondents. Because outdoor spaces can be used most of the year in Kauai, adding a covered structure to the area can bring value to the space, providing rain-or-shine accommodations for dining and drinking — or just relaxing.
Care For Your Investment
A well-maintained landscape is the first impression a visitor gets of your property. Coconut trees and other trees and shrubs in the landscape should be properly pruned, making sure that walkways are clear and the façade is complemented rather than overwhelmed by the foliage. The lawn should be neatly cut and edged. Flowers should look fresh, which can include use of an irrigation system to ensure proper watering.
If you're considering overhauling your Kauai rental property's landscape, be sure to design it with future maintenance in mind.
Bonus Tip: Call The Professionals
No Ka Oi is the only commercial landscaping company on Kauai that specializes in maintenance — and that can go a long way toward protecting your landscape investment.
We'll help you identify the key selling points of your property and present ideas for enhancements that will deliver a big return on your investment. Call our office at 808-335-5887, or fill out our contact form and we'll get in touch with you shortly.