Kauai lives up to its Garden Isle reputation thanks to the bounty of exotic flowers, trees, groundcover and shrubs that grow all over the island. Visitors especially love experiencing exotic flowers on Kauai — the blooming eye candy is unlike anything they would see in landscapes at home.
In fact, Kauai has more exotic flora than any other Hawaiian island, but most of our exotic plants are not native. Over generations, wind, birds and people have brought seeds to the island, and they thrive here because of our various climates, including rainforest settings. Today's hardy exotics live strong on Kauai and give tourists something to look forward to when they visit.
Here are some exotic flowers you'll find growing on Kauai's resort and commercial properties.
Heliconias — Plant Some Paradise
Also known as lobster-claw or false bird-of-paradise, heliconias come in a range of varieties and produce vibrant, flowering heads called bracts that form what looks like a ladder of blooms. They grow 1½ to 15 feet tall and add a dramatic pop of color to the landscape.
Hybrid Hibiscus — Magnificent And Multi-Colored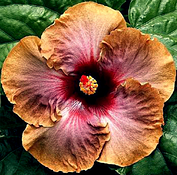 We're fortunate at No Ka Oi that one of our talented landscape professionals began growing hybrid hibiscus, so the striking exotic flower is readily available for planting on the island's resort and commercial properties. Why do we love this flower? Besides the fact that hibiscus is an iconic Hawaiian plant, the hybrids we're growing bloom in uncommon color combinations. We're talking purple, red and orange on a single flower. Their beauty amazes guests.
Rainbow Shower Tree — Cascading Blooms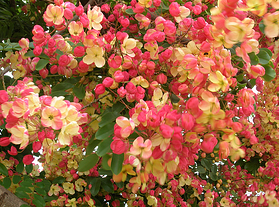 The tropical Rainbow Shower Tree blooms in spring and summer and produces fragrant, bright blooms in a range of colors: red, pink, orange, magenta and cream. The blooms will stay on through fall, giving tourists a show that starts in June and lasts.
The tree can grow up to 65 feet tall and its branches form an umbrella. Its leaves are a dark opal color, though once the flower spikes bloom you might not see the foliage. The "rainbow shower" show this specimen is reason enough property owners choose this tree for their commercial landscape.
Red Ginger — Red Showstoppers
The exotic torch-like flowers that bloom on Red Ginger plants have a waxy surface and, when cut, will thrive in a vase for two weeks or longer. The Red Ginger blooms year-round, providing ongoing riotous red accents in the Kauai landscape. And, they can grow quite tall — up to 6 feet — bringing height to flower beds. These fragrant tropical flowers just look like a Hawaiian vacation, which is why our commercial property clients like to have them planted. They are also low-maintenance, growing in sun or shade. That's a bonus.
Spathoglottis — Garden Orchid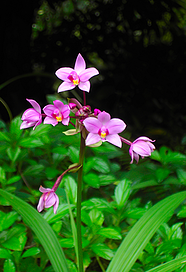 Known as a terrestrial orchid (or garden orchid), the flowers that bloom on spathoglottis create a swath of exotic purple and yellow blooms, filling in landscape beds and areas on a commercial property that can benefit from some floral interest.
Spathoglottis dresses up the ground with an eye-catching, easy-to-grow plant that thrives in light shade to full sun. That makes this groundcover a great option for properties with varying sun exposure because spathoglottis will thrive consistently in all areas.
Lauhala Tree — Posing As Pineapple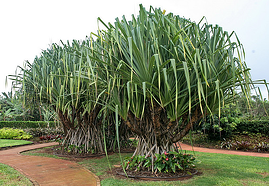 Lau means leaf, and the hala tree produces leaves that were traditionally used for weaving baskets and sleeping mats. The Lauhala tree forms a fruit that looks like a pineapple and often fools visitors into believing that's the case. The tree offers a palm-like texture and lends a tropical feel to resort and commercial properties on Kauai.
Exotic Flowers On Kauai Bring Tourists Back
The seemingly endless palate of tropical and exotic flowers and trees on Kauai attract guests to the island's resorts and attractions. The lush blooms create a striking backdrop that gives tourists plenty of photo opportunities, and a reason to return to the island to experience The Garden Isle in different seasons.
Want to plant a lasting impression on your Kauai commercial property? Let's talk about what varieties work for your microclimate. Call us any time at (808) 335-5887, or fill out this simple contact form and we'll get in touch with you.