Maintaining your commercial property's landscape is a critical part of creating a great lasting impression for visitors, who will return to your site if they enjoy the experience.
So mowing, edging, pruning, cleaning up rubbish and overall upkeep is job one. But "extras" add a layer of luxury: a fire pit gathering space, a warm and colorful entryway, walkways that improve access.
Landscape enhancements are items that go above and beyond the maintenance contract. They can include design-build projects such as adding a hardscaped space (patio, walkways); or infrastructural improvements to your Kauai property, such as an updated irrigation system that takes into account water conservation.
Landscape enhancements are not included in your service contract, but as you think ahead to 2016, now is the time to consider some of the landscape projects that could improve your commercial property and figure those into the budget.
Here are three commercial landscape enhancements to consider for next year along with some budgeting tips so you can make these projects a reality.
Light Up Your Property With A Fire Pit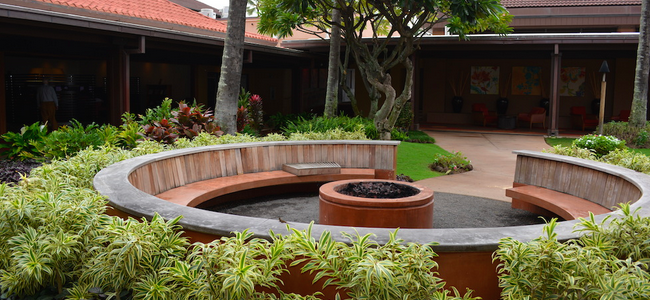 There are many ways to figure a fire pit into your Kauai property. You can build a retaining wall around the fire pit for seating, and even create a separate "living space" where the fire pit becomes a getaway within your property. Fire pit gathering spaces are great places for hosting events or providing an area for your restaurant/bar crowd to hang out and unwind.
You can create a simple fire pit or add the feature to an existing area. We always involve a landscape designer on these projects, create a plan that meets property owners' goals, and then establish a specialized crew to execute the design.
If you get into a larger project where you're building more infrastructure, such as a retaining wall, patio, etc., that drives up the cost because of more materials and labor.
Pleasing, Functional Walkways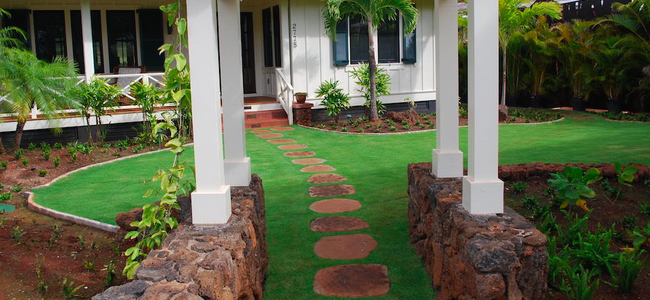 Walkways in high-traffic areas can take a beating, and over time you'll need to make improvements to ensure the safety of guests. Concrete sidewalks can buckle under the pressure of tree roots that lie beneath, and extreme weather can wear away at hardscape surfaces.
The last thing you want is for visitors to trip and get injured, so maintaining the integrity of walkways is crucial. Not to mention, the aesthetic appeal of walkways can degrade over time.
There are a number of ways to enhance walkways, from the type of material you use to how walkways are laid out on your property. Stepping stone pathways with larger slabs of rock material surrounded by plantings lend an organic, natural feel. Hardscape walkways can be laid using various shapes and textures of interlocking block to create interesting patterns.
And, designing a walkway that meanders through a garden landscape can enrich guests' experience. So maybe it's time to reconsider that straight, concrete pass that is cracked and aging.
The cost of a walkway depends entirely on its size and the type of material you choose. A walkway project can be simple or extravagant. Regardless of your approach, this landscape enhancement pays off in the safety and aesthetics departments.
Irrigation System Upgrade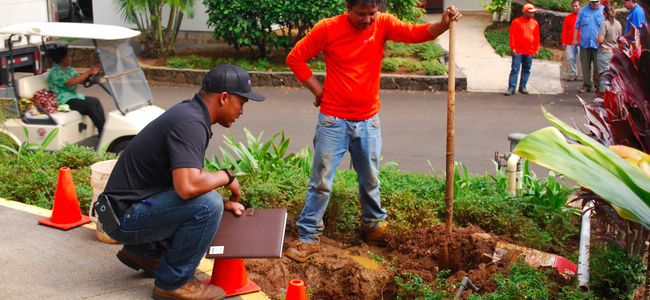 If your commercial property still has older riser-style irrigation sprayheads that are stationary and protrude several inches, consider budgeting an irrigation system upgrade to pop-up sprayheads and a weather station to conserve water. Pop-up sprayheads improve safety on your property. You won't worry about people tripping over them, or golf carts accidentally running over them, resulting in irrigation repairs.
Also, today's irrigation system components run more efficiently, so you'll notice a water savings over time. Adding a weather station to your irrigation is not a landscape enhancement that visitors will see, but the improvement will ensure that your system is only watering the property when necessary.
At the very least, your irrigation system should include a type of rain sensor that deactivates the system so it doesn't water your grass while it's raining or when the ground is plenty moist.
Irrigation system prices depend on the number of sprayheads you need, whether or not we'll need to dig up the old system or if existing piping can be used, and the type of rain sensors you choose. Like any landscape enhancement, the cost is variable depending on your project size and scope.
Budget Smart for Commercial Landscape Enhancements In 2016
The benefit of working with a full-service professional landscape contractor is that a knowledgeable crew is on your property regularly to perform maintenance tasks and can provide landscape enhancement recommendations.
Together, you can prioritize the projects your property needs and determine where to start.
Some budgeting strategies include planning projects in phases. If a fire pit is in the cards for next year but you need a hardscaped area and retaining wall to set the stage, then start with the groundwork and plan on the fire pit for the following year.
If walkways need improvement, choose the most heavily traveled walkways first. You can do one walkway in 2016, and another the following year. Or, budget for one walkway in spring and another in the fall.
A professional will create a cost-benefit analysis for landscape enhancements like irrigation system improvements. This way, you'll see how quickly you can get a return on your investment.
The best advice we can give when budgeting for landscape enhancements is to plan early and set priorities. And, commit to the project. If you earmark dollars for a new irrigation system, stick with the plan rather than figuring you'll use "extra dollars" for enhancements. Let's face it, there's no such thing as found money in a budget.
Advanced planning is critical.
Let's talk more about landscape enhancements that will improve the visitor experience on your Kauai commercial property. Call us any time at 808.335.5887, or fill out this simple contact form and we'll get in touch with you.