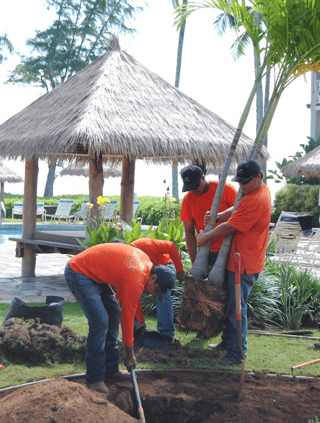 A talented, dependable team is the secret to our success at No Ka Oi. People make it happen here, whether we're starting a new commercial landscaping project from the ground up, updating an older property to bring it into modern times, or enhancing the landscape that is already there.
Our crews are everyday heroes. They work around challenges and help bring landscape plans to life.
Now with the No Ka Oi Enhancements Division, our landscape architect Roland Breclau is leading a team that's dedicated to beautifying spaces — adding that fire pit, changing the plant palette — for our existing commercial maintenance clients.
When we're planning a landscape, we always consider what it will take to keep that property looking perfect in the long-term. This means careful plant selection and understanding how a property's location on Kauai impacts the soil, wind and temperature.
Here, we'd like to highlight five commercial landscaping projects on Kauai we completed in 2015. These are just a sampling of the design and installation work we do.
Kukui'lua Club Cottages
The coveted cottage club properties at Kukui'lua on Kauai include 15 LEED-certified residences, with guesthouses (or garages), located on the island's South Shore. Unlimited Construction hired No Ka Oi to install the extensive landscaping, one property at a time. That included everything from coconut trees to groundcovers, tropical plants and more.
Developers did not cut corners in this upscale community. A single condominium landscaping job was $100,000. The ongoing construction at Kukui'lua lasted for years. In 2015, No Ka Oi wrapped up the landscaping on the final property.
The layout was a challenge, with the cottages located close together. They required privacy screening, so No Ka Oi created living walls.
Also, No Ka Oi worked directly with some homeowners, who wanted various plant arrangements. Our team focused intently on satisfying the property's clients — from the developer to individual condominium owners.
The result is a complete portfolio of high-end cottages that offer a true Garden Isle environment.
Parcel FF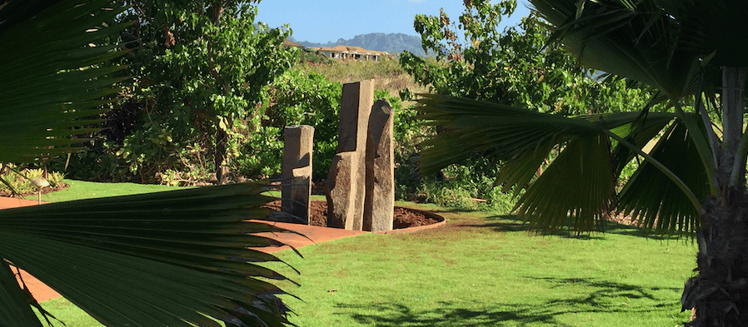 The management across the street from Kukui'lua Club Cottages saw our exemplary work on those properties and enlisted in No Ka Oi to install landscaping on the property across the street. It is now known as Parcel FF. (Kukui'lua was known as CC when it was still a work-in-progress.)
The challenge with Parcel FF is that the landscaping is critical for selling the properties. So our team must work around electricians, painters, furniture installers and a host of other vendors that are constantly on the property. That means taking care to protect plants if there is exterior painting nearby, and also being mindful of traffic as we work with the land.
The large landscape installation at Kauai's Parcel FF brings more visibility to our work, now with two properties across the street from one another wearing the No Ka Oi stamp.
Aston Islander On The Beach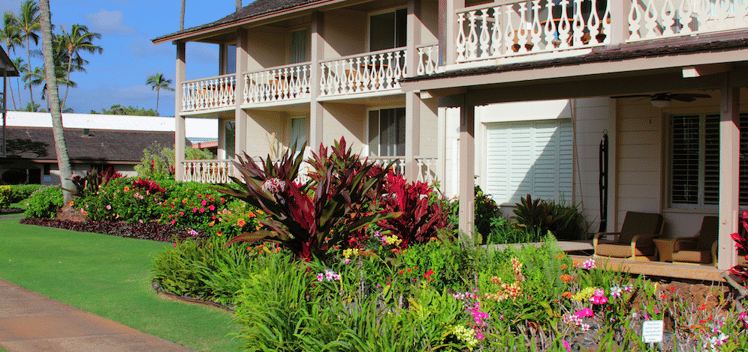 This plantation style beachfront resort is on the Coconut Coast of Wailua Bay in Kapaa. The Islander management reached out to No Ka Oi to perform a large landscape overhaul to the outdated property, which is quintessentially Kauai but had a monotonous plant palette.
The homeowners were extremely involved in visioning the new concept, which called for different themes for each building on the property — and different colored flowers for each theme.
This was a challenge for our landscape architect, mostly because of The Islander's location. Being a beachfront Kauai resort, its landscape must deal with salty winds that can limit the plant choices. But we delivered with color and variety, just as the plan called for.
This project was rewarding because the homeowners at The Islander watched their landscape dreams come true, with No Ka Oi finding plant solutions to suit the microclimate on the property. A bonus—The Islander was so pleased with the results the management will continue with more enhancements in 2016.
PiliMai at Poipu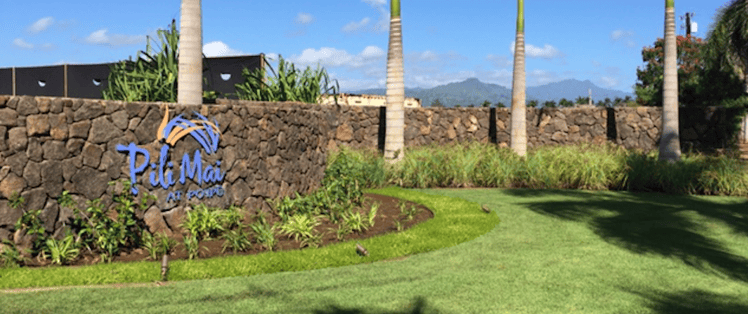 Situated on Kauai's sunny South Shore, PiliMai at Poipu is an upcoming master planned community. No Ka Oi was brought on to complete the landscape installation for the community's common areas, along with individual properties' landscaping.
These luxury condos are accompanied with first-class landscaping. The project was rewarding because we had an opportunity to work with a different architect who relayed to the developer, "This is the best installation I've seen." (He doesn't readily dole out compliments like this, so we were especially proud.)
This new Kauai development is an exciting project for No Ka Oi because it was long time in the making. We bid on it about eight years ago, and finally the project was started last year — and now it's full speed ahead.
Sheraton Kauai Resort
The 22-acre Sheraton Kauai Resort offers postcard views of the Kauai coast, and it's a vacationer's dream come true to stay at the top-ranked hotel. The Sheraton has a history of investing in its property to provide a premiere guest experience. And, they rely on No Ka Oi to maintain their grounds and enhance the landscaping with various installations.
In 2015, the Sheraton reached out to No Ka Oi to revamp its courtyard and create a beachside bonfire setting with a fire pit. No Ka Oi's Frank Santos worked with Sheraton to create a design to realize the vision. That included installing native "canoe" plants on the property, and completely renovating the RumFire courtyard.
The Sheraton wanted to transform the courtyard into an appealing event venue — yet also a place where guests could wind down with a cocktail and enjoy the views.
No Ka Oi created a design including functional retaining walls that act as benches for guests to sit around a fire pit. No Ka Oi served as general contractor on the project, so the Sheraton could work with a single contact to complete the project.
Timelines were critical, with a short window of time during the Sheraton's off-season when our teams could complete the entire project. Also, some materials were sourced from the mainland, and there was the overall challenge of working conscientiously within the resort community.
The final result is a modern gathering space that enhances the amenities Sheraton offers.
Understanding The Landscape Life Cycle: From Installation To Maintenance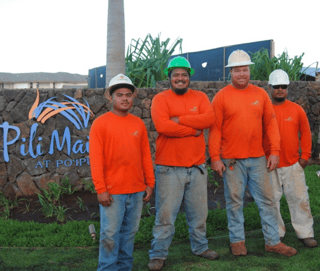 We're proud of our team at No Ka Oi, and the amazing "afters" we produce on Kauai with a whole range of landscape installation projects. Some of those we highlighted here. But our commitment to property owners on Kauai extends beyond installation.
When a project is complete, that's when the real work begins: Keeping the commercial landscape carefully maintained so it retains its beauty and value.
Let's talk about ways to enhance your Kauai commercial property this year, whether by improving your maintenance program or adding a feature like a fire pit. Call us any time at 808.335.5887, or fill out this simple contact form and we'll get in touch with you.