What's always "in" on Kauai: lush landscaping and outdoor spaces where guests can soak in the garden isle environment. Anything commercial property owners do to enhance their landscaping and make it safer, healthier, more sustainable and visually appealing is not just a trend—but a must, if you ask us.
It's a matter of reinvesting in your Kauai property to increase its value and improve the experience for guests.
That's why we love when landscape upgrades work double-time, improving a commercial property's visual appeal and function. For example:
fire pits that create ambiance plus more seating
grass that's more sustainable and healthy
irrigation systems that are safer for pedestrians and more efficient to run
It's all about maximizing your budget while improving your property each season. Even the minor landscape upgrades can make a big impact, like changing out tired plants or reinventing an entryway bed.
With Kauai tourism on the incline and the island's positive economy, now's the time to explore what's new for your commercial landscape so you can attract (and entertain) visitors. Here are the top five commercial landscaping trends on Kauai that will help achieve those goals in 2016.
Natural Landscaping And Native Plants
There's no such thing as a no-maintenance plant on Kauai, where the growing "season" is year-round and we're always working to prevent weeds and disease in landscapes. But when property owners select native plants, these varieties require less care to thrive.
That's because they're designed to grow strong here on Kauai. They're part of our natural landscape, so it makes sense to incorporate them into yours. A couple of native plants selections we like include Ulei with its fragrant white flowers and hardy Akia. (There are many other options! Just ask us.)
An Irrigation System Upgrade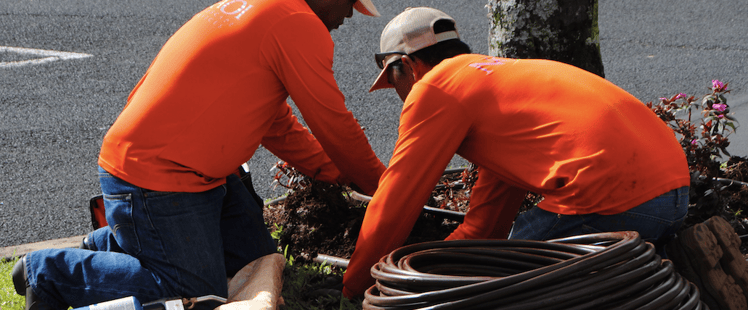 Older irrigation systems with protruding sprayheads can cause a problem for visitors, who can accidentally run them over in golf carts or trip over them while walking. When maintaining a property, landscape crews must be careful to mow around these sprayheads so they do not damage their equipment or the irrigation system.
By upgrading these older-style sprayheads to pop-ups, you can avoid safety hazards and prolong the life of your irrigation system. Plus, today's sprayheads are more water-efficient so you'll realize some savings on your water bill.
Speaking of savings, another water-wise upgrade is to switch to a smart irrigation controller. These controllers adjust an irrigation system so it runs based on the property's plant varieties, soil type, sun exposure, air temperature and precipitation.
The Functional Fire Pit

Here's why we're falling in love with fire pits. Sure, there's the ambiance and warmth that fire brings an outdoor space. But beyond the "mood setting" this outdoor amenity offers, fire pits add a great deal of function to commercial properties on Kauai. Think: more seating!
A retaining wall "border" surrounding a fire pit serves as a design element, accenting the shape and creating a defined space, while providing bench seating for guests to enjoy the atmosphere.
We're adding fire pits to areas that serve as natural gathering spaces—by a tiki bar or poolside, along a beach view or near a hula mound. Fire pits have a magnetic quality. People are drawn to them and tend to sit down and stay a while. (Property owners can appreciate this when the result is an increase in sales at an adjacent bar or grill.)
A Sustainable Kauai Lawn

There are a number of turf grasses that grow on Kauai commercial properties, including seashore paspalum and St. Augustinegrass. But if given a choice, we prefer to plant El Toro zoysiagrass, and here's why:
For one, it's slow-growing and disease-resistant. It can tolerate high foot traffic, which is important for busy resort, retail and other commercial properties. El Toro zoysiagrass grows fine in shade, too. And, it does not require extra maintenance such as verticutting.
In fact, El Toro grows quite well in poor soil, so that also saves time, money and effort in amending soil or adding fertilizers. El Toro is about as "no maintenance" as you can get in the turf department, making it a sustainable landscape selection for Kauai commercial properties.
The 20% Rule: Budget For Enhancements
This isn't necessarily a trend, but it should become a best practice when budgeting for annual landscaping maintenance. When clients set aside 20% of their landscape maintenance budget to make enhancements to their commercial properties, they can actually green-light improvements on their wish lists.
The trends we noted—fire pit, smart irrigation controller, native plants, sustainable lawns—can become a reality. Without earmarked dollars for landscape upgrades, these projects get sidelined and a property can decline over time.
Your commercial property is an asset that requires maintenance and continued investment. So with the new calendar year, make a resolution to add a landscape enhancement to your budget. Let's talk about what trends will update the look of your Kauai property. Contact us any time at 808.335.5887, or fill out this simple contact form and we'll get in touch with you.
Images: Wikstroemia uva-ursi