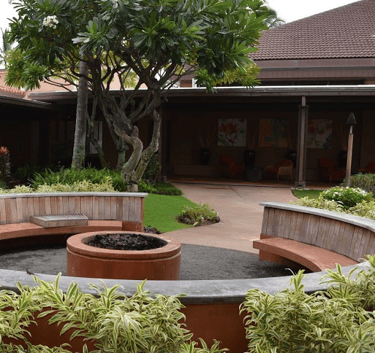 Fire pits add ambiance to your commercial property and allow guests to relax, gather and enjoy the great Kauai outdoors. They're functional, providing warmth. And, they're just fun. People are drawn to the dancing flames, which become a focal point in an outdoor living space.
We point to Sheraton Kauai Resort as a fine example of how a fire pit can enhance a commercial property. Property managers wanted to renovate its RumFire Courtyard so visitors could unwind by the fire's glow while enjoying beach views and cocktails. (If this sounds like paradise—well, it is.)
As you consider enhancement projects for 2016 and earmark budget dollars to improve your Kauai commercial property, think about adding a fire pit. The cost of a fire pit will depend on the materials you select, its size and what's currently in the space where you plan to build. (In other words, how much demolition and prep work will be involved?) You can go simple or extravagant. Both ways, you'll enjoy the benefits of this popular "extra."
As you plan a fire pit project, talk to your professional landscape contractor about these five factors that will impact the price.
Take some time to envision what this fire pit will look like. What are your goals for the space? This list will help you set priorities so you can move forward with a fire pit project that will suit your budget and deliver the outcome you desire.
Location, Location…
The placement of a fire pit can have a big impact on the project cost. Will the fire pit be close to the beach and require landscaping crews to traverse a resort property with care in order to reach the destination? What access issues might a contractor confront? Remember, heavy stone materials must be hauled to the site using construction equipment. If materials are hand-hauled using wheelbarrows, that drives up labor costs.
Depending on the property and location on Kauai, there may be zoning issues to address. Be sure to partner with a landscape contractor that is licensed, bonded and has experience working with zoning commissions to keep your project moving efficiently (and cost-effectively!).
Finally, consider whether the fire pit site is "naked" and will require no demo or removal of materials—or if pre-construction is required to prepare the area for new fire pit installation.
Seating Optional
While seating is not required, it certainly adds convenience and makes a fire pit more of a destination. A retaining wall built around a fire pit offers dual benefits. It provides seating for guests while separating the fire pit area from surrounding leisure space. The result: a true outdoor room-within-a-room, if you will.
A retaining wall surround is one seating option, but there are others. Artistically placed specimen stone (boulder size) can act as seats. And traditional outdoor furniture is always an option.
Materials Matters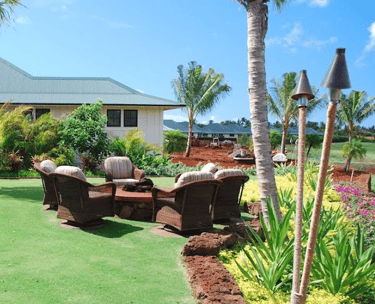 The materials you select will set the tone for your fire pit. There are a number of options, including a masonry fire pit faced with stone veneer, ceramic tile or stucco; interlocking block made from engineered stone; and natural stone that offers a rugged, organic look.
Natural stone tends to be the most expensive option because it requires installation expertise, and the right size and shape of stone must be acquired for the project. It also produces beautiful results.
Generally, the fire pit design will dictate what materials are used. Some fire pits are "recessed" and level with the ground, and others are more built up with a taller wall surrounding the fire source. Talk to your professional landscaper about available materials and where products are sourced. Shipping in materials from the mainland will add to the cost.
Fuel The Fire
There are different ways to fuel your outdoor fire pit, and various ignition options. If a gas line must be run to the fire pit site, that will add cost—and could require digging up (and then replanting) other areas of your Kauai property.
On the other hand, this is practically a requirement for a commercial fire pit. While a propane tank is one fuel option, this is better for residential use.
Overall Project Scope
What size is the fire pit you envision for your Kauai commercial property? How many guests do you hope will gather around its perimeter to enjoy the amenity? Is this an intimate space, or a popular courtyard area like at Sheraton Kauai Resort?
The overall project scope will determine the price of the fire pit. Size drives up materials and labor costs. But, be honest about your expectations. If you install a small fire pit that only a handful of people can enjoy, is that enough for the crowd at your resort or commercial location?
Fire Pits Warm Up Business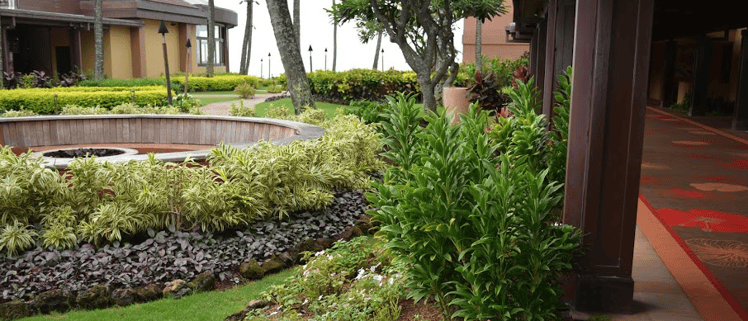 Fire pits are a guest magnet on Kauai commercial properties. No Ka Oi clients that have installed fire pits are enjoying the benefits of this enhancement. That includes visitors who linger (and spend while they're at it), and who are likely to return for the ambiance.
A fire pit allows guests to truly immerse themselves in the Kauai outdoors and enjoy a vacation, a night out on the island or a late, lazy afternoon by the beach. Retail properties can enhance a courtyard or gathering space with a fire pit and watch the site turn from a mere seating area to a social destination.
Let's turn up the heat on your Kauai property! Call No Ka Oi any time at 808.335-5887, or fill out this simple contact form and we'll get in touch with you.