What are the best erosion control plants on Kauai? Now that's a complicated question.
I say "complicated" because it really depends on a number of variables that include (but aren't limited to): sun, wind and water exposure, as well as sloping landscapes, maintenance costs and a plant's visibility.
In the past, we might recommend wedelia as the go-to erosion-control ground cover on Kauai because its maintenance costs are extremely low as are the installation costs. Guests to the island seemed to like its little yellow flowers, but wedelia has become unpopular with landscape architects due to its invasive nature.
However, there has been a switch to native plants for erosion control on commercial properties all around the island.
No Ka Oi's Top Plants For Erosion Control
Something that's often overlooked is really any plant can help control erosion — if it follows our Golden Rule, of course: right plant, right place. That said, No Ka Oi has a few favorites when it comes to erosion control plants. Here's a closer look at four of them.
Naupaka

A hardy shrub on Kauai, one naupaka plant can spread up to 15+ feet. Its foliage has a waxy feel that protects the plant from salty sea spray. Naupaka's shallow root system enables it to grip shifting sand and rocks.
The bushy naupaka also serves oceanfront properties as an excellent windbreak.
Pohinahina

Also known as beach vitex, pohinahina is considered a ground cover that will usually reach a height of no more than 18 inches, but spreads more than 10 feet. Around the globe, beach vitex is labeled an invasive plant, but on Hawaiian shorelines it's a welcomed sight.
We like its ability to control erosion on sloping landscapes. Pohinahina is drought-tolerant and its silvery-green leaves reflect light and are very aromatic, giving off an aroma similar to Mediterranean herbs (think rosemary).
Carex

Grasses in any capacity have always been a reliable erosion control plant. On Kauai, carex is a tough and non-invasive sedge that serves a property well when planted en masse. Unlike lawns, this grass can grow to more than 2.5 feet in height and doesn't require trimming.
Carex come in a variety of colors and textures.
Aloe

We love aloe because it is bulletproof in rocky areas. And aloe plants excel in control soil erosion when planted as a barrier across a slope. By planting aloe plants closely together a living barrier is created, which increases infiltration while decreasing surface wash.
Additional benefits of planting aloe on rocky, sloping landscapes include: reduced runoff and gullies, increased soil humidity and relatively easy installation.
No Ka Oi Is An Expert In Erosion Control Plant Selection
Speaking of erosion control, we recently touched on this very topic in the case study of our work on Kukui Grove Center. Kukui Grove has a steep slope near its entryway that routinely fell victim to a gradual landslide after heavy rainstorms.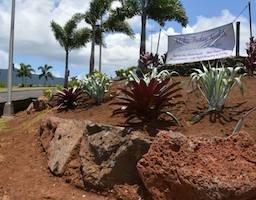 "You can't have dirt and mud running across public walkways and public driveways every time it rains," said Wade Lord, the property's asset manager.
No Ka Oi's erosion control solution on Kukui Grove included terracing the slope with stone boulders and the correct plant material for the location — drought-tolerant plant material near the top of the slope and plants that prefer wet conditions at the base.
Sloping landscapes and land erosion are two things No Ka Oi encounters and manages on a daily basis. When we can make a significant impact on the safety, beauty and revenue-generating opportunities of a property, we're in our sweet spot as a commercial landscape firm serving Kauai commercial property owners.
Let's talk about your property challenges and how you can turn those into assets. Contact No Ka Oi any time at 808.335.5887, or
fill out this simple contact form
and we'll get in touch with you. Let's start a conversation about your Kauai property — and discuss the updates and grounds management care that can take your landscape to the next level.
Images:
Naupaka
,
Pohinahina
,
Carex
,
Aloe