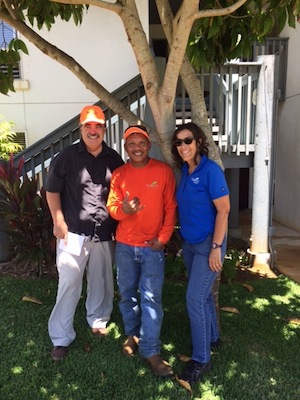 How does your Kauai commercial property compare to others that surround your location? Is your grass greener—are your flowers fresh and colorful? What about the details on your property: Are sidewalk cracks free of weeds and drainage grates cleared of debris?
Your Kauai landscape sends a clear message to customers about the standards you hold. That's why you want to partner with a Kauai commercial landscape maintenance company that shares your commitment to quality. But you should not have to constantly monitor performance — this responsibility falls on the landscape firm servicing your property.
What tools does the company have in place to assure the quality you expect? This is an important question to ask when vetting a Kauai commercial landscape company.
How No Ka Oi Checks Quality
At No Ka Oi, we conduct a Quarterly Quality Assessment process. Every three months, our director of landscape maintenance, property foreman, landscape business consultant and you, the owner, conduct a thorough review of every property. We have a solid system in place for ensuring that every aspect of the landscape meets our high standards.
We want to share with you more about our Quarterly Quality Assessment process so you can understand the importance of partnering with a commercial landscape company that shares your standards. We believe this process drives constant improvement at No Ka Oi. It motivates our team, and keeps us constantly on task while we service properties. We treat every commercial property like our own, and with our assessment process in place, commercial clients can rest assured that they're getting the best.
The Quality Checklist: Grading Our Performance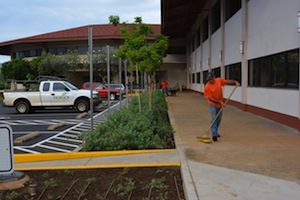 We score every Kauai commercial property based on six areas: turf, flowers, ornamentals, trees, irrigation and general, which includes safety. Within each category, we break down quality inspection points.
For example, we assess turf for its mow pattern, edging, fertility, weeds, detail/cleanliness and pests. We review flowers for dead-heading, weeds and plant health. We ensure that ornamentals are trimmed, weeded and healthy. When grading tree performance, we look at stakes/ties, pruning and plant health. Irrigation scoring is centered on repair and soil/moisture. And our general categories includes: weeds/cracks, horizon (the overall view), V-ditch/drains, inlets/grates, safety and litter.
The purpose of this checklist is to provide a standardized system for our teams servicing your commercial properties. This checklist sets expectations for customers, too. You know that we'll be carefully reviewing every aspect of our landscape, and our people are held accountable for delivering premier service.
Every line item is scored, and a final grade out of 100 is assigned.
Always Room for Improvement
We believe that there is no "perfect." We are always striving for perfection, of course, but no matter how manicured a property is, there is room for improvement.
But, using our checklist as a baseline, we can assure our clients that every detail matters. And then, we go above and beyond the high standards we set and suggest three ways that our teams can score an even higher grade on the next Quarterly Quality Assessment.
This is a way of always keeping our teams sharp and looking for ways to elevate the property's appearance.
We're Looking Out for You
Our Kauai commercial property owners appreciate that we are the ones looking out for their landscapes. You can focus on your businesses and servicing your clients. Maintaining a landscape that meets the highest standards is our job, and we take that seriously.
The Quarterly Quality Assessment process gives our commercial landscape clients peace of mind that we are rigorous in our pursuit of quality. (The name of our system says it all, really!)
At No Ka Oi, we go beyond talking about quality — we deliver it, and we back it up with our Quarterly Quality Assessment. Let's talk about how our standards align, and why hiring a commercial landscape maintenance company with a process in place can alleviate stress and time from your day.
Give us a call at 808-335-5887, or fill out our simple contact form, and we'll get in touch with you.