If you're planning to plant grass on your commercial Kauai property, you know you have several options,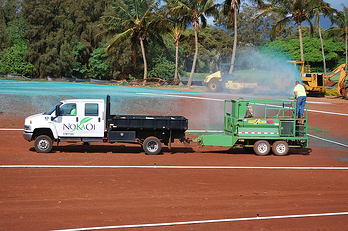 including sodding, seeding and hydroseeding. Sod produces instant gratification, but it's expensive to install and many property owners want an alternative for larger areas because of cost. Seeding the old-fashioned way takes patience and involves using a spreader to distribute seed, then protecting the newly seeded land with hay or another cover material while it germinates and sprouts.
Hydroseeding — also known as hydromulching — is king for planting grass in large spaces because it's efficient, economical and automated. You'll also pay about 75 percent less to hydroseed than to sod. Hydroseeding involves mixing mulch, seed, fertilizer and water in the tank of a hydromulching machine. The slurry is sprayed onto the bare land.
Not sure whether hydroseeding is the best choice for planting grass seed on your Kauai landscape? Here are some questions to ask yourself to determine if this method is a fit for your commercial property.
How Large Is Your Property?
Smaller spaces, such as in between beds or small stretches your Kauai resort property, can be efficiently seeded using another method, such as laying down sod. On the other hand, if you're dealing with a large swath of land, such as a sloped entryway to your property or a fairway-sized space (or more), then choosing this method will be the most efficient means of planting grass.
Will This Area See Heavy Foot Traffic?
Hydromulching is a fast and cost-effective solution for planting grass — but the seed still has to germinate, sprout and fill in the area. You can't speed up Mother Nature. During that time, you want to minimize foot traffic on that area to give newly planted seed the best chance of survival. So consider whether the area of your Kauai commercial property where you'd like to plant grass is a space where people will walk. If so, you might consider sod instead.
Can You Maintain The Hydroseeded Area?
As we said, grass seed doesn't germinate and grow over night. It can take 90 days for hydroseeded land to fill in with grass that can be properly mowed. In the meantime, the area must be weeded and cut, groomed into a lawn.
Another type of fast application for grass planting is hydrosprigging, which is the same as hydroseeding except you're applying sprigs of grass that eventually grow and fill in the space. This can speed up the process of filling in the property with grass and reduce maintenance needs in the meantime.
Does Your Commercial Kauai Landscape Attract Birds?
Birds love to feed on grass seed, and if you hydromulch a large area that tends to serve as a landing pad and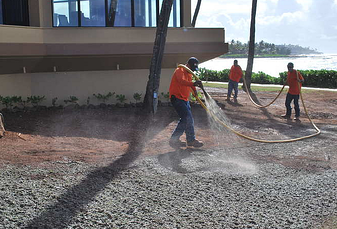 buffet for birds, you can expect that they'll nosh on the seed. They have an uncanny way of picking through the protective layer of mulch to reach their prize. Then, you're dealing with uneven grass growth and some re-seeding, depending on the damage. Before you hydromulch a large area where you know birds will feed, talk to your landscaper about control methods you might put in place, if any.
Is Your Property Prone To Dry Weather Or Located On A Slope?
With Kauai's micro-climates, the grass planting conditions on one commercial property can vastly differ from the conditions on a neighboring landscape. A benefit of hydromulching in areas of the island that receive less rainfall is that the mulch mixture helps retain water, keeping moisture in so grass seed can germinate and thrive. This reduces the need to irrigate. Also, the mulch mixture keeps grass seed in place, which is especially important on slopes.
Is Hydroseeding Right For Your Site?
Hydroseeding offers a significant cost advantage over laying down sod, and it's an efficient process using a hydromulching machine. If your Kauai commercial property has large, low foot traffic areas that need grass planting, and you've got 90 days to allow grass to grow, then this is a great option. Still not sure? Let's talk more. Call us any time at 808-335-5887, or fill out this simple contact form and we'll get in touch with you.