Four questions for you:
When is the last time you assessed your irrigation system for water efficiency?
Is it delivering moisture to the landscape when and how plants need it?
Does your commercial Kauai property have legacy fixed sprinkler heads?
How are landscape beds receiving water, anyway?
Depending on your answers, your Kauai property might be a candidate for drip irrigation.
Understanding The Need For Drip Irrigation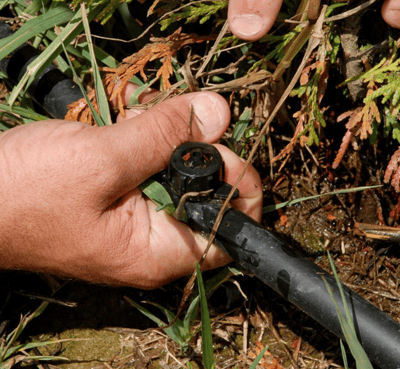 Drip irrigation is a beneficial upgrade for a number of reasons. For one, drip irrigation requires less water pressure. Many of Kauai's older resorts were constructed when the island was less developed, and with construction and time water pressure availability has dropped.
So those original irrigation systems are probably not working to capacity, or pressure has to be reset at a lower rate and the system is less effective.
Also, drip irrigation is a water saver—that's its calling card.
Drip irrigation delivers droplets of water to the landscape over a longer period of time vs. traditional pop-up and fixed spray head irrigation systems that disperse water so it will fall on the landscape. Also, drip irrigation droplets are larger and less subject to evapotranspiration.
Is Drip Irrigation Right For Your Kauai Property?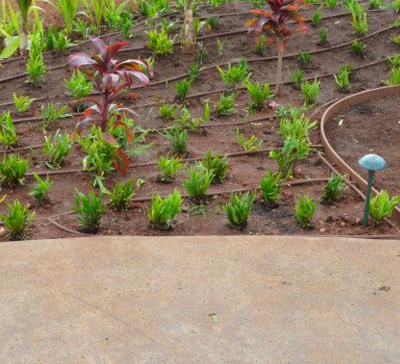 Drip is ideal for landscape beds and areas with groundcover. You wouldn't use drip irrigation to water a large lawn area. Clients who do switch to drip notice a difference in their water bills. (The amount depends on their irrigation use and property size.) For these reasons, drip irrigation is a smart watering system for Kauai properties.
You might hesitate to change out your irrigation system, cringing at the thought of digging up the ground or long periods of time with a landscape that's "under construction."
Rest assured, installing drip irrigation doesn't translate to a landscape tear out—we promise. Here is what to expect if you decide to install drip irrigation, and what factors can impact the project timeline and cost.
Drip Irrigation Cost Drivers
There are several factors that can increase the cost of a drip irrigation system: existing infrastructure, property plans and the type of drip irrigation you choose (grid spacing vs. spot emitter).
Tap Into Old Lines
Running new, dedicated drip irrigation lines costs more than tapping into existing infrastructure.
So, a budget-conscious approach is to cap off old sprinkler bodies (spray heads) and develop new points of connection for your drip system from those existing lines. It is always preferable from a cost-savings perspective to use existing irrigation lines.
Access Property Plans
We love when a property can provide pre-construction drawings of the property that include finished drawings of plumbing lines.
With this reference, we can carefully plan drip irrigation installation rather. Otherwise, we must spend time figuring out the existing system, which can also result in unnecessary digging and plant replacement.
Drip Irrigation Setup
Drip irrigation systems cost more when they are installed on 'grid spacing' that involves more dense coverage and more infrastructure. Spot emitters that tap into existing lines are less expensive to install and take less time for construction. Ultimately, the decision will depend on your landscape and watering needs.
Setting Expectations: Drip Irrigation Installation
Timing is everything when planning a drip irrigation project on a resort or commercial Kauai property. We know your property is "on" 365 days a year. There is really no downtime when the landscaping can be under construction and still look appealing for guests.
Drip irrigation installation does not happen overnight, but there are ways to hasten the construction process. The time required for installation ultimately depends on project scope and pre-planning.
The "cost driving factors" we mentioned also impact the installation time. If you have pre-construction plans for your property and know where plumbing lines are located underground, you'll save your landscape contractor time. (Plus, you'll prevent unnecessary demolition to find lines.) Also, you'll save lots of time if you can use existing irrigation infrastructure rather than routing new lines.
Maintaining Your Drip Irrigation System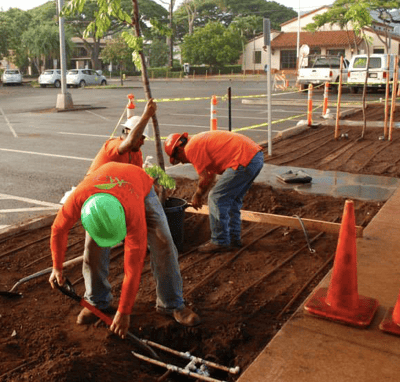 Like any element of your commercial landscape, drip irrigation systems require regular annual maintenance to ensure that they continue to run efficiently.
You'll find that drip irrigation systems are less prone to "breaks" that occur with older fixed spray heads. That older infrastructure tends to get run down by golf course, trip pedestrians and can get caught up in mowers if landscapers aren't careful.
Regular drip irrigation system maintenance — we like twice annual checkups —includes assessing the system for any broken or damaged spray heads and performing necessary repairs. We'll check the pressure of each lateral valve, and also make sure the controller is performing properly.
The right size and type of filter must be installed to increase the longevity of drop emitters. (The mineral content in water can corrode and clog up filters and equipment over time.)
We also check the fittings to be sure they are secure and maximizing water efficiency. Finally, we ensure that drip irrigation tubing is covered with mulch to protect the system and maintain an attractive appearance in the landscape.
Partner with No Ka Oi to Water Smart and Save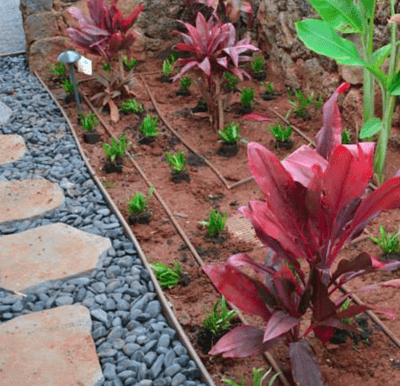 Drip irrigation is ideal for landscape beds and areas with groundcover, and you'll notice cost savings that will offset the installation investment.
We understand that undergoing any major landscape construction can interfere with business on your Kauai property. That's why at No Ka Oi, we focus on careful pre-planning to identify a clear-cut, cost-effective and time-conscious way to implement drip irrigation on commercial properties.
Wonder if your Kauai property will benefit from drip irrigation? Call us for a free assessment. We'll check out your existing irrigation infrastructure and make recommendations based on your goals.
Contact us any time at 808.335.5887, or fill out this simple contact form and we'll get in touch with you.
Image: Drip irrigation