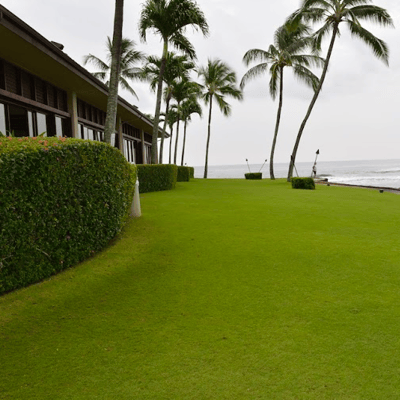 Like any investment you make in your Kauai landscape, there are two key factors that will drive warm-season grass you select: time and resources.
There's no such thing as maintenance-free turf, and some varieties require more fertilization and specific mowing practices that can be labor-intensive and drive up the cost. The more TLC turf demands, the more you can expect to spend. (Ultimately, you've got to ask yourself: Is your landscape maintenance budget up to the challenge?)
The conditions on your commercial property also play into the what-to-plant decision. An oceanfront resort needs grass that can stand up to salty winds. A high-traffic property needs turf that can handle pedestrian stress.
Because no two properties on Kauai have the same exact needs, there are a handful of warm-season grasses we plant. Here is an overview of our four favorites, their maintenance requirements and ideal growing conditions.
Seashore Paspalum

Seashore paspalum is readily available on Kauai and therefore relatively inexpensive to install. It's fast-growing, so stolons spread quickly and fill in with a fine-textured, soft grass. It's appealing for guests to walk on and can stand up to foot traffic. (Helps that it grows back quickly if damaged.)
What we love about seashore paspalum is its versatility on properties that are exposed to salty winds. It handles tough environmental conditions with ease. Waterlogged soil? No problem. Low light? That's O.K. for seashore paspalum. (A better option in this case than Bermuda grass.)
But don't think its resilience translates to low-maintenance. That's not the case. You must fertilize seashore paspalum regularly and cut it weekly using a reel mower. Seashore paspalum lawns should be verticut twice annually. This turf can be susceptible to fungal diseases if maintenance is overlooked. However, when cared for, seashore paspalum provides a welcoming carpet of grass that begs to be enjoyed by guests.
St. Augustine Grass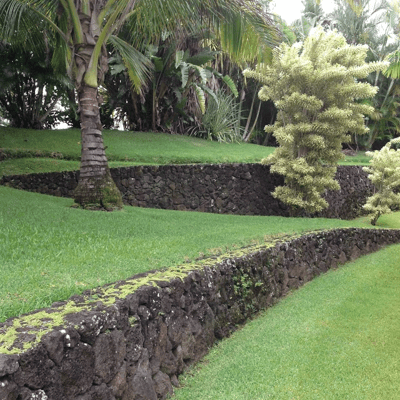 This lush, dark green grass is visually appealing, but there are limitations to St. Augustine grass that property owners should understand before they choose to install it.
First, this turfgrass does not stand up well to foot traffic. So, the ideal location is in an area that will not be traversed by pedestrians.
Second, you'll want to be sure to diligently irrigate St. Augustine grass because in full sun, it needs plenty of water. If your location is oceanfront, forget this turf. It is not salt-tolerant.
As for maintenance, this grass is susceptible to fungal disease and insects, so careful maintenance is a must to keep it growing strong.
The good news is, St. Augustine grass does tend to grow rapidly, so if you install it from runners, it will catch quickly and spread. (We also recommend sod.)
St. Augustine grass is an alternative to seashore paspalum if your property is shaded and inland—but remember, this grass does not like to be played on. So if you need a resilient turf and sunlight is not an issue, seashore paspalum or El Toro Zoysia grass are better options.
El Toro Zoysia Grass

As its name implies, El Toro Zoysia grass is a "bull" of a lawn, standing up to foot traffic and growing hardily without excessive maintenance. It is not susceptible to fungal disease like other warm-season grass varieties. You won't need excessive fertilization to retain El Toro's medium-green color—a richer green than seashore paspalum, and a courser turf, too.
Slower-growing El Toro gives you some leeway between mowings, which is nice—though it does take longer to establish than seashore paspalum. Because it grows vegetatively, you'll need to install stolons or sod initially. Installation cost is more than varieties like Bermuda grass that can be hydroseeded, reducing manual labor.
But that investment will pay off with a resilient, attractive lawn that is tolerant to weeds, disease and environmental stress.
For all of these reasons, the nearly bulletproof El Toro Zoysia grass is a popular choice for Kauai commercial properties of all kinds.
Bermuda Grass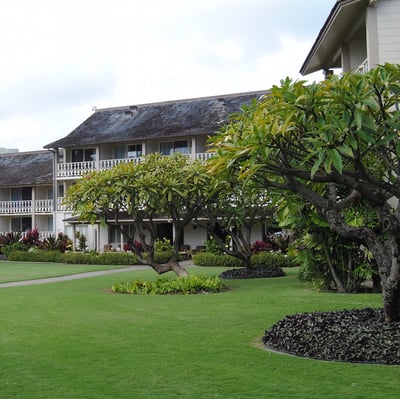 Bermuda grass is a popular choice for golf courses and there's good reason why. It is cost-effective to install by hydromulching, and it grows in quickly.
The turf has always been an efficient, effective grass on Kauai. You'll also find it growing alongside roads and on sports fields.
But more commercial property owners today are moving toward seashore paspalum because it's a more attractive grass that is salt-tolerant. In fact, golf courses can actually control weeds and disease by using salt water on seashore paspalum.
It has more of a touch-me feel than Bermuda grass, so resorts certainly opt for this finer selection. But there's a place for Bermuda grass on commercial lawns. Property owners looking to cover lots of ground look toward the variety and are pleased with its results.
For Best Results—Invest In Maintenance For Your Kauai Lawn
When the growing season is year-round, turf never gets a break. So no matter what type of warm-season grass you select for your Kauai commercial property, it will need mowing and fertilization.
Grass on Kauai will require irrigation and measure to prevent fungal disease, weeds and insect infestations. Proper maintenance will give grass the reinforcement it needs to stay healthy over the long haul.
Let's talk more about the right grass for your Kauai property and how to care for it. Call No Ka Oi any time at 808.335.5887, or fill out this simple contact form and we'll get in touch with you.