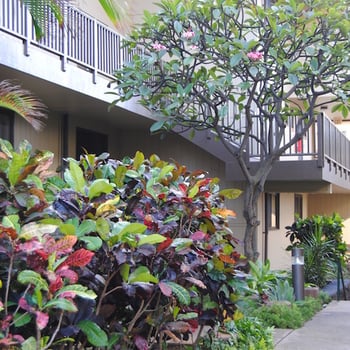 Pathway lighting safely lights the way for pedestrians on your commercial Kauai property, and it extends the "life" of your grounds so people can enjoy the outdoors from dusk until dawn.
Pathway lights are functional, and sometimes festive. They serve an important purpose — lighting paths, as their name implies. But the benefits go beyond their basic use. They can highlight plants and create an inviting atmosphere.
We think every commercial property can benefit from pathway lights, but here's what you need to know about fixture types, placement, warranties and maintenance.
Pathway Lighting Can Set The Mood For Safety
The ultimate purpose of pathway lights is to guide pedestrians so they can safely walk around your commercial property at night. We can't stress enough the importance of safety on your Kauai grounds. No property owner wants his or her landscape to be a liability. Pathway lighting can improve security and reduce the risk of people tripping or falling.
But pathway lighting also adds ambiance, highlights plants in the landscape, and accents hardscape features (including your pathways). Beyond safety, property owners love pathway lighting because it creates a warm, inviting environment and makes their properties usable on a 24/7 basis.
Common Types Of Outdoor Pathway Lighting
There are a few basic types of pathway lighting used on commercial properties. Each has its benefits depending on the application.
Bollard

These lamps tend to be heavy-duty and are ideal for parking lots and high-traffic spaces that need to be illuminated. Their post-like design makes them somewhat intrusive in the landscape from a design perspective, but they are a popular choice because of the illuminating capabilities they offer.
Pagoda

These pathway lights are similar to bollard lamps because you can see the source of the light. This makes them less subtle than a hat path light (see below), however are decorative during the day when unlit. Pagoda-style pathway lights are also the most budget-friendly option for property owners, and they can be tucked along the edges of pathways and effectively do their job.
Hat Path

These fixtures look like a stem with a hat — and that top covers the light source, so what you see is the beam that radiates down. This provides a softer, more sophisticated effect while functioning like other pathway lights.
Placing Pathway Lights
Location, location… The old saying rings true for pathway lighting, too. Here are a few pathway placement pointers.
Set Fixtures Into the Landscape
Often, property owners place pathway lights right next to a pathway so light shines directly on the path. This seems logical. (You want to light the path, right?) But, remember, the fixtures do gives you some "spread" and the beam will travel a bit.
Ideally, pathway lights should be placed in the landscape next to the pathway. This marks the edge of the path, which is really what you want pedestrians to see. Pathways are generally smooth and relatively simple to navigate.
By illuminating pathway edges, you'll keep people on track and help them avoid tripping off the edge of the path. Also, this placement produces a softer, more natural light.
Avoid A 'Runway Effect'
As humans, we naturally like order and we're really quite linear in the way we think. So when placing pathway lights, this can translate to lining up lights along a path in a row—one after the other.
The result: You've now created a pathway lighting "mood" that resembles an airport runway. (Oops.) We don't think that's the effect you or guests really want.
Instead, stagger pathway lights by placing some closer to the pathway and others farther back into the landscape. Every square inch of the pathway does not need illumination. Allow generous space between pathway lights. Generally speaking, pathway lights are placed between 4 and 6 feet apart, though that will depend on their location and the surroundings.
Reconsider Installing Pathway Lights In Cement
You can place bollard pathway lights in cement, and commercial property owners might choose to do so in parking lot areas to stop traffic. The lights can mark where parking spaces end and walking areas begin. There's no problem installing these lights in cement—until one of the lights is damaged. And, if the lights are in a parking lot, an accident is bound to happen eventually.
Replacing a fixture placed in soil is much easier than repairing one set into concrete. (You have to remove the fixture, repair the concrete surface, etc.) That drives up the cost and time to install/repair. We generally recommend installing pathway lights into the ground vs. concrete for these reasons.
What About Warranties?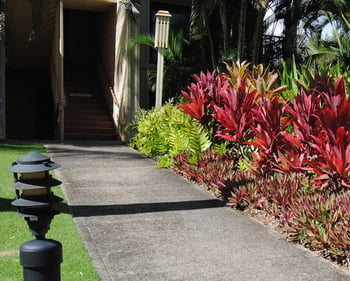 Commercial pathway lighting does come with a warranty, though coverage will depend on the manufacturer and type of fixture. Generally, LED lamps are covered by warranty for five to 10 years. These warranties usually include the entire fixture and lamp (for integrated fixtures that do not have removable LED lamps.)
Drop-in LED lamps (basically replacements that are installed into existing pathway lighting) are usually covered for 5 years or less. However, the manufacturer may cover the fixture itself for a longer period of time.
LED lamps give you 30,000 to 50,000 hours of use vs. a typical lamp that shines bright for an average 3,000 to 10,000 hours. So by choosing a more expensive LED lamp, you can more than quadruple the lifespan. This means less time in the field changing out lamps, and less cost for replacements.
Landscape Lighting Design: Why Hire A Professional?
Placing pathway lights is not as easy as it looks. And ultimately, there is more than just pathway lighting in your landscape. Here are three reasons working with a landscape lighting pro is your best and wisest bet.
Well-Laid Plans
You'll want to illuminate plants and architectural features so you can enjoy the outdoors after dark. All of this requires a solid landscape lighting plan that incorporates 'layers of light' from various types of fixtures that are placed with safety, functionality and design in mind.
Well Sourced
Partnering with a landscape lighting specialist is a wise choice because the professional will help you determine what types of fixtures best suit your needs. Also, you'll get commercial-grade fixtures that last longer and come with better warranties. (Box store landscape lighting just isn't suitable for commercial properties — and especially not those solar lights.)
Well Connected
Another aspect of the job is wiring. A landscape lighting specialist not only uses top-grade wiring, he or she will know how to properly wire fixtures and avoid common problems. One is failing lamps because of irrigation system spray.
If connections aren't waterproof, you've got trouble. And unfortunately, many connections are labeled for underground burial but that's not the case. A professional or lighting distributor can guide you toward quality fixtures and materials.
Remember Outdoor Lighting Maintenance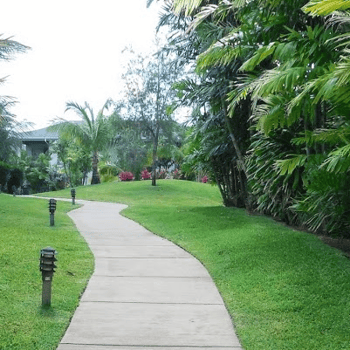 With any landscape lighting, the most common maintenance requirement is to keep lamp lenses clean. Dirt and other landscape debris can build up over time. Simply wiping off lights will keep them shining bright.
Eventually, you'll need to change out the lamps. But as we noted, LED lamps can last up to 50,000 hours — so you'll buy a lot of time before any change-outs if you choose this energy-efficient lighting option. As for changing lamps, if you change one go ahead and change all of them. If pathway lights were installed at the same time, the lamps will burn out at roughly the same time, too.
Pathway lights that are placed too close to a pathway are subject to get knocked over by accident. It happens. Fortunately, the fix is pretty simple as long as lights aren't set in concrete.
Let No Ka Oi Light Up Your Kauai Commercial Landscape
Landscape lighting adds hours of usability to your commercial property, and it creates an ambiance that guests love. At No Ka Oi, we're focused on safety, which is why we recommend pathway lighting for all commercial properties.
Let's talk more about how pathway lighting can benefit your commercial property. We'd love to give you some design ideas, too. Call us any time at 808.335.5887, or fill out this simple contact form and we'll get in touch with you.