With July being Smart Irrigation Month — and to coincide with the steadily rising summer temps — we think there's no better time than now to talk water use and how to make the most of it throughout the grounds of your property (aka not waste it).
And while we've already touched on new landscape irrigation technology and shared some tips for smarter watering in past blog posts, we also think it's equally important to know how to spot the signs of a failing irrigation system … before things get out of hand and cause serious damage to your property.
Trouble Spotting: Landscape Irrigation System Problems

When it comes to identifying red flags in your landscape irrigation system, here's a quick checklist of signs to be on the lookout for as your watering is put to the test this summer.
Bad Targeting
Is your irrigation reaching it's intended target? When water is going somewhere it shouldn't, it's being wasted.
Some indicators of poor irrigation targeting include:
water spray being blocked (possibly by overgrown plant material)
wet hardscaped surfaces like sidewalks, patios, parking lots, etc.
high-powered streams or light misting from sprinkler heads (it's likely your water pressure is way too high)
Brown Spots & Wilting Plants
While this can also be a sign for bad targeting, if you're seeing dried out patches of turf or crispy, wilting plants in your landscape, it's clear your irrigation system is not reaching where it should.
If this a relatively new problem, there's a good chance a sprinkler head or your drip irrigation is clogged with dirt or mineral build-up.
Bad Timing
Watering schedules are things that should be adjusted to reflect seasonal temperature changes and any new plantings. That said, when are your sprinklers going on and off?
Is your landscape bring watered in the heat of the day — risking moisture loss to evaporation. Are sprinkler heads popping up at a time when guest activity is at its peak?
Your commercial landscaper should help you figure out the proper amounts of water your lawn needs and when it needs it.
Outdated System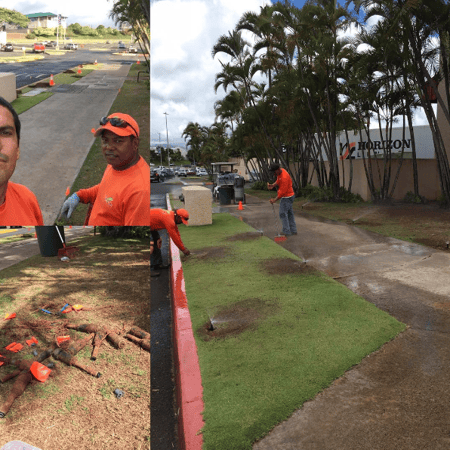 One of the biggest factors of an inefficient irrigation system can be age. Take an old system mixed with very little maintenance and you're going to find a litany of problems.
For an example of the watering problems associated with an older system, check out our Waipouli Beach Resort case study.
Prior to removing everything and installing an entirely new irrigation system, simple adjustments and also retrofitting an older system with newer, more efficient parts is an affordable and cost-effective approach for many properties on the island.
Some examples of these landscape irrigation adjustments and retrofits include:
Zone shutdowns – Your commercial landscape professional can look at different zones and possibly shut down those that aren't necessary anymore on the system.
Pressure controls – If the pressure of your irrigation system is too high, water can mist, overthrow its intended location and excessively run off. Excessive pressure can also crack and deterioriate valves over time, which causes leaking.
Nozzle & Valve Conversion – From poor installation or lack of maintenance, high-flow nozzles can push water out at an extreme rate, wasting water and missing its mark.
Smart Controllers & Weather Sensors – By incorporating this advanced irrigation technology, property managers or their commercial landscape contractors can measure moisture levels in the landscape, take into account weather forecasts and precisely control the water an irrigation system outputs.
Drip Irrigation – Sometimes your irrigation system just needs to dial it back with how water is reaching the plants in your landscape. Switching from traditional spray irrigation to drip irrigation means smaller volumes of water at much lower pressures are being used to water your plants — effectively.
No Ka Oi Is Smart About Irrigation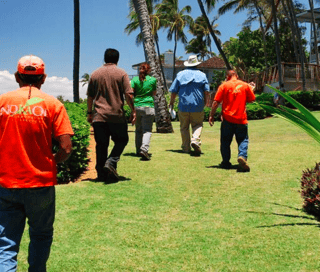 We understand that a properly functioning landscape irrigation system has a lot to do with reaching your landscape's potential in health and beauty.
That's why it's a major component of the Quarterly Quality Assessments we perform for all of our clients.
We advocate smart irrigation backed by routine landscape irrigation maintenance to conserve water, reduce your utilities and repair costs, and keep plants thriving.
At No Ka Oi, our commercial landscape specialists can take an inventory of your commercial property and assess the irrigation system's effectiveness, or design a modern system that makes good water sense.
Let's talk more. Give us a call any time at 808-335-5887, or fill out our simple contact form and we'll get in touch with you!
Image: Red flags