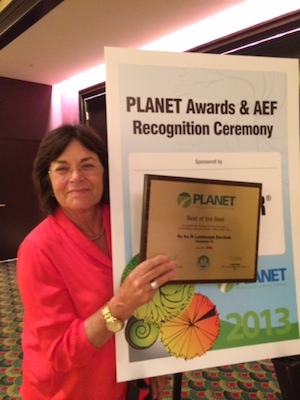 Never stop learning. Never let up on quality. Never lose sight of why we do this. Why are we passionate about the green industry and creating beautiful spaces for commercial clients on our Garden Isle?
The reason is simple, really. We love the work and the people.
We gain a great deal of personal and professional satisfaction from watching our landscaping expertise "rub off" by creating green, lush, healthy properties on Kauai.
Our work makes people's vacations to Kauai memorable: They might recall walking through a garden on a resort property and enjoying the flowers. We also know that our work brings significant business value to our commercial clients, improving their ability to attract and retain tenants, drive spending from retail customers and compete in the market.
For all these reasons, we're constantly working to sharpen our professional skills as a landscaping firm, and one way we do this is through our involvement in our green industry association, the Professional Landcare Network (PLANET). Industry associations play a vital role by providing continuing education, networking opportunities, best practices, training, safety standards and advocacy.
Here are five reasons we value our PLANET membership — and why we encourage our commercial clients to consider joining professional organizations that will benefit their companies.
Raising the Bar: Maintaining High Landscaping Standards
It's easy to feel like we're operating in a bubble. We talk about Kauai microclimates all the time as it relates to landscaping, and that idea extends to running a business. No Ka Oi understands our Kauai market, but it's also important for us to understand how other landscaping firms throughout the country are managing their businesses.
What technologies do they use to work more efficiently? What products and equipment are other landscape firms using? How do other landscape firms manage marketing, sales, customer service?
When we connect with our green industry peers, we always take away fresh ideas to bring to No Ka Oi so we can continue to deliver the best quality service to our clients on Kauai.
Camaraderie: Networking with Landscaping Professionals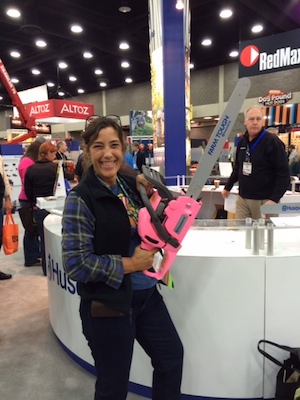 Talking shop is an important part of how No Ka Oi stays on the leading edge of commercial maintenance landscape services. We appreciate any opportunity to ask questions and listen to companies in the green industry that have "been there, done that."
So while we learn, we also build strong friendships during PLANET networking opportunities that happen during national meetings, such as the Green Industry Conference in Louisville, Ky., or smaller gatherings of peer groups throughout the year.
Through the years, we have grown strong relationships with other landscaping companies throughout the country. (And they get us out of our Kauai "bubble.")
Certification: Creating Green Industry Career Paths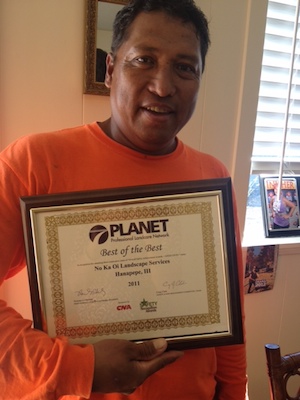 Professional landscaping is a strong career path, and we show our employees and commercial customers that No Ka Oi creates promising futures for our people.
PLANET provides landscaping industry certifications, and our employees work to obtain these certifications. In addition, PLANET's STARS Safe Company program is one of No Ka Oi's company-wide initiatives — we've earned Safety Recognition Awards at the Green Industry Conference for several years running and will be receiving another in Louisville in 2014.
This shows our commercial Kauai clients our commitment to excellence. It also sets a bar for hiring the best landscaping talent available.
Conference: Meeting, Greeting, Learning and Scouting for Services
There's nothing like being surrounded by thousands of people who share your passion for the green industry. That's what happens every year at PLANET's Green Industry Conference. It's a national gathering of green industry companies, distributors, manufacturers and professionals who provide services to companies like ours. The conference is a tremendous learning opportunity resource for learning about the latest products and equipment—and services.
Specifically, we were hunting for a green industry consultancy that could help us take our marketing efforts to the next level, and we found that resource at the conference. Since then, we've engaged Landscape Leadership's services and have launched a rich content marketing campaign that's helping us share our landscaping expertise with our Kauai customers and prospects.
Best Practices: Comparing Notes with Other Professionals
Many of our clients belong to professional associations centered on hospitality and tourism. We also get involved in those organizations so we can learn more about our clients' businesses.
The reason we share our love for PLANET and our purpose for membership is because we believe it brings great value to No Ka Oi in so many ways. And, we like to encourage our commercial customers to also consider joining professional organizations that will help them improve their operations. There's so much to learn and so much to gain.
Let's Talk Shop!
We love to talk about what's new in the green industry—so ask us about the latest techniques and products we use and how they can benefit your Kauai commercial property.
Give us a call any time at 808-335-5887, or fill out our simple contact form and we'll get in touch with you!