Creating seating areas and gathering spaces where visitors can relax and take in the scenery on your Kauai property does not always mean just add patio furniture. In fact, we find that the most effective, visually appealing site furnishings blend into the landscape and become a part of the outdoor environment.
That's why at No Ka Oi, we focus on building visitor conveniences into the landscape design. We're talking about retaining walls that double as rock wall benches for resting or focal-point planters with smooth surfaces so visitors can perch and catch a view or just take a break.
We often go a step further for the resort and retail landscapes on Kauai that we maintain, installing popular and elaborate fire pits and hula mounds, which act as grassy stages for performances and ceremonies.
The emphasis on Kauai is always to let the island's stunning views serve as the backdrop for the landscape design, and we always want to provide site furnishings that work in harmony with your property's' greatest asset: location.
With all of this in mind, here are four visitor-friendly site amenities for Kauai commercial properties that will improve your guests' experiences.
A Glowing Addition: Fire Pit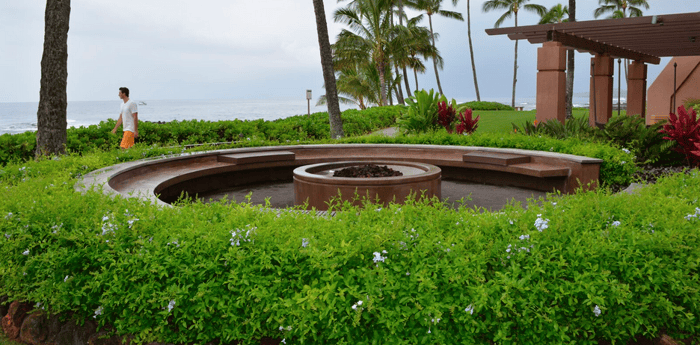 The warm, dancing blaze of a beachside fire is mimicked on Kauai resort properties with fire pits that bring that native feeling into a convenient, even posh, environment. Fire pits extend the hours on a property, giving visitors reason to hang out and enjoy the property for longer. There's something about fire and water that attracts us to stay a while. By adding a fire pit on your resort property, you offer guests both of those elements. Kauai's surrounded by water, you just add the fire.
We like to include seating around the fire pit, such as low retaining walls that encircle the fire pit, separating it from other relaxation zones (like the pool) while serving as bench seating for visitors. A design like this was implemented at the Sheraton Kauai Resort. Check out a picture of the finished project above.
A Natural Stage: Hula Mound
It's a tropical take on a grassy knoll—a Hawaiian version of a manmade sand dune. Hula mounds are popular on resort and other commercial properties because they provide a "green" stage that blends with the rest of the landscape. Hula mounds are exactly what the name implies: We create a transition slope in a grassy area, up to a level area that can serve as a stage for performances (yes, hula dancing), weddings and more.
The benefit of creating a hula mound is avoiding the setup and takedown of a makeshift stage. Plus, the mound adds depth and visual interest to your landscape because of the elevation.
Show Them The Way: Signage
You might not think of signage as a site amenity, but wayfinding is important for commercial properties. Signs help visitors get where they want to go on your property. You can direct traffic, label buildings, guide guests to attractions, brand your property and welcome visitors.
Significant signage can be grounded by landscaping: an appropriately sized bed with colorful flowers and plants that frame the sign. Lighting is also important to include with signage, so visitors can see where they are going after hours.
Planters With Purpose: Wall Seating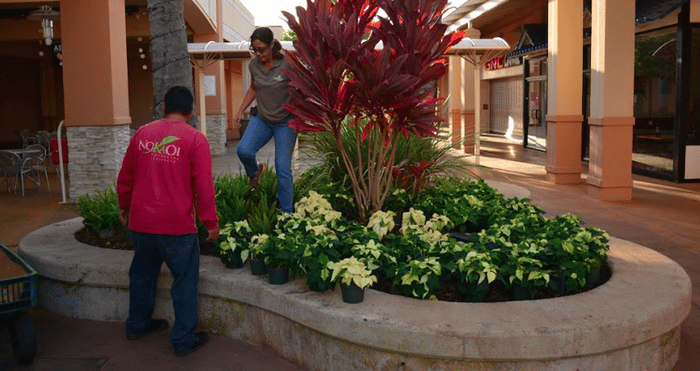 Whenever a landscape element can serve a dual purpose, you're getting more out of the feature. A perfect example is raised planters that are common on Kauai commercial and resort properties because they provide beds of color. (And these planters also break up the monotony of hardscape and concrete areas.) At Kukui Grove Center, most of the planters are surrounded with raised walls that have smooth tops. This gives visitors a place to sit down and rest.
Low retaining walls work the same way as a landscape bench when the height is appropriate for sitting and the top surface is finished so visitors can comfortably take a break.
Furnish Your Kauai Landscape For Relaxation & Entertainment
Make guests feel at home on your Kauai resort, retail or commercial property by including site amenities like a fire pit, hula mound, seating and signage that will improve their experience. These elements can blend in the landscape and enhance the setting.
Let's talk more about how to make these landscape elements really function on your property. Call us any time at 808.335.5887, or fill out this simple contact form and we'll get in touch with you.