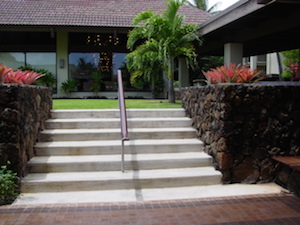 Curb appeal takes a lot of credit in the landscape—and there's a lot to be said about creating "wow factor" to woo visitors and customers to your Kauai commercial property. After all, the reason people travel to Hawaii's Garden Isle is to be surrounded by beauty: mountains, the ocean, tropical rainforest, pristine golf courses, luxury resorts, characteristic Kauai landscapes that are postcard perfect.
So, is your commercial property giving visitors, residents and others who work, live or play there something beautiful to experience?
At No Ka Oi, we believe that even a few simple enhancements to the landscape can make a significant statement on your Kauai commercial property. You don't have to spend a lot to make a big impact. But you do have to turn your attention toward details, safety and maintenance.
Here are three simple, successful landscape improvements you can make this season that will help drive revenues at your commercial property and give people the positive Kauai impression that brings them back wanting more. (We promise! Many clients have tried these dozens of times and they never fail.)
Safety First: Preventing Slip-And-Falls Is A Beautiful Thing
You may not associate safety with beauty. But how great of an experience can you have on a property if there are dangerous obstacles (including hidden ones) that could trip you up, or even cause injury.
We always address safety first on any property with a thorough audit. We begin by assessing the grounds for uneven terrain in walking areas, including roots and foreign objects that can project from the surface. For instance, we often find rocks, pieces of concrete and chunks of coral from the ocean that are left on properties and can present a hazard to people, and are frankly eyesores on the property.
After we scour the grounds, we're not finished. Then we look up: What are those coconuts doing—the ones hanging atop the 100-plus foot palm trees that populate Kauai's scenic resorts and commercial districts? Our experienced landscape professionals use the proper equipment and techniques to prune and care for these trees to avoid serious injury. [link to coconut blog]
Laying The Groundwork: Mulching Dresses Up Beds
Mulching is like laying down a fresh canvas. When mulch is applied following bed cleanup and weeding, the layer of organic material frames existing flowers, trees and shrubs in the bed and provides a neat-and-clean appearance. Mulch refines the look of plant beds, drawing attention to neat edges.
Equally important are the beneficial nutrients that mulch delivers to the soil, preparing the ground for additional planting. Mulch also helps to suppress weeds, reducing ongoing maintenance of beds.
Front and Center: Landscaping the Entryway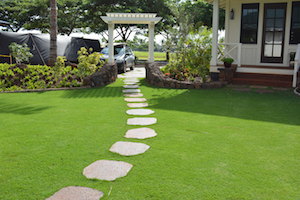 The entryway to your property will make or break a visitor's first impression. How is this area of the landscape maintained? Is the walkway free of debris and overhanging trees and shrubs? Are plants properly "fed" with fertilizer and organic material so they bloom and thrive, adding important color to the "front door" of your property? We conduct a landscape health checkup to identify the weak points of the entryway. Then, we can suggest maintenance measures and enhancements to perk up the curb appeal.
There are a variety of landscape enhancements focused on the entryway, from refreshing signage to creating a hardscape patio or walkway, and refreshing plantings if existing material is tired, struggling or simply outdated.
Enhance Your Landscape: No Ka Oi's Maintenance Success Formula
Let's talk about how you can perk up your Kauai commercial property with No Ka Oi's rigorous maintenance and enhancement services — we address every aspect of your landscape, from pruning your coconut trees to building memorable garden spaces.
Call us to discuss some simple things we can do for your property that will maximize the return on your landscape investment. Ring us at 808-335-5887, or fill out our simple contact form and we'll get in touch with you!