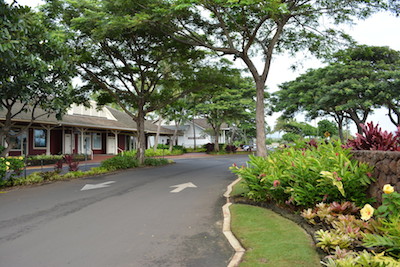 Maintaining a beautiful, healthy Kauai commercial landscape on a budget is not an impossible dream. No one has a bottomless budget, so prioritizing maintenance tasks and value engineering a landscape plan is critical for meeting your property expectations overspending.
What is value engineering, you ask? And what does it mean when it comes to your commercial landscape maintenance?
Our Value Engineering Philosophy
We see this as a natural part of maintenance planning, and we constantly work with our Kauai commercial property managers to ensure that they are realizing the value they deserve without compromising quality.
Quality is not a trade-off. Value engineering shouldn't mean lowering your standards or accepting services do not fully accomplish your goals.
We believe that value engineering can actually result in a more sustainable, natural property that blends with Kauai's natural garden surroundings. And, we also know that while there are ways to cut back spending to achieve a landscape that looks beautiful, there are certain maintenance services you should not cut back, such as applying soil amendments.
Value engineering is striking a balance with the commercial landscape maintenance choices you make for your Kauai property. An experienced landscape maintenance firm like No Ka Oi will ensure a return-on-investment for the money you spend on your commercial landscape maintenance.
Take a look at five ways we value engineer our landscape maintenance services to accommodate your budgeting needs.
Budget Saver #1: Kauai Native Plants
Choosing plants that naturally grow on the island for your commercial property alleviates maintenance requirements. We can spend lots of resources—money, time, fertilizer and other lawn care products—to encourage a non-native plant to thrive in the landscape.
Kauai native plants are simpler to care for because they are meant to thrive on the island.
Budget Saver #2: Plant Size and Spacing
You can scale back planting beds without losing the wow factor by decreasing plant size and spacing. This effect actually can open up the bed and make an area feel more spacious and airy.
You'll spend less on smaller plants, and fewer of them, and the maintenance requirements will decrease, as well.
Budget Saver #3: Simpler Design
Complex designs aren't necessarily the most beautiful…there's beauty in simplicity!
Landscape maintenance should always be considered during the design process. It's one thing to create the design and another to care for it over the long-term.
When the maintenance factor is left out of landscape design, a commercial property can suffer if the design is too complex and costly to maintain. We take a close look at commercial landscape designs and suggest ways to streamline plantings to decrease future maintenance costs.
Don't get us wrong: We'll never "delete" plantings to spare costs. The goal is always to create a garden environment—a healthy one, at that. And to do so, we believe that most often, less plantings can offer more impact. Yes, less is more.
Budget Saver #4: Hydrosprigging
When installing a new lawn, we might suggest hydrosprigging over pricey sod. While hydrosprigging a Kauai property means it'll take longer for the lawn to grow in, you aren't starting from scratch with seed.
You will see results much more quickly, depending on the weather and your microclimate—every property on Kauai is different. With proper soil amendments (which should never be sacrificed from the budget), your new Kauai turfgrass will grow in strong — and you'll save money over using sod.
Budget Saver #5: Fertilizer Budget Reallocation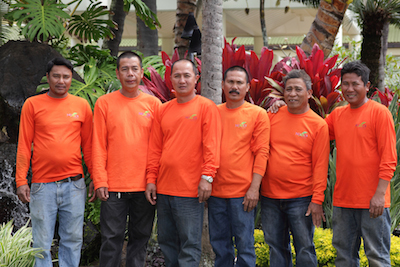 Feel like something is off with the commercial maintenance bid you received? Take a good, hard look at every line item — especially chemicals.
Fertilizer, herbicides, fungicides and other lawn care products required to keep a Kauai lawn, trees and shrubs healthy year-long can be expensive, and some landscape firms may skimp on them in order to provide a lower price.
Remember: You get what you pay for. Contracts that seem too cheap are probably missing this important maintenance element.
There are ways to work lawn care into your budget, and we find that some of our commercial clients allocate landscape "chemicals" to a budget other than landscaping, such as supplies. That way, they are assured that their properties receive the proper amendments to keep it healthy while keeping the landscape budget under control.
Let Us Help Save Your Budget!
Achieve a garden landscape on your Kauai commercial landscape without the burden of excessive maintenance costs. At No Ka Oi, we are looking out for your budget and work hard to engineer a maintenance plan that preserves quality and delivers value.
Let's talk more. Give us a call any time at 808-335-5887, or fill out our simple contact form and we'll get in touch with you!