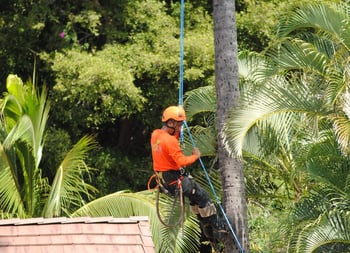 Take a good, hard look at your commercial property and see if you find any of the signs here that indicate your landscape contractor is taking short-cuts.
#1 The Lawn Is Browning Out
Outdated and inefficient sprinkler systems are common on the island's older properties. We often find that irrigation system upgrades are necessary to ensure that the landscape is being properly watered—and that the property owners aren't spending too much on their water bills. (It does pay to invest in updates.)
We often find broken sprinkler heads or notice low water pressure issues on oceanfront properties. This can result in the lawn not getting the water it needs to thrive.
Yes, even on the rainy sides of Kauai you've got to water the lawn and plants if you want them to look their best. So, a browning lawn is a clear sign to us that a landscape contractor is ignoring the irrigation system and water needs of plants on the property.
Another reason for lackluster lawns is neglecting fertilization. Some landscape contractors will try to reduce the cost of bids by skimping on fertilizer. They might deliver a lower price for service, but your property is not getting the nutrients it needs to thrive on Kauai.
Lack of fertilization is one of the most common problems we see on Kauai commercial properties we assess.
Fertilization is a science that requires experienced professionals to properly execute. So that's why some landscape contractors will avoid lawn care. Not only does it add cost, they don't have the knowledge to properly apply products.
A fertilizer program is essential to maintaining your landscape investment. The good news is, lawns that are fertilized appropriately often come back quickly. When we put a lawn on the No Ka Oi program, property managers are always amazed at the results.
#2 Weeds Are Peeking Through Crevices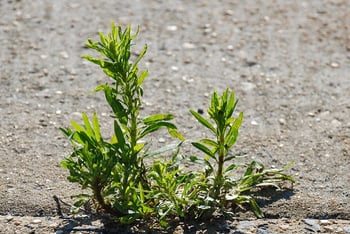 Weed pressure is inevitable if a landscape contractor lacks attention to detail.
We will hand-pull weeds and spot-treat problem areas. Without this diligence, you'll find weeds cropping up through sidewalk and walkway crevices, in cracks that develop in unkempt parking lots, and throughout landscape beds and the lawn.
The bottom line is, when the grass and plants are healthy, they push out the bad guys. There's just no room for weeds. If the landscape is suffering, that's when weeds move in—and this happens fast.
#3 Debris Is Collecting In Visible Areas
You've been in parking lots that feel like a garbage receptacle was dumped out and no one bothered to clean it up. Litter happens, especially in high-traffic areas. You've got to stay on task with making sure parking lots, drainage grates, curbsides and common areas are neat, clean and free of debris.
This takes a landscape contractor who feels a sense of ownership with his or her work. If our team members see trash, they pick it up. They're making sure that leaves and green waste do not collect anywhere on the property. They know that debris instantly mars a property's reputation.
We think debris on property is a sign of laziness. It's a clear indicator that a landscape contractor is cutting corners with cleanup—and that's a critical aspect of grounds maintenance.
#4 Edging Looks Messy
Edging is your neat, clean line. It's a lot like coloring a picture and not staying in the lines.
Because edging takes time, some landscape contractors will skip this integral part of routine lawn maintenance. It all goes back to attention to detail.
#5 Shrubs Are Overgrown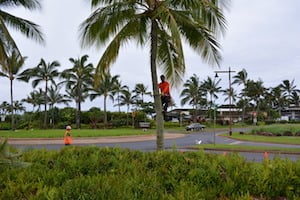 Overgrown shrubs are a safety hazard when brush encroaches on walkways or blocks sight lines. Also, shrubs that grow too closely to buildings can invite pests inside.
Some landscape contractors do not include pruning in their maintenance contracts, so trimming is neglected. Always be sure that pruning is part of your overall maintenance plan.
Attention To Detail: Your Commercial Property Is Our Pride And Joy
We've said this before, and we live it every day in the field: We treat our clients' landscapes like our own gardens.
Our team members dote over the commercial properties they care for, paying attention to every detail. The result is an attractive, healthy landscape that attracts guests, pleases employees and makes property owners proud.
Let's talk about what possible landscaping shortcuts could be keeping your property from looking its best. Call us any time at 808-335.5887, or fill out this simple contact form and we'll get in touch with you.
image source: grass in the sidewalk