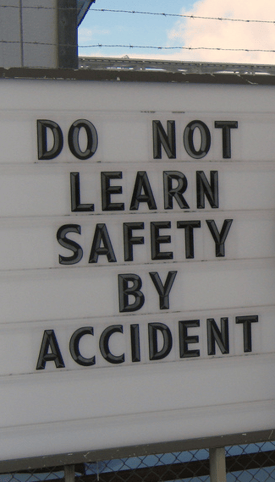 There's no tip-toeing around it — safety is a major concern in the commercial landscaping industry. Landscaping accidents and negligence happen all too often.
That said, No Ka Oi is a Kauai landscaping company dedicated to ingraining our safety culture into our people. Need proof?
Our company has been nationally recognized by National Association of Landscape Professionals — formerly known as PLANET — multiple times for maintaining a scratch-free fleet and employee incident rate.
We always say, "Good habits start at home." What is your landscaper doing to make your property safer?
It's always nice to have someone looking out for you — especially when you don't expect it. Here are the steps No Ka Oi is taking to make its staff and your property safer with each passing day.
Step 1: Thoroughly Screen Employees
A clean safety record starts with hiring the right people for the job. We carefully screen all prospective employees during our interview process, and that includes drug testing all potential employees and conducting thorough background checks.
We have to trust our team completely. And so do you.
Step 2: Conduct Routine Employee Safety Training
We want our staff to be thinking about safety every time they power up a piece of landscaping equipment. For our employees, that starts on day one.
New No Ka Oi employees go through an orientation process that includes learning how to properly operate all of the landscaping equipment required to maintain Kauai's commercial properties. They cannot use a piece of equipment until a supervisor has certified that they have been trained to use it properly.
We also conduct weekly safety meetings to discuss any risky situations an employee may have confronted while maintaining a client's property.
In the field, our employees wear eye and ear protection (when appropriate), along with brightly colored uniforms designed to keep them safe and comfortable.
Step 3: Maintain Appropriate Certifications & Licenses

There are a lot of palm trees on our beautiful island. That last thing anyone wants is a large coconut falling from one of them, injuring an unsuspecting pedestrian or damaging a vehicle.
This is an excellent example of a preventable liability.
At No Ka Oi, we have a licensed team of experts with the experience and tools to keep our Kauai clients' palm trees healthy and safe. Our palm tree pruning service includes the use of special aerial lifts and trimming techniques to preserve tree health.
Obtaining certifications and proper licenses for a specific skill is important, especially when it comes to high-risk services like palm tree pruning.
Step 4: Stay Properly Insured
Because of the labor-intensive work landscaping demands, the professionals performing outdoor tasks on your Kauai property could get injured by equipment or any number of scenarios. And, worst case scenario, what if a guest gets injured on a tool left behind by a contractor?
That's why it's so important you are partnering with a properly insured landscape contractor.
For landscapers, there are generally two must-have forms of insurance: general liability and workers' compensation.
General liability insurance will cover claims and protect your business (and ours) from everyday risks that could pose serious health and financial consequences. Workers' compensation insurance provides wage replacement and medical benefits to employees injured on the job.
Don't sweat it. We have both. Just ask and we'll be happy to show you.
Step 5: Understand After Hours Challenges
For many of your guests, the party the doesn't stop when the sun does. We get that.
Sometimes it's taken for granted, but your landscape's performance at night is just as important as the way it functions and impresses during daylight hours. What's being done on your grounds to ensure safe experience for tenants and guests — at night?
The only way to catch after-hours landscaping hazards is to thoroughly walk your property at night. And we're ready and able to provide solutions to any problems we identify.
From low hanging branches to crowding out pathways, overgrown plants are one common nighttime landscaping hazard. Another is unnecessarily dark spaces. Pathway lighting can improve comfort, security and reduce the risk of people tripping or falling.
Step 6: Prepare For Storms — Proactively

No business wants to be vulnerable during a storm. And when your commercial property is on an island, the risk of tropical storms and hurricanes is a reality that must be factored into landscape maintenance activities.
Storm preparedness is something that's second nature to No Ka Oi, and an everyday part of the landscapes we design and maintain. So you're ready for that tropical storm … should it be next week or next season. Here are a few different ways our crews get busy prepping our clients' properties:
Tree trimming
Erosion prevention plantings
Identifying weak, dead or crossing branches
Proper plant spacing (to avoid a domino effect should one fall)
Step 7: Perform Quarterly Quality Assessments
At No Ka Oi, we conduct a Quarterly Quality Assessment every three months on a client's property. Our director of landscape maintenance, property foreman, landscape business consultant and you, the property owner, conduct a thorough review of every property.
These assessments ensure every aspect of the landscape meets our high standards. We score every Kauai commercial property based on six areas: turf, flowers, ornamentals, trees, irrigation and general, which includes safety.
Is Safety A Priority For Your Landscape Contractor? It Should Be
Does your landscape (or landscaper) pose any risks? Our Kauai commercial property owners appreciate that we are the ones looking out for their landscapes. No Ka Oi has your back. You can focus on your businesses and servicing your clients.
From employee training to our Quarterly Quality Assessment, we give our commercial landscape clients peace of mind that we are rigorous in our pursuit of quality.
Let's talk about how our standards align, and why hiring a commercial landscape maintenance company with a rigid process in place can alleviate stress and time from your day.
Call us any time at 808.335.5887, or fill out this simple contact form and we'll get in touch with you.
Images: Hurricane, Safety sign