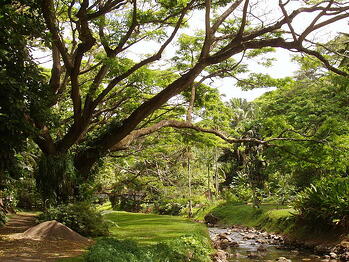 Tourists and commercial property owners often ask us, "What are the best botanic gardens in Kauai?"
Visitors to our garden isle want to soak in the lush and breathtaking views that Kauai offers; they want to tour tropical gardens with exotic plants that tell a story of our past.
Property owners have different reasons for wanting to know which Kauai gardens are the most amazing. Resort properties want to create mini oases with Hawaiian plants and tropical flowers that emulate Kauai's most treasured gardens so they can deliver an authentic, serene experience to their guests.
Retail developments and commercial sites want their landscapes to blend with the natural environment. We can all look toward Kauai's gardens for planting inspiration.
At No Ka Oi, we like to draw attention to Kauai's nonprofit gardens, which are often under-utilized and off the radar of the general public. Even residents of Kauai might not have visited these gems. Here are three best botanic gardens in Kauai that you should make a point of experiencing this year.
Best Botanic Gardens in Kauai: Start At McBryde Garden
At McBryde Garden on Kauai's south shore in the secluded Lawai Valley, the landscape is tropical flora with a diverse palate of native Hawaiian plants, exotic plants and tropical flowers. You'll encounter rare and endangered species, some extinct outside of the garden. Check out the living laboratory and walk alongside a stream that cuts through a stretch of lush palms and exotic trees. The Canoe Garden will take you back into time as you imagine the Polynesians' arrival on Kauai.
Meanwhile, the moss and mist tunnel takes you back to 450 million years ago when plant life was just forming on land. Then, get a glimpse of the future and fast-forward 10 million years from today and experience how plant life and the planet could evolve.
The McBryde Garden also features a 25-foot stick sculpture by environmental artist Patrick Dougherty.
Allerton Garden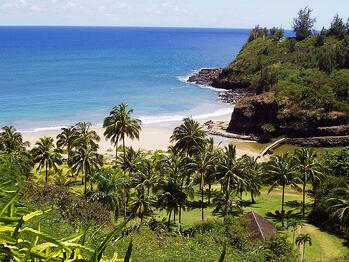 Tucked in the cliffs of the Lawai Valley on Kauai's south shore is Allerton Garden, a taste of Europe with Kauai spirit. It combines masterful landscape design and natural spread of tropical plants.
Tour outdoor rooms that showcase sculpture, water features and exotic plants.
Limahuli Garden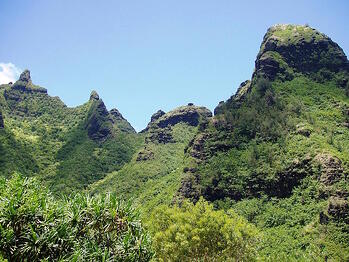 Located on Kauai's north shore, Limahuli Garden features lava rock terraces built by Limahuli's early inhabitants. See the taro that still thrives on the property and learn about Kauai's native plants that were brought to the islands by Polynesians, along with the flowers and fruits introduced during the plantation era.
Introduce elements of Kauai's rich garden past into your landscape today by including Hawaiian plants and beautiful tropical flowers, features that illustrate exactly why Kauai is heralded as the Garden Isle.
No Ka Oi can show you how. Give us a call any time at (808) 335-5887, or fill out our simple web contact form and we'll get in touch with you.