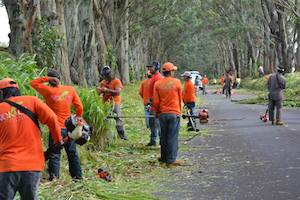 The storied Tree Tunnel in Kauai serves as a grand gateway to Poipu Beach—a popular tourist destination where No Ka Oi first got started in business. The mile-long stretch is lined with some 500 Eucalyptus trees, growing more than 100 feet tall, that form a lush, green canopy over the roadway. If you turn off Highway 50 on to Maliuhi Road, you'll enter the Tree Tunnel and eventually reach the historic Koloa Town.
The Tree Tunnel's Eucalyptus trees are an attraction for locals and visitors. They're graceful and resilient, having survived two hurricanes.
There are several renditions of the trees' origin, but we know they are about a century old. The original trees were planted in 1911 as a gift to Kauai from Walter Duncan McBryde, co-founder of McBryde Sugar Company and manager of Kauai Pineapple. (He was known as the Pineapple Baron.) The trees were leftovers from his estate home, which is now Kukuiolono Park & Golf Course.
The Tree Tunnel is living history on Kauai, and we take pride in preserving this treasure during the annual Tree Tunnel Cleanup before the two-week Koloa Plantation Days celebration. This year, No Ka Oi returned to the cleanup site with 65 volunteers—workers and their families—who helped cut back and remove the invasive buffalo grass that grows underneath the trees, along with cleaning up green waste, cans, bottles and other non-biodegradable items.
Our team is passionate about contributing to the beauty of our Garden Isle. We want to share these pictures of our time together during the Tree Tunnel cleanup. Here are some pictures we'd like to share with you!
Tree Tunnel Teamwork
Working on the same "crew" is rare for us because we are usually dispatched among Kauai's commercial properties and resorts. On Tree Tunnel Cleanup day, we get to work together on a stretch of the island that we consider the roots of our business.
Equipped For Cleanup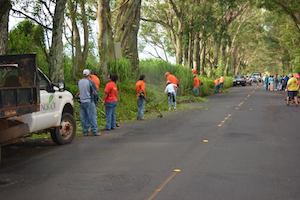 No Ka Oi brings significant manpower and machinery to the Kauai Tree Tunnel cleanup effort. Our company rolled trailers full of edgers and trimmers to manage the invasive buffalo grass that spills over into the roadway. Our team removes all green waste, pulling the debris into the street, where two No Ka Oi dump trucks loaded up the clippings and brush and removed it from the site.
No Ka Oi Is Ohana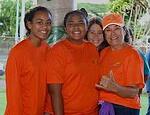 We love taking part in community projects like the Koloa Tunnel Tree Cleanup because we can also include our families in the fun! Here, my daughter Sarah joins me and the No Ka Oi team on cleanup day.
Clearing The Hapa Trail
We primed our cleanup engines by beginning our efforts with clearing the Hapa Trail for the annual Hapa Trail Walk, which kicks off in front of Kauai's oldest church, St. Rafael's. Our team sent in a 10-person workforce along with a tractor equipped with a mowing deck to manage the swaths of grass and brush that needed to be cut back.
Spreading The No Ka Oi Love
Our Kauai community is so important to us. It's more than where we do business; it's our heritage. We are proud of our Kauai culture, and we love to share it with guests who visit the island.
Keeping the landscaping beautiful and reflective of the Garden Isle is our priority! Let's talk more about what we can do for your property.
Call us any time at 808-335-5887, or fill out our simple contact form and we'll get in touch with you!
For more photos from our Tree Tunnel clean-up day, find us on Facebook!