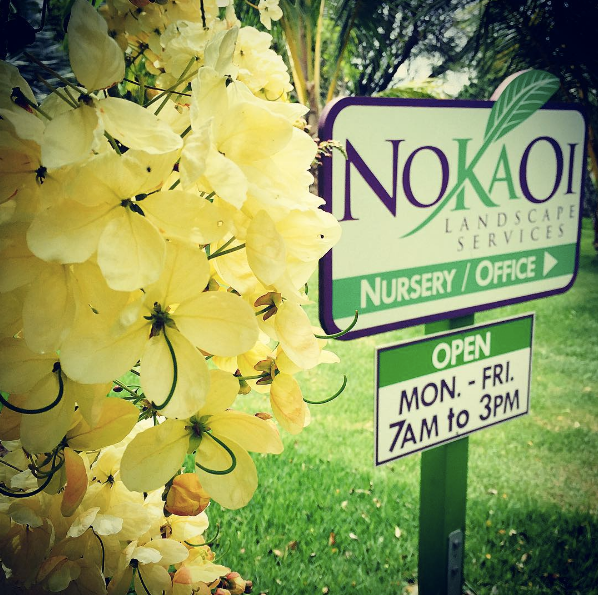 Growing plants is quite literally the roots of No Ka Oi—our nursery is the foundation of the business and a source of pride. It shows our commitment to high-quality, beautiful flowers, trees and shrubs. Our expansive nursery has existed from day one (that's 30-plus years ago). From the very beginning, our focus has been to deliver the best plants to clients.
Does it matter if a commercial landscape company has a nursery or not? Should you expect this of the grounds management firm you hire?
Most landscape companies source plants from outside nurseries, and that's common practice. Sometimes, we also find plants from nurseries, and we hold high expectations for our providers in terms of certifications. (We'll talk more about that later.) But because we grow plants at No Ka Oi nursery, we can guarantee the plants we install on commercial properties will perform like we promise. After all, we have cultivated and nurtured them, and we want to be sure they thrive in their new "homes" on your properties.
In some ways, it goes back to the old saying: If you want something done right, then do it yourself. That's kind of how we feel with growing plants.
At No Ka Oi, we see on a daily basis how the benefits of growing our own plants play out on clients' properties. Here are just a few of the ways clients reap a return on our investment in the No Ka Oi Nursery business.
Certified Little Fire Ant Free
Trust us. You want nothing to do with little fire ant (LFA) on your Kauai property. The problem is, many landscapers installing plants have no proof that the plants they are using are completely clean. That is, unless the plants come from a Certified Little Fire Ant Free nursery. We are proud to hold this title, and it's incredibly important to us that our plants are protected from this invasive, destructive species.
The same goes for another pest you do not want to find on your property: the coqui frog. These noisy frogs eat beneficial insects and have a seriously negative impact on our ecosystem. On Kauai, we have taken important measures to keep out LFA and coqui frogs. Ensuring that plants come from a certified LFA-free nursery is critical.
Plant Availability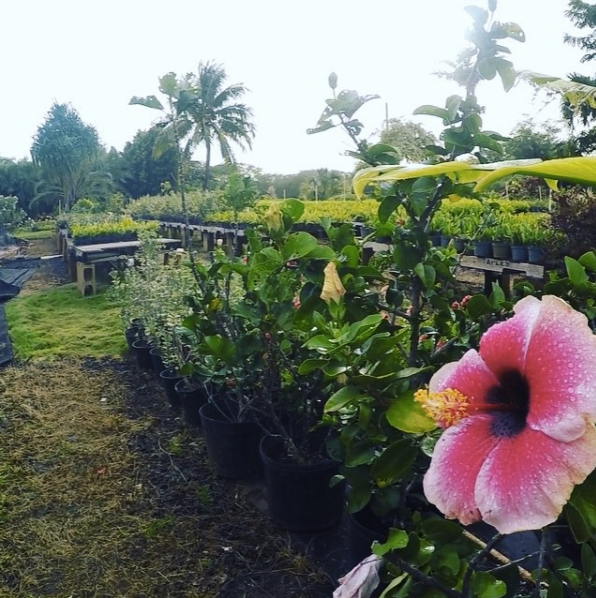 The plants we specify for your commercial property are always in stock. That means no waiting, no extra cost because of transportation, no last-minute design changes because of plant availability issues. No Ka Oi Nursery includes a well-established 20 acres, along with an additional 26 acres of land we recently acquired. Of that new property, 4 acres are cultivated. This addition literally gives us room to grow.
Our nursery is located at the No Ka Oi headquarters, so it also sets the tone for our work. We are surrounded by the attractive, fragrant, interesting plants we grow for our clients. Plant health is always top of mind.
Plant Quality Control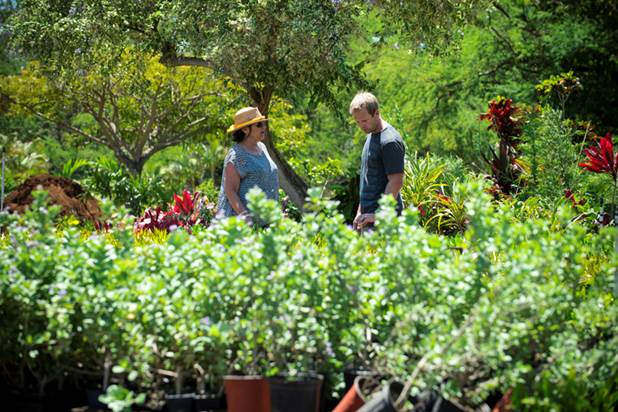 One aspect of No Ka Oi that we talk about often as an important differentiator is our talented team. We are so proud of their dedication to our mission to serve clients, and our shared philosophies.
Our team cares for plants at No Ka Oi Nursery as if they were nurturing their own gardens. This same level of attention is transferred into the field when our landscaping crews maintain commercial properties on Kauai. We can assure the highest quality plant material because our team is experienced in cultivating and caring for a wide range of species.
We Are All About Plants!
The No Ka Oi Nursery is how we started in the business. Before we were maintaining commercial landscapes we grew stunning plants that we rented to clients for display. We are plant people at heart, and this shines through on the Kauai properties we design, build and maintain.
Let's pick the right plants for your Kauai place. Call us any time at 808-335-5887, or fill out this simple contact form and we'll get in touch with you.