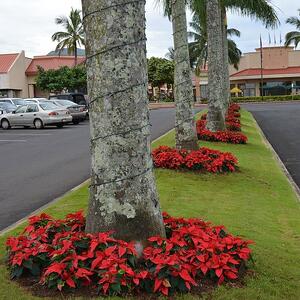 Large coconut palm trees are practically a symbol of resort leisure on Kauai. Many of our clients ask us how much coconut trees cost, and we always like to spell out the numbers when helping our commercial property owners make decisions for their budget, so we explain that there are actually two parts to this simple question. How much does it cost to buy the coconut tree—and what's the cost of maintaining it every year?
This article will answer those questions and help you understand that the initial price tag on a coconut tree is just the beginning of the cost. It's important to look at the long-term expenses that any landscape will require, and that's why we share this information with you.
How Much Do Coconut Trees Cost: Purchasing The Tree Itself
First, let's talk about size: The coconut tree that you'll buy new to install on your commercial property is not going to be 100 feet tall. You wouldn't choose a plant that is at the mature end of its life span.
The typical size of coconut tree to install is 20 to 30 feet tall, and the cost is about $2,500.
Caring For A Coconut Palm: Ongoing Expenses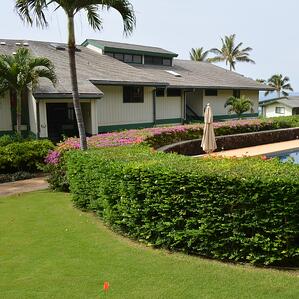 Caring for a palm tree costs about $55- $75 per tree. Proper coconut tree maintenance is critical because these trees can be true hazards on a property without proper care.
Vacationers probably worry more about a problem with their flight on the way to Kauai, but the reality is that laying a beach towel down under a coconut tree and sunbathing there poses far more risk. (Imagine the impact of a Prius falling from a multi-story building on to a beach towel!)
Here are some important maintenance factors associated with coconut palm trees that every commercial property owner or anyone who manages a Kauai property—resort, retail or otherwise—should know.
Removing Coconuts Manually
At least twice a year, coconuts must be manually removed from trees. As for coconut trees near pools, common in landscape designs in resort areas, those cocos need pruning and "plucking" (of the coconuts, that is) up to four times per year.
You do not want to hire a commercial landscape company to maintain your coconut trees unless the firm carries proper insurance — which obviously costs money — because this work can be dangerous to the person performing it and anyone nearby during the maintenance activity.
Special Equipment For Coconut Removal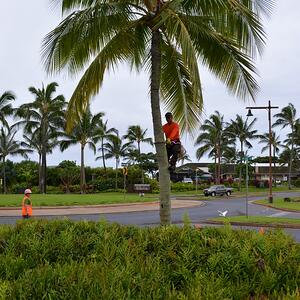 Our crews at No Ka Oi use two different techniques to literally climb the coconut tree to remove the nuts. We can use spikes attached to the shoes of a crewmember, who then scales the tree to reach the nuts.
Or, we can "band the tree," which involves wrapping a band around the coconut tree trunk and then scaling the tree with a "bicycle" piece of equipment, which allows a landscaper to ride up the tree to reach the coconuts and clean up the palms. (Yes, aside from removing the coconuts, the palms also need to be pruned and/or removed.)
Impact On The Surrounding Landscape
When a palm is trimmed, 20-foot long leaves are released from the palm fronds up to 100 feet in the air. They fall to the ground. You can expect that the droppings could damage the underlying landscape unless proper care is taken when cleaning the palms.
That's why coconut tree maintenance is a job for a professional landscape firm with the experience, trained crews and insurance backing to do the job effectively and safely.
Be sure to vet any landscape firm before hiring the company to perform care on coconut trees.
How Much Do Coconut Trees Cost? Contact An Expert.
There is a bounty of coconut trees on Kauai, but the reality is that there are very few companies that are qualified and experienced enough to properly maintain them to ensure the healthy of the tree and the safety of guests.
Let's talk more about how to maintain your coconut trees. Call us any time at (808) 335-5887, or fill out our simple contact form and we'll get in touch with you.