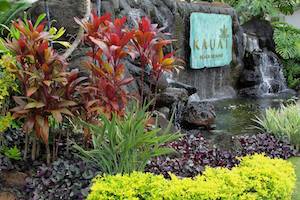 Landscaping acts as an attractive traffic guide, easing you through a commercial property's entrance, encouraging you to walk this way or that, drawing your eye to points of interest, and discouraging you from driving or stepping into safety hazards.
Most of us never think about the important work landscaping does on a Kauai commercial property. Well-designed landscaping serves a purpose beyond adding aesthetic value — we're talking about form and function.
Specific landscape elements and principles are built into the plan to improve traffic flow and the guest experience.
Consider your path through a Kauai commercial property, such as Kukui Grove Center, a landscape No Ka Oi recently renovated to improve the function and beauty of the property. You drive into the parking lot and the entryway guides you to a parking area. Along the way, intentionally placed plant beds add visual appeal and direct you to a spot. You walk to the shopping area and follow a natural path (that was actually deliberately designed that way). As you approach your final destination, the landscape helps you get there efficiently and safely — enjoying your surroundings along the way.
Here are four ways landscaping can improve traffic flow on your Kauai commercial property.
Lines: Creating A Natural Flow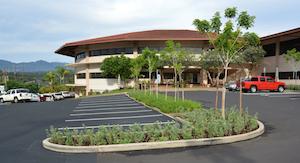 Landscaping beds and pathways are carefully designed to flow together and usher traffic safely and effectively through the property. Landscaping also acts as a stop sign: Do not enter. For example, barrier landscaping may guard refuse areas and other spaces off-limits to the public, providing a visually appealing screen and a means of redirecting traffic.
Imagine your commercial property without any pavement or landscaping. A professional landscape contractor uses structural and landscaping features to impact visitors' experiences. For example, curved lines inspire a relaxed, meandering feeling while straight lines are more directional, immediately pointing guests to an entryway. Lines are designed based on the feel visitors should have while on the property.
Texture: Promoting Movement
Every surface, from the surface you drive or walk on to the foliage in the trees that extend beyond rooflines, adds to the property's movement. Various textures work together to create consistency and interest.
Hardscaped pathways combine with plants that have varying leaves, large and small. Every texture creates a layer with purpose—and that purpose is to impact the guests' behavior and experience while visiting the property.
Shape & Scale: Suiting The Space
A variety of shapes and styles of landscaping keeps the eye interested. Plants and trees are carefully selected based on the surrounding buildings, complementing the architecture and enhancing the traffic flow.
For example, a professionally designed commercial landscape will include mounded shrubs that allow for clear vistas, and columnar plantings that draw the eye up—perhaps to notice signage or a detail on a nearby building.
In many ways, plants are used as pointers with the purpose of improving the traffic flow on your Kauai commercial property.
Form & Function: Putting Design Principles To Work
The plantings and pathways designed into a commercial property are executed with great attention to detail. We know that plant placement and materials selected contribute to a visitor's experience.
Some basic design elements professional landscape designers incorporate in a plan include: repetition, balance and transition. The goal is to create symmetry and proportion—a natural flow. Plant color and placement all play a significant role in the landscape design.
Designed For Beauty: Maintaining Your Commercial Kauai Property
Maintenance is an equally important consideration during the design process. At No Ka Oi, we carefully select plant material and implement landscape designs with maintenance in mind. Will the plant thrive on the property, considering its unique microclimate? Will the layout of the landscape beds promote efficient mowing and overall care?
Let's answer those questions and talk further about how your Kauai commercial property can benefit from a professional landscape design and maintenance service that will improve traffic patterns, promote safety and provide a beautiful experience for guests. Give us a call any time at 808-335-5887, or fill out this simple contact form and we'll get in touch with you!