Is your commercial landscape maintenance company performing like it should on your Kauai property? Is it meeting your high standards—or is there room for improvement?
Perhaps the contractor just doesn't get it and is overlooking property maintenance tasks that should be a given if you're on contract.
We often conduct property walk-throughs with new clients who hire NKO after working with a company that disappointed them. Property managers never realized how much quality they were missing.
The details matter.
Ultimately, Kauai property managers want their resort, retail, HOA and commercial properties to be neat and green — and, of course, not include any unwanteds: Insects, weeds, disease.
So, how do you know if your current Kauai commercial landscaper is giving your property the service level it deserves? Here's a handy checklist—an audit that you can use as you walk your property. If you flag one item as unsatisfactory, that's too many.
Overall Lawn Health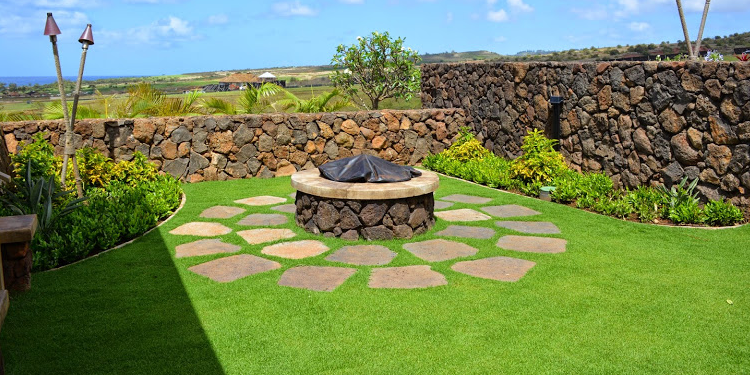 How does the lawn look? Is it green—or struggling, with apparent disease or weed problems? We find that many landscape companies cut back on fertilizer and lawn care products because they can tend to cost more than what some clients want to pay.
So, to accommodate the budget (or to present a lower, attractive price) they simply use less fertilizer and, in worse cases, none at all. But here's the thing: On Kauai, we enjoy a 365-day growing season. That means weeds are also growing year-round, and insects are active in winter, as is disease.
You cannot skimp on fertilizers, herbicides and other products designed to deliver nutrition and protection to your lawn. It's more sustainable to focus on long-term lawn health and keep the grass you have than allow it to suffer and end up replacing it.
Entryway Appearance
Entryways are an ultimate indicator of a property maintenance company's performance. Your commercial landscaper has work to do if:
Your entryway is lackluster or messy

Plants are overgrown and blocking walkways

If weeds are encroaching on the space.
Pruning, weeding and debris cleanup are critical for appearance—and also for safety. You do not want visitors tripping or having any type of accident as they approach your entry (or walk anywhere else on your grounds, for that matter).
A valuable landscape professional will also provide ways to enhance that entrance so you can make a statement. You want a partner that goes beyond doing the basics and offers suggestions for ways to constantly improve the appearance and function of your property.
Tree Skirt Status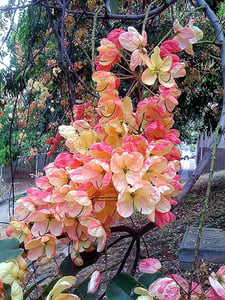 Consider the growing habit of some trees on your commercial property, like the Rainbow Shower Tree. Lower branches hang down, brushing parking lots and walkways.
Trees like this need a "lift"—they really need to be skirted so the space underneath is safe, and to improve the appearance of your landscape. That's why, at No Ka Oi, we care for the bottom 12 feet of all trees on properties. That includes all tree skirting.
Skirting trees is important because the cleared out space provides a place for guests to rest; and skirted trees near parking lots give visitors a shaded place to park cars. Without skirting, trees with large undergrowth take up a lot of space and simply look overgrown.
Lawn Edging
If your Kauai property has areas where grass meets concrete or asphalt—like by parking lots or walkways—then the lawn must be neatly edged. As we said, plants and grass grow constantly on Kauai. You have to keep up with edging, otherwise the work can become quite a job.
Edging may seem like a minor maintenance task, but when you compare a before and after picture of a lawn area, you'll see that the neat-and-clean line makes a huge difference. It's like coloring a picture and staying within the lines versus scribbling outside the boundaries. A quality landscape provider will ensure that your grass stays within the lines.
Clean Curbs And Crevices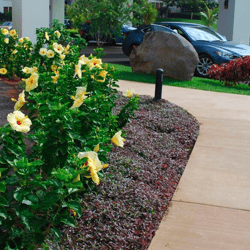 Do you see any weeds cropping up between sidewalk cracks, where curbs meet lawn, and in walkway or patio crevices? Weeds seem to rise up out of nowhere on Kauai, so problem spots must be addressed frequently.
Weeds are a sure sign of maintenance neglect, and that's not a message you want to send to your guests. And trust us, it doesn't take long for weeds to grow in places you never thought possible.
Pruned Trees And Shrubs
Pruning is important for appearance and plant health. And, we'll add another key reason why pruning should be a regular maintenance task: safety. Guests can trip over branches that jut into walkways, or low brush that extends into walking paths. And, when tree branches and shrubs grow too close up against buildings, they can introduce insects. That triggers a whole other maintenance issue on your property. So, keeping trees and shrubs neatly pruned is good for your property inside and out.
A Full, Green Lawn
This could be filed under "overall lawn health," but we like to draw special attention to bare spots in the lawn because they can indicate a problem with the property's irrigation system. If you notice bare spots and you have a sprinkler system that waters the lawn, then a landscape professional should address the positioning of sprinkler heads (and look for potential breaks).
Conduct Regular Property Audits To Ensure Landscape Maintenance Quality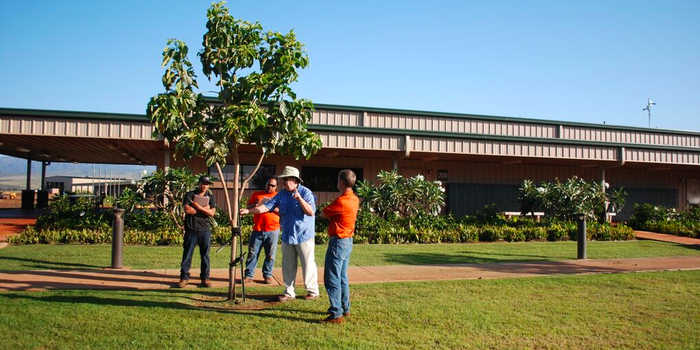 The landscaping on your Kauai commercial property is a tremendous asset, and it can also be your competitive advantage. That's why we recommend a regular property walk-through so you can audit the quality of your landscape maintenance company's work.
At No Ka Oi, we're constantly addressing maintenance standards with our Quality Counts process, that includes a thorough assessment of your property. We train our people to focus on quality, and as a result, they treat every Kauai commercial property as if it were their own, personal garden.
Let's find a few ways to get your property in better shape now. Contact us any time at 808.335.5887, or fill out this simple contact form and we'll get in touch with you.
Image: Rainbow shower tree