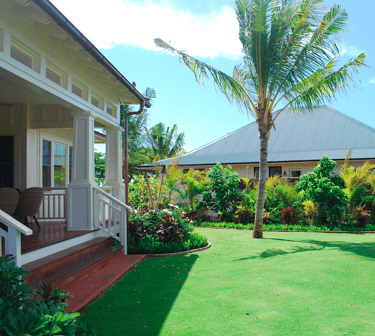 The fragrant flowers, year-round green grass and characteristic coconut palms on Kauai landscapes provide that true tropical escape for snowbirds who enjoy their home-away-from-homes during winter— seeking refuge when the weather at their full-time home is cold and snowy.
For property owners who invest in second homes on Kauai, now is the time to soak in some Hawaiian bliss. The last thing you want is to arrive and find your property in lackluster condition.
But it happens, every year. We get phone calls from property owners who need some "rescue landscape maintenance" on their vacation properties because they were not properly maintained.
On Kauai, there are no breaks from landscape maintenance; our growing season is year-round.
Now while you are on the island is the perfect time to assess your property, identify any potential problems, and enlist in a reputable landscape maintenance provider who you can trust to care for your grounds while you are gone. That way, when you travel to Kauai to stay for the winter months, your landscape will be in tip-top shape.
Here are five landscape maintenance essentials for your winter home on Kauai.
Fertilize Your Kauai Lawn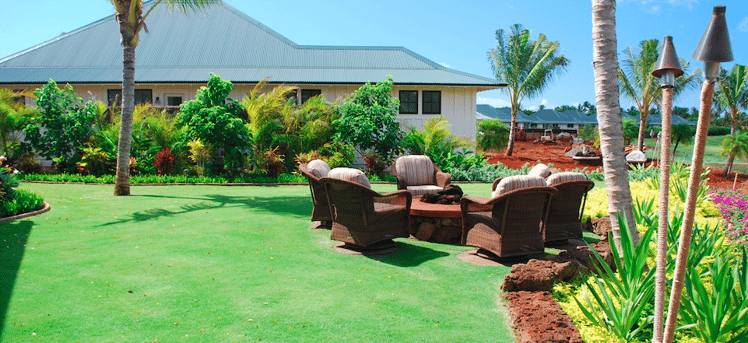 We've stressed the importance of fertilizing your Kauai property before, and we'll say it again: Kauai lawns need nutrition. Depending on your property's location on the island, a lawn can take a beating from salty wind or dry conditions.
When a lawn is compromised it is more susceptible to weeds and disease. We can always tell when a property owner has been skimping on fertilization because their lawn looks dull, tends to be weedy and is generally messy.
A regular fertilization program will provide grass with proper nutrients throughout the year so you can enjoy the beauty of the grass while you're staying on Kauai.
Trim Trees To Prevent Damage
Aside from prevailing trade winds that Kauai's north and east sides receive, there are tropical storms that can roll in and cause a great deal of damage to landscapes that have not been properly maintained.
Specifically, we are referring to trees that need trimming to remove dead, dying or diseased branches.
Also, care is necessary for coconut palm trees to keep your property safe (falling coconuts are a real hazard). Aside from safety—which is our top priority at No Ka Oi—your plants will be healthier and look better if they are properly pruned and trimmed back during the year.
Review The Irrigation Schedule

Depending on your property's location on Kauai, your grass might get plenty of water year-round to meet its needs—or the lawn could get quite parched (we're referring mainly to the western side of the island).
And, there are times of the year when we'll simply get more rain. Because you enjoy your Kauai vacation property during winter, you'll want a landscape professional to ensure that your irrigation system is set to meet your turf's watering needs.
Also, systems can suffer from broken sprayheads and other issues that need to be resolved immediately. Otherwise you'll waste a lot of water and cause problems in your lawn.
For example, a leaky valve could cause water to collect in a pool on your turf. That grass will become a breeding ground for fungal diseases. (We'll address that next.)
Watch For Fungal Diseases On Turf
Kauai can support a number of different types of turfgrass, including seashore paspalum, zoysia El Toro, dwarf St. Augustinegrass, bahia grass and Bermuda grass.
Oceanfront properties require a different type of grass than inland landscapes. The first step to stopping turf disease is to select the best turf for your Kauai property.
(Keep in mind, that might be a different variety than your neighbor up the road.)
Also, during the year, a landscape professional should tend to lawn maintenance to prevent weed and disease problems. If fungal diseases take hold on your lawn, you can end up with costly treatment or a total replacement in worst-case scenarios.
Manage Bougainvillea To Maximize Blooms

Bougainvillea caterpillars love to munch on the leaves of these popular hedges, and this is the time of the year when your Bougainvillea plants should be blooming strong.
If you arrive on the island and hedges are missing leaves (or completely bare) and you do not see beautiful blooms, call in a professional.
Plan For Landscape Enhancements Now
As you enjoy your winter home on Kauai this year, take time to really assess areas of the property you'd like to improve or enhance for next season. We encourage you to call a landscape professional for a property review today.
At No Ka Oi, we take time to conduct a thorough walk-through to identify maintenance concerns and potential upgrades, whether replacing plants or building a fire pit.
Let's talk more about how you can maximize your time outdoors at your Kauai winter home. Call us any time at 808.335.5887, or fill out this simple contact form and we'll get in touch with you.
Images: Sprinkler head, Bougainvillea