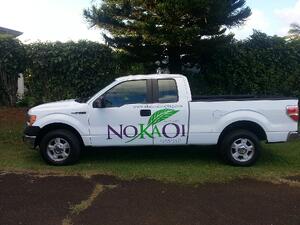 Routine landscape maintenance preserves the value of a commercial property. When a lawn is neatly mowed and shrubs pruned, when edges are clean and flowers are in bloom, the appearance speaks volumes about a property owner's standards and commitment to quality.
When the landscape looks neglected, business suffers. Tenants become unhappy. Guests are not attracted to visit.
There's typical maintenance—the usual activities of keeping a property in shape. And, there are "the extras" that make the difference between an average landscape and an exceptional property.
At No Ka Oi, we emphasize the importance of weekly, monthly and quarterly maintenance tasks that go beyond basic maintenance to keep a landscape healthy and beautiful.
Here are a few maintenance tasks that your commercial landscape contractor should perform regularly on your Kauai property.
Weekly: Tend To Landscape Detail Work
Pluck Out Suffering Plants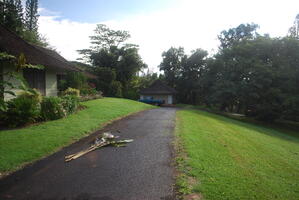 It can be easy to overlook a plant that is not thriving when you walk by it every day. You stop noticing that the leaves are browning or it's not flowering as it should. Maybe there are branches that need to be removed.
Making a conscious effort to remove dead or dying plant material on a weekly basis will make a significant visual impact on your property. After all, one lagging plant can drag down the rest of the bed.
At No Ka Oi, as we "edit" plants that are suffering, we look for the underlying cause and are careful to treat for insects and disease before issues spread to the rest of the landscape.
Keep Up With Weeding
Don't put off weeding until the pervasive "unwanteds" grow too large. In Kauai, new weeds pop up every week: Our climate promotes weed growth, and commercial property owners can't let their guard down.
Weeds should be removed (by hand and with treatments) before they go to seed. We take care to remove all weeds in landscape beds, and in between cracks in walkways and patio spaces.
Regular weeding includes picking seeds from palms before they germinate.
Monthly: Focus On Systems And Safety
Check The Irrigation System
Are there leaks that are causing the irrigation system to lose efficiency (and waste water)? Are the sprayheads properly calibrated?
Monthly irrigation system tune-ups are important for maintaining the integrity of the technology, and ensuring that the plants and grass are getting necessary water.
We also adjust irrigaition timers monthly depending on the weather.
Refresh Your Property
Take stock of the property's landscape on a monthly basis to determine priority areas for improvement. Could the entryway use fresh plantings? Do walkways need to be renovated with new pavers to look more relevant and to improve safety? Is the lighting working properly, and are there places that need more illumination to prevent accidents?
We always look at ways to make a commercial property safer for employees, tenants and guests, so monthly assessments of the landscape with a focus on safety are critical.
Quarterly: Promote Plant Health
Trim Hedges
Neatly trimmed hedges create clean, crisp lines that complement the architecture of a Kauai resort or retail property. When rogue branches extend beyond a hedge's shape, the property quickly looks messy.
During hedge trimming, we also take care to remove low-hanging branches that could interfere with traffic on pedestrian walkways or in parking lots.
Remove Coconuts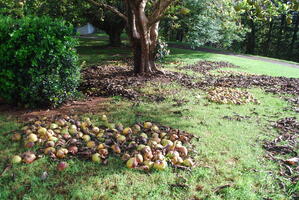 The quintessential Hawaiian fruit is actually a real danger, especially when coconuts fall from a 100-foot palm. Their impact can be fatal, which is why we keep a close eye on coconut palms and remove coconuts before they become major liabilities for property owners, and safety hazards for employees and guests.
Feed The Landscape
A quarterly fertilization program nourishes the landscape with essential nutrients to grow strong—and we know that healthy plants ward off disease and weeds. It's always obvious when a property owner skimps on fertilization.
To maintain a lush, green, healthy landscape, fertilization is an absolutely necessary part of your annual maintenance program.
Mindful Maintenance: NKO Manages The Details
At No Ka Oi, we set the bar high for commercial landscape maintenance, and we believe in going beyond the usual fare—mowing, edging and cleanup.
You should expect your commercial landscape contractor to do these tasks and more—to go the extra mile.
Let's talk more about maintenance tasks that make a property look exceptional. Call us any time at 808-335-5887, or fill out our simple web contact form, and we'll get in touch with you!