Curb appeal matters, and there are lots of statistics proving that exterior investments to your commercial property deliver a return-on-investment (ROI) and boost business.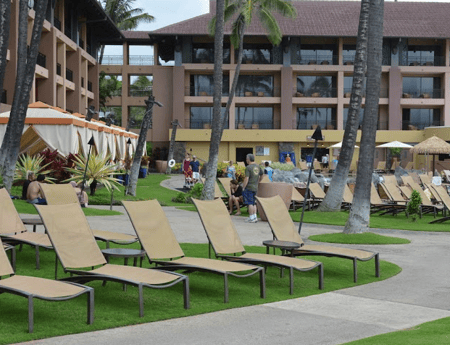 A Clemson University study showed that landscaping can result in more than a 100 percent ROI. That translates to increasing occupancy rates for hotels, vacation rentals and other commercial businesses on Kauai that take landscaping seriously.
Property owners we service will agree that the appearance of their outdoor spaces draws in more customers — and traffic is what prospective tenants want to see before they commit to a lease.
Commercial landscaping on Kauai can increase property values, reduces utility bills (that shade tree pays off), and improves a property's overall impression.
That's why we recommend that commercial property owners on Kauai earmark at least 20 percent of their landscape maintenance budget for enhancements, including entryway projects, outdoor gathering spaces like fire pits, and seating that encourages visitors to stay, mingle (and spend!).
Budget Accordingly
At No Ka Oi, we partner with our commercial property owner clients to help them determine the best ways to invest their landscaping dollars so they can see bottom line results. And, we emphasize that not just any landscaping will attract tenants and customers. (You can just as easily make a poor impression with landscaping if you hire the wrong contractor.)
Property owners and managers who are seeing high occupancy rates will tell you that landscaping delivers the following measurable results.
Increase Property Value
Landscape amenities have the highest correlation with rental property occupancy rates, according to the National Association of Landscape Professionals (NALP). So it pays off to invest in your Kauai commercial property by keeping it properly maintained and investing in landscape upgrades, such as plantings, hardscape, seating and fire pits.
Reduce Utility Bills
Properly placed plants can keep a building cool, and that can add up to a real savings for Kauai property owners. Plants do this natural air-conditioning thing called evapotranspiration, actively moving and releasing water vapor. This helps counteract solar heat gain from roofing and windows that usher heat into buildings. Shade trees can reduce heat gain by 40 to 80 percent depending on tree type and location.
Aside from cooling your Kauai building, consider outdoor areas where guests gather. Landscaping elements including pergola structures that shield people from the elements (hot sun, wind) create a more comfortable environment.
Ensure Safety On Your Kauai Property
Beyond beauty, a great landscape is also functional and promotes safety. Think about the pedestrian traffic on your property.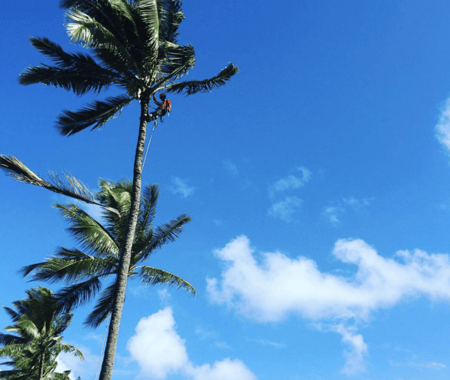 Do you have an outdated sprinkler system with spray heads that protrude from the ground?What about ruts, buckling sidewalks (a byproduct of mature tree roots that push up concrete on mature properties), or branches that need pruned. Coconut palm trees should be carefully maintained, including pruning fronds when necessary and removing coconuts before they fall and cause significant damage.
You'll want a trained professional to prune coconut palms because of the expertise required, and the liability involved. In fact, we recommend having a reputable commercial landscape maintenance company conduct a property assessment so you are aware of potential safety hazards on your Kauai grounds.
Make A Positive Impression
An appealing entryway draws in customers and guests. Colorful flowers add pop to high-traffic areas, and the characteristic coconut palm tree is always a visitor favorite. Tenants looking to lease commercial properties want the outside to be just as appealing as the interior because on Kauai, being outdoors is a key part of experiencing the Garden Isle.
Get Repeat Business
(And Longtime Tenants)
When visitors travel to Kauai and have a great experience on your property, they'll come back for more. If you lease to commercial tenants who depend on tourists, outdoor appeal is a big factor in attracting repeat business.
And, even for local commerce, we all have a choice about where we eat, shop, work and play. Wouldn't you rather go somewhere that feels comfortable and safe, looks beautiful and captures the essence of Kauai?
Get Occupied: Hire A Premier Landscaper And Get Real ROI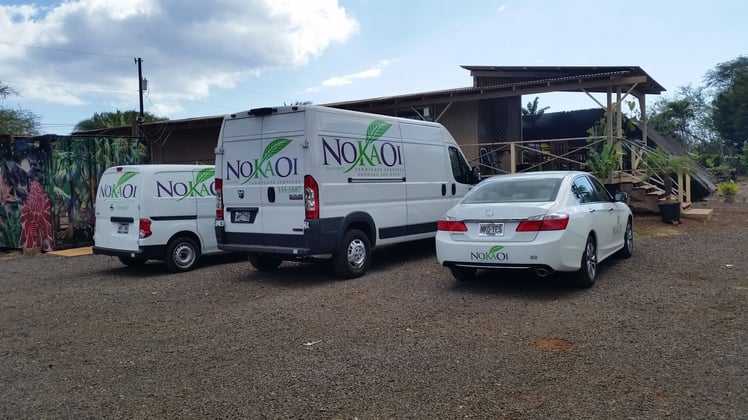 As a commercial property owner, investing in landscaping on your Kauai commercial property is a responsibility if you plan to attract (and retain) quality tenants. Your landscaping can actually help grow their businesses, whether they are a retailer, restaurant or resort.
So, what are you waiting for? Grow your Kauai property value by giving No Ka Oi a call for a property assessment. We'll provide some value-focused suggestions that suit your budget and meet tenants' needs. Call us any time at 808.335.5887, or fill out this simple contact form and we'll get in touch with you.