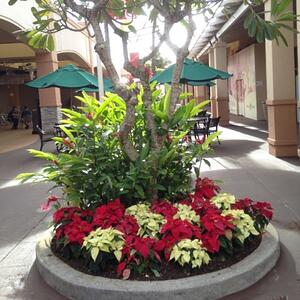 The holidays are prime time on Kauai and neighboring Hawaiian islands. Visitors fly in to enjoy our balmy, comfortable winter weather — a reprieve from the snow, ice and cold that defines "holiday" on many of the mainland's northern cities. This is a busy tourist season for us, so resort and retail properties work hard to fine-tune their landscaping so they can roll out an authentic Kauai welcome.
At No Ka Oi, our holiday decorating focus is on polishing the appearance of the commercial properties we care for and ensuring that landscapes are looking their absolute best. Of course, we strive for this year round, but we take extra care at this time of year to make sure every property sparkles — and we're not necessarily talking about twinkle lights. After all, many Kauai landscapes are lit up year round, from illuminated palm trees to blazoning tiki torches.
The holiday dazzle we're referring to is a pristine, manicured, vibrant look that results from healthy, blooming flowers and trees, lush grass, neatly trimmed shrubs and a completely clean property. What we do for our clients is a lot like cleaning up your house before company arrives.
Here are three ways a professional landscaper can help your property spruce up for the busy holiday tourist season on Kauai.
Fertilize Plants and Grass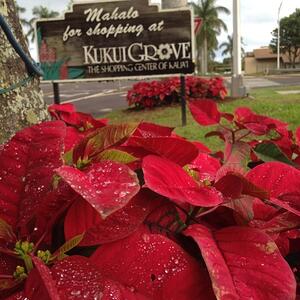 Green is the color of the holidays on Kauai. We're talking about fertilizing for healthy grass and plants that are nourished with the nutrients they need to thrive. Now, at the end of the year, is not the time to skimp on your fertilization program — even if you feel the stress of a tight budget.
Lawn care treatments enhance the beauty and value of your Kauai property. We like to "refresh" properties with necessary nutrient applications now to rejuvenate stressed turf and plants so they're looking good in time for guests' arrivals.
Clean Up Messy Lines
Holiday trimming takes on new meaning here. Edging creates clean lines against hardscape surfaces — patios, walkways, plant beds — and adds a refined look to the landscape. The property just looks more dressed up when edges are neat and clean.
Trimming shrubs helps keep walkways free and clear, which is important for safety reasons and for overall appearance.
Edit and Replace Plants
Following the summer and fall season, some plants just may not be thriving like they should. Consider replacing dead and diseased trees, shrubs and plants before the holiday season. Refreshing the plants will give your landscape an instant boost.
Some of our resort and retail clients like to add poinsettia plantings for a touch of holiday. It's best to talk to your landscaper early on about these installations because the plants go fast; there's only a narrow window of availability after Thanksgiving.
Containers are also a convenient, temporary way to display holiday plants.
Ask No Ka Oi To Turn On The Lights!
Let us help your property shine this holiday season. Whether adding poinsettia plantings to your landscape or enhancing the illuminated features, we'll make sure your property sparkles for holiday guests.
Call us any time at 808-335-5887, or fill out this simple contact form and we'll get in touch with you!