Landscaping is the welcome mat to multi-family living complexes, and tenants who live in Kauai's many apartment homes desire the same level of curb appeal as owners of single-family residences. In fact, Association of Apartment Owners (AOAO) tenants may hold higher expectations for their landscapes because they know the association hires professionals to maintain the property. It should look nearly perfect and have the lush feel they love about the Garden Isle.
A satisfied tenant who's proud of her property's landscape means a happy association manager. So, what does it take to properly maintain Kauai AOAO properties, and what can a landscape maintenance firm that is focused on commercial clients do to ensure that the AOAO is an appealing property for tenants?
Here are some common gripes tenants have about their AOAO landscapes, and how a Kauai commercial landscape maintenance firm should address these concerns.
Green Envy: The Grass is Healthier on the Other Kauai Property
Why does the grass look brown and patchy? Is it diseased? Shouldn't this landscape be watered? These are questions that AOAOs commonly field from tenants who want to know why the neighboring property is so lush and green—and theirs is not.
If No Ka Oi cares for the complex next door, we can certainly tell you the answer to why it looks healthier. We feed the turf with nutrients so it can thrive in Kauai's climate. Let's face it: Grass is not supposed to grow everywhere, but it is an appealing groundcover when properly maintained. But you can't just plant it and leave it alone.
Turfgrass on Kauai requires a regular lawn care program that includes customizing applications to suit the specific needs of that property. No two landscapes will require the same "formula" because of our island's spectrum of microclimates. How we care for your lawn will depend quite literally on where the wind blows.
But to achieve a green expanse of turf, it absolutely must be fertilized, and an AOAO cannot cut corners with this necessary maintenance step.
Tenant Liability: The Coconut Trees Are a Parking Lot Risk
Kauai AOAO tenants who pull into their designated parking spots, look up and see coconuts dangling from a 100-foot tree feel a pang of anxiety. What if…?
They complain, rightfully so, to management that the coconut trees are a serious liability. They could wind up with a damaged car — or, worse, suffer personal injury from falling coconuts.
No Ka Oi carefully manages coconut trees, making sure to properly prune this tropical tree before its fruit becomes a serious risk for anyone on the property.
Microclimate Management: The Beds Are Better Next Door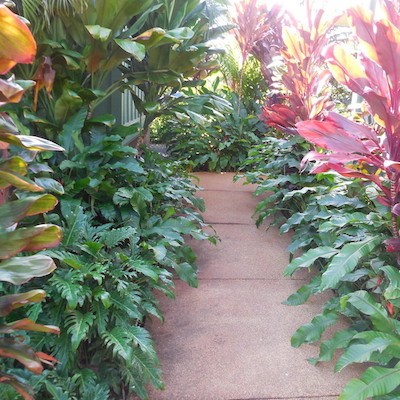 Tenants may ask, "Why can't we have this (or that) flower in our beds? If the plant grows well up the road, shouldn't it do just fine here?" The answer: Location, location, location!
An AOAO complex just one mile around the bend might have completely different weather patterns and soil content for planting, thanks to Kauai's microclimates. Embrace your unique property: Every landscape provides a unique garden climate for planting.
And yes, that very well could mean that the AOAO cannot choose the same bedding plants that the complex on the other side of the island installed. No Ka Oi can guide you toward the best plant options for your property.
Accessibility Issues: Walkways And Driveways Bombarded By Brush
Tenants complain that their walk from the parking lot to their units is like a safari tour. Stray branches impede on walkways. It looks messy and can make passing through spaces difficult (and annoying).
Proper, regular pruning is important for maintaining trees and shrubs' appearance and overall health.
First Impressions: Minding the Details
The last thing an AOAO wants to deal with is complaints about litter or remarks that the property is dirty or unkempt. Your professional landscape maintenance company should go beyond mowing, pruning and planting. Details matter—every last one of them.
We always make sure the property looks spotless before our trucks pull away, that includes picking up any trash we see left on parking lots or debris we find as we care for the lawn.
Do It For Your Tenants: Call No Ka Oi!
Achieve a landscape worthy of the Garden Isle for your AOAO property. At No Ka Oi, we work hard to maintain multi-family properties so tenants are proud of their home, and property managers' expectations are met.
Let's talk more. Give us a call any time at 808-335-5887, or fill out our simple contact form and we'll get in touch with you!