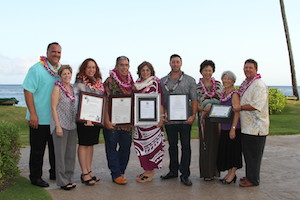 Good habits start at home. No Ka Oi is a home of hard-working employees who are dedicated to their work and to our company, and they carry the good habits we establish into the field when they maintain and install landscapes on Kauai's commercial properties. We're talking about safety.
Safety is a key concern in the landscaping industry. We operate a whole range of equipment all day, every day. We load and unload trucks, we scale 100-foot palm trees, and we run power tools to prune, edge, trim and beautify your property. All of this comes with a responsibility—and some risk.
That's why we focus intently on ingraining our safety culture into our people. We don't just talk about "safety first"; we live and breathe it. Our company has been recognized nationally by the Professional Landcare Network (PLANET) for maintaining a scratch-free fleet and employee incident rate for four years in a row.
Our perfect safety record is no accident. It is the result of our focus on hiring quality employees who share this core value.
Creating A Culture Of Safety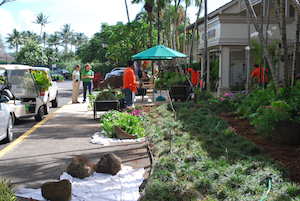 Our fleet is extensive, and it has grown over the years as our company has expanded. Frankly, this means greater exposure for us as a firm. When we grow, we take on more risk: More people operating more equipment means more opportunities for accidents.
We take control of this risk by teaching safety at every opportunity: every day on the job, every week during safety meetings. We want our people to be thinking about safety every time they power up a piece of landscaping equipment. Safety is our No. 1 priority.
This safety message is the crux of our training. When new employees join the No Ka Oi team, they go through an orientation process that includes learning how to properly operate all of the landscaping equipment required to maintain Kauai's commercial properties. They cannot use a piece of equipment until a supervisor has certified that they have been trained to use it properly.
Every No Ka Oi landscape professional in the field has been rigorously educated about equipment operation and safety. Employees wear eye and ear protection (when appropriate), along with brightly colored uniforms designed to keep them safe and comfortable in the field.
During our weekly safety meetings, we engage employees in conversations about safety and ask them to share their ideas for creating a safer workplace. We want to know about situations they confront while maintaining clients' properties that pose a risk.
Keeping Clients and Passersby Safe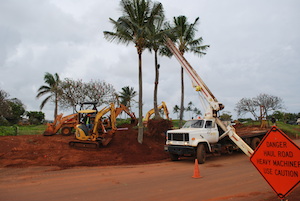 We know that our work impacts others who are walking on a property we're mowing and caring for the grounds. One example: risk of thrown objects while mowing. We prevent this by ensuring that grounds are properly picked up so they are free, clear and prepared for mowing. When pruning trees and shrubs, large or small, our people are mindful of their surroundings and take care to remove all debris to avoid any trip-and-fall hazard.
Our people keep their eyes and ears open on all properties, at all times. They're focused on personal and equipment use safety, and their concern and care extends to maintaining the safety of people around them as they work.
Screening Employees: Hiring Safe
How do we keep a clean safety record? It starts with hiring people who share our core values and company ethics. We recognize a responsibility to ensure that every person wearing our uniform values safety as much as we do.
We carefully screen all prospective employees during our interview process, and we select the best candidates for the job. That includes drug testing all potential employees and conducting thorough background checks.
We trust our team completely. They work on all types of Kauai properties, from luxury resorts and retail centers to local businesses and community properties. We take every step to ensure that the reputation of the No Ka Oi professionals caring for Kauai's commercial landscapes hold strong ethics, and that includes putting safety first.
Saving With Safety
Beyond safety as a measure for protecting our people, our clients, passersby and properties, we know that our culture of safety also protects our bottom line. By keeping a clean incident report, we save significantly on workers' compensation insurance, and we reinvest the money we'd have to spend on insurance back into the business.
We pay our workers a higher-than-average wage for their work. We can purchase the latest equipment and expand our fleets when necessary. Ultimately, staying safe gives us more financial leverage to provide high-quality services.
You're Safe With No Ka Oi
Our commitment to safety and nationally recognized record for maintaining an incident-free business gives Kauai commercial property owners peace of mind. They know that our professional landscapers are rigorously trained and well equipped to perform landscape maintenance while reducing risk. And because we thoroughly screen all employees, clients can rest assured that the people working on their properties hold high ethics.
Let's talk about how we can create a safer environment on your property. Call us any time at 808-335-5887 or fill out this simple contact form and we'll get in touch with you!