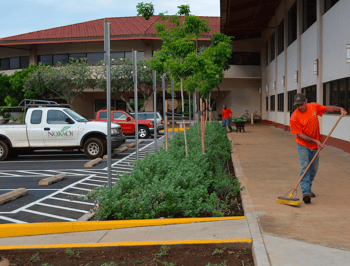 Wanted: A commercial landscape maintenance firm to keep your Kauai commercial property looking its best.
You want a contractor that is professional (wearing uniforms, polite to your guests), skilled, detail-oriented, and versatile so they can manage extra projects.
You want a crew on your property that will treat your Kauai retail or resort as if it were their own home garden.
Is all of this too much to ask?
Request For Proposal, Please
At No Ka Oi, we think these qualities are what you should expect from a landscape maintenance firm. You place a lot of trust in the landscape professionals who care for your grounds. Essentially, they're responsible for your curb appeal. Their performance can make an impact on your reputation, and your ability to attract guests and residents.
Finding a high-quality, experienced landscape professional begins with a strong request for proposal (RFP) process. The problem is, many properties need to hire a landscape contractor quickly, so it's tempting to cut corners and quickly interview a couple of companies before signing on with one.
We encourage you to take your time, and to develop an RFP process like the one we're suggesting here that will help you vet landscape contractors, set expectations for services and fairly compare contractors apples-to-apples.
Maybe you're not sure how to write a request for proposal or even if you already have an RFP in place, we suggest reading on to see if any of our ideas will make it even stronger. And if you're starting from scratch, keep in mind these four areas to address in an RFP so you can be sure to cover all of your bases.
Part 1
Guide Bidders: An RFP Roadmap
The first section of your RFP should invite landscape maintenance companies to bid on your Kauai property, and give them a deadline date.
Briefly describe the project in this section (you'll go into more detail later), list contacts at your company, and essentially provide the information that contractors need to get in touch with you.
Part 2
Scope Of Work: Set Expectations
What is the scope of work: What landscape services does your Kauai commercial property require? Basically, you want to define what "maintenance" means to you.
Does that mean just mowing, pruning and edging? Do you expect fertilization, as well? What about the irrigation system? And speaking of pruning, does that include coconut palm trees, which are more labor-intensive and require tree specialists and equipment? What about insect control—because pests live year-round on Kauai.
Consider your expectations and then "back up" into the services required to meet those.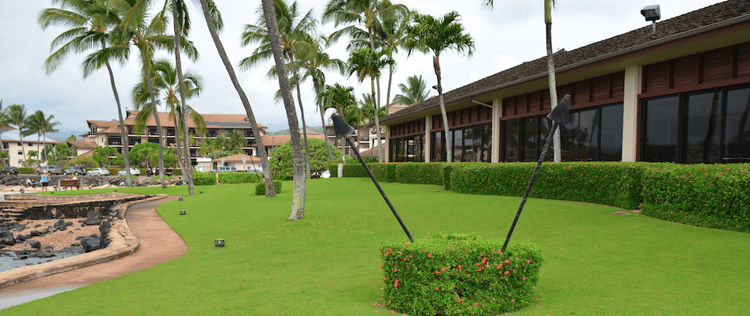 For example, say you expect lush, green grass and neat landscape beds—healthy trees and shrubs, and an overall clean appearance (no debris) on your property. Then you'll need weekly mowing and edging, pruning, fertilization, irrigation system maintenance, seasonal clean-ups and extra services (which may include aeration, coconut tree pruning, drainage/stormwater control, pest control).
If one of these pieces is missing from your RFP, you've got a weak link and the quality of your landscape could deteriorate over time.
We see this happen from time to time we don't provide services for … yet. Weeds crop up on the property, and turf loses its luster. Maybe flowers and shrubs die back, too, because of watering issues or pests.
Effective landscape maintenance requires a full suite of outdoor services—a comprehensive plan. By spelling out each service required in your RFP, you'll assure that contractors who bid understand they must meet all requirements.
Part 3
Address Liability: Require Proof Of Insurance
You should never invite a contractor onto your property unless he or she is properly insured. This goes for any service. In the landscaping industry, we use heavy-duty equipment that can be dangerous if operated negligently.
Accidents happen, but you want to know that the landscape companies you're considering have safety programs in place.
We're proud that No Ka Oi has won several consecutive Safety Recognition Awards from the National Association of Landscape Professionals, and we are certified participants of their STARS Safe Company Program.
Ask for proof of insurance. Make sure the company has adequate liability coverage and workers' compensation insurance.
Part 4
Ask For References: And Call Them!
As part of the RFP process, ask the landscape company bidding on your Kauai property to provide a list of references—other commercial property owners like you who use the contractor and who you can call. Then, follow up.
Ask references about their experiences working with the landscape maintenance firm. Tour their properties. Take a look at the contractor's performance.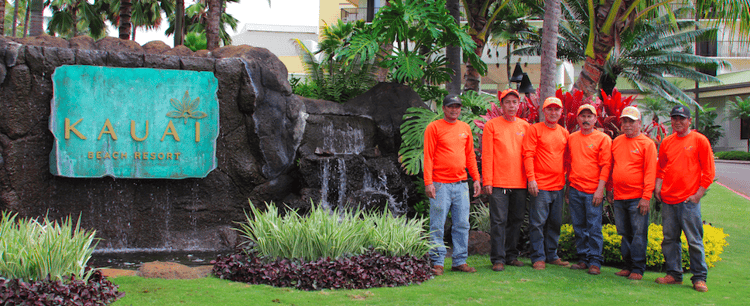 A Strong RFP: The Key To High Standards
Your RFP is a valuable platform for setting expectations, ensuring quality and establishing open communication. Essentially, an RFP follows the age-old business advice to "get it on paper."
Let's talk more about what you should expect from your landscape maintenance provider—are you getting what you pay for? Call us any time at 808.335.5887, or fill out this simple contact form and we'll get in touch with you.