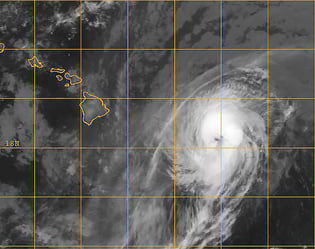 When your commercial property is on an island, the risk of tropical storms and hurricanes is a reality that must be factored into landscape maintenance activities. After 30 years in business on Kauai, No Ka Oi has helped clients deal with devastating and costly blows.
Perhaps the most famous, and destructive, hurricane to hit Kauai was the infamous Iniki in 1992. It caused an estimated $500 million in property damage on the Garden Isle and left some of our clients' properties in a distressed state. Decades after this disaster, clients remember the damage and take precautions. No business wants to be vulnerable during a storm.
When hurricane force winds kick up at 75 to 150 miles per hour, trees are vulnerable. Replacing a single coconut tree can cost up to $3,000. The good news is, we know that proper Kauai commercial tree care throughout the year can reduce financial and safety liabilities. In the area of tree care, here are 5 hurricane safety tips for Kauai commercial properties.
Trim Trees—And Care For Coconut Fronds
Regular tree trimming is important for maintaining the health of the tree and for protecting your commercial property. By pruning to establish a healthy tree crown, the tree will be best equipped to handle strong winds. The trees' branches and trunks are made of fibrous tissues that do bend and sway in wind—they are designed to deal with nature's forces (within reason).
Over time, trees will adjust to local conditions and actually grow and develop to respond to wind.
Speaking of trimming, don't forget to prune coconut palm trees, fruit and fronds that may be partially detached or hanging. Fronds that fall 100 feet are a safety risk for people on your property.
Identify And Manage Weak Branches
Weak branches are a big liability for commercial property owners. You're gambling if you leave them hanging—how much wind will it take before a weak branch breaks free? (We don't recommend waiting to find out.) During high winds, trees will fail at their weakest points, whether that's a portion of the trunk that is damaged by disease or in ill health or branches that are weak, dead or dying.
We recommend pruning back weak branches to prevent breakage that can occur during high winds. One weak branch that tears from a tree can harm other healthy branches or parts of the tree structure. Not to mention, these branches can ricochet into structures on your property, or cause harm to guests.
Deal With Dead Trees And Branches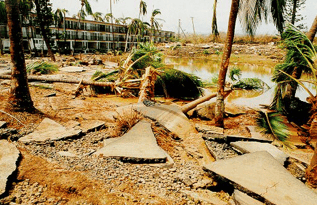 Maintaining trees throughout the year will protect them against pests and other damage. Identifying disease is critical because if a tree problem persists, that specimen could suffer greatly when a storm strikes.
Perhaps you've seen a tree that gets uprooted, looking like the wind literally knocked it over and out of the ground. That's called wind throw, and it is most likely to occur when a tree's root health is compromised.
If a tree is already dead or severely sick, you'll need to make the tough decision to remove the tree and consider replacement.
If a tree is diseased, talk to a professional landscape contractor with experience in tree care about strategies for bringing the tree back to good health. Otherwise, a storm will remove the tree for you, and the damage that ensues will cost you much more than paying a crew to take down the tree.
Avoid Planting Trees Too Close Together
Trees planted too close together trigger a domino effect during tropical storm and hurricane winds. If one tree is compromised, it harms the next in line, and so on. Also, trees planted closely together can rub together during high winds, which weakens branches and can also open up opportunities for disease.
If trees are planted too close, alter the landscape plan and relocate some of those trees to another area of your commercial property. And, if you're planning a new design for your Kauai landscape, bear in mind the positioning of trees before you plant them.
Watch For Crossing Branches
Crossing branches can rub together and result in damage or decay. Ideally, branches should be positioned in a U shape at an angle greater than 45 degrees. If a tree's branches are crossing, pruning is advised to maintain the tree's health and give it the best defense against high winds.
Protect Your Trees, Tenants And Visitors From Kauai Storms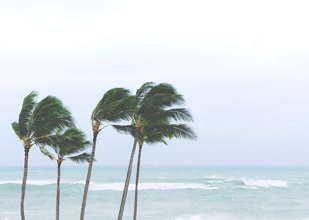 High winds are an inevitable part of island life on Kauai, and our tropical storms can spell trouble for trees if they are not properly maintained.
Call us any time at 808.335.5887, or fill out this simple contact form and we'll get in touch with you.
We'd love to talk more about some simple strategies that will protect your commercial property's trees year-round, so when a storm strikes unexpectedly, your landscape will be strong and healthy enough to weather the winds.
Images: Radar, Fallen trees, Trees in wind