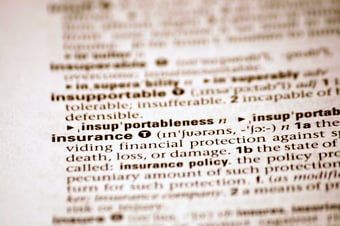 Before you think about hiring a landscape contractor on Kauai to perform work on your commercial property, ask this important question: Is the landscape contractor properly insured?
If the answer is no, then your commercial property could be held accountable if a landscaper gets injured on your grounds.
It's never fun to think about worst-case scenarios—but you've got to protect those who use your property (employees, customers, residents) and those who work on it, including landscapers and any other contractors you hire.
In fact, just asking about insurance isn't enough. We recommend requiring proof of workers' compensation and general liability insurance before you invite the landscape company to bid. (Do you even want the contractor on your property performing an assessment if the company isn't covered?)
We know it seems formal to inspect insurance certificates and inquire about coverage—how much, what kind. And, plenty of property owners hire landscape firms without investigating their insurance profile. (Bad idea.)
Lawsuits are expensive.
Your reputation is at stake if a guest gets injured on a tool left behind by a contractor, for example. And because of the labor-intensive work landscaping demands, the professionals performing outdoor tasks on your Kauai property could get injured by equipment or any number of scenarios.
What we're saying is, the old adage, "Better to be safe than sorry," is exactly the thought to keep in mind when you hire a landscape contractor. Here's why.
Landscaping Can Be Risky Business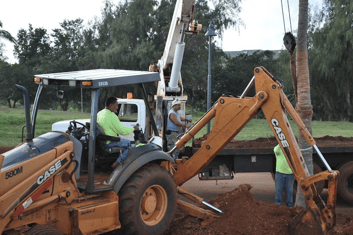 Operating landscape equipment comes with some risk. The professional contractors on your Kauai property are running commercial zero-turn mowers, and using sharp tools to edge, trim and saw through trees. Installation projects can involve grading equipment and skid-steer loaders, along with moving heavy materials.
Operators that are properly trained and wearing appropriate personal protective equipment still can get injured.
Accidents happen. Require that the contractor carries workers' compensation insurance. Ask for proof (a certificate). Also, inquire about the landscape contractor's claims history. What does the company do to encourage a safe workplace?
Accidents Happen—Even On Your Property
No matter the quality work a landscape company provides and the level of professionalism they bring to your property, no contractor is exempt from accidents.
What if someone on your property (an employee, resident, guest) gets injured because of equipment left behind, a hazardous area that is a "work in progress" or any other incident that can happen that's out of your control?
The landscape company should carry general liability insurance to cover claims and protect your business (and theirs) from everyday risks that could pose serious health and financial consequences. Think about these potentially dangerous scenarios — and who's responsible:
A child gets in the way of a commercial lawn mower.

A piece of equipment is left behind as a landscaper is loading a truck.

Landscaping materials stacked too hile on the property for a building project—boulders, pavers, etc.

A piece of landscaping equipment damages or detroys a sprinkler system.
General liability protects against third-party bodily injury claims. It covers the cost of medical expenses, court fees and more, depending on policy limits. It's a good idea to find out how much the policy is worth—be sure the aggregate limit is a minimum of $1,000.
What if your contractor does not have general liability insurance? Then you could be responsible for hospital costs, lawsuits and property damage.
How To Verify Your Landscape Contractor' Licensing
Want to verify a landscape contractor's licensing? Visit the Licensing and Business Registration Information Section site.
Check out the State of Hawaii Department of Commerce and Consumer Affairs. A contractor's license is required by the state for all projects exceeding $1,000 and for any project requiring a building permit. Landscapers are considered a Specialty Contractor (type "C").
Personal Property Needs Protection
What if a piece of the landscaper's equipment is stolen from your Kauai property? Are you responsible? Don't take chances and be sure that the company's property (equipment, vehicles) is covered. Otherwise, you could end up as the losing party in a costly blame game.
Hire A Landscape Contractor That Follows Best Practices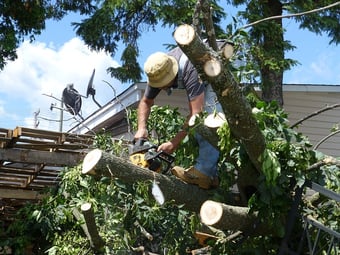 Insurance is not optional for landscape contractors—it's a necessity if you want to protect your commercial property. Beyond insurance, find out what safety practices the company has in place to prevent accidents from happening.
A proactive landscape firm will have employee training programs and policies for handling and storing equipment. Find out about equipment maintenance, because faulty equipment can lead to injuries. Ultimately, you want to hire a landscape company with a safety culture.
Will your landscape project pose a risk or produce a reward? Let's talk more about why insurance is absolutely non-negotiable and other important questions to ask a commercial landscape contractor. Call us any time at 808.335.5887, or fill out this simple contact form and we'll get in touch with you.
Image: Insurance definition, Chainsaw