You might think a xeriscape is landscaping only for the desert and means planting cacti and forgoing green.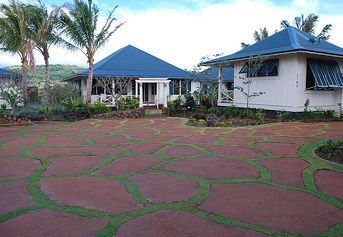 That's not entirely true. Then what is xeriscaping, right?
First, you don't have to live in Phoenix to embrace the idea of low-water use landscaping. Xeriscaping at its core is all about putting the right plant in the right place (that's our mantra at No Ka Oi). Second, you can have plenty of green in your landscape, including turf, plants and flowers, while adhering to the xeriscape principles.
And a bonus of xeriscaping is what this landscaping philosophy will do for a commercial property owner'smaintenance budget. Xeriscapes cost less to keep healthy and lush since they require fewer inputs — like water — and are easier to maintain.
What Is Xeriscaping? The 7 Guiding Principles
Xeriscaping is a holistic, sustainable way of looking at the landscape. There are seven xeriscape principles that guide us as we design and build commercial landscapes, and maintain the turf, trees and plants growing on our land.
Plan Wisely
Create a landscape plan that will help you get the most out of the commercial property. Consider cost, function, aesthetics, maintenance requirements, water use and energy efficiency.
Right Plant, Right Place
Choose plants wisely, opting for low water-use varieties. Beyond low water use, plants can be chosen to add shade to sunny areas. The point is to plant with a purpose.
Watch Your Turf
Plant grass in appropriate places, and on Kauai we need to be careful about the type of turf that we choose. While seashore paspalum is a popular variety right now on commercial properties, zoysiagrass requires less irrigation and maintenance.
Water Smart
Drip irrigation systems water deeply and accurately, which is healthy for plants because it promotes root growth and reduces water run-off. While drip irrigation is not always a practical option — you wouldn't water grass that way — it's important to consider irrigation alternatives as you plan a sustainable xeriscape.
Improve The Soil
What lies beneath the surface greatly impacts the health of your landscape. Soil quality and pH drives maintenance. By tending to soil and adding amendments to build its nutritional content when necessary, you're creating a strong foundation for healthy plants to grow with less intervention (water, fertilizer).
Use Mulch
Mulch does not require irrigation, it helps the soil retain water and nutrients, and cools the soil beneath. Mulch also mitigates weed growth and prevents erosion.
Maintain The Property
A responsible commercial landscape maintenance program includes proper mowing and pruning, smart irrigation and oversight of irrigation systems to ensure their efficiency and catch problems (leaks, clogs).
Should You Consider Xeriscaping?
Are you a responsible steward of your land? Do you want to save on water bills and potentially lower your landscape maintenance costs? Do you want your plants and turf to thrive without constant irrigation? Then you should consider xeriscaping.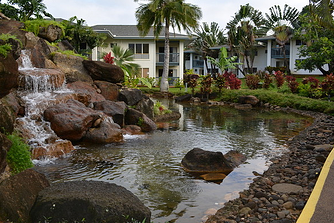 Xeriscaping is a mindful, sustainable method of landscaping a commercial property — any commercial property, including yours. It's about choosing plants, turf and trees that are ideal for the environment. It's about making the most of your landscape, including opting for plants that offer longer bloom times and even year-round color. Xeriscaping also involves creative designs and innovative solutions, such as rain gardens, that make the most of our natural resources.
Right Plant, Right Place, Right Maintenance
At No Ka Oi, we preach "Right plant, right place," because we know that selecting the proper plants, turf and trees can make a tremendous impact on the health of the landscape, the cost of maintenance and the visual results.
Xeriscaping does not mean sacrificing beauty! It's about honoring what nature intended for your commercial landscape. Let's talk more about ways to save water and think sustainably by adopting xeriscape practices on your Kauai commercial property. Call us any time at 808-335-5887, or fill out this simple contact form and we'll get in touch with you.